Using players out of position, Toronto hurt by miscues
First baseman Colabello playing right field, Valencia in left because of injuries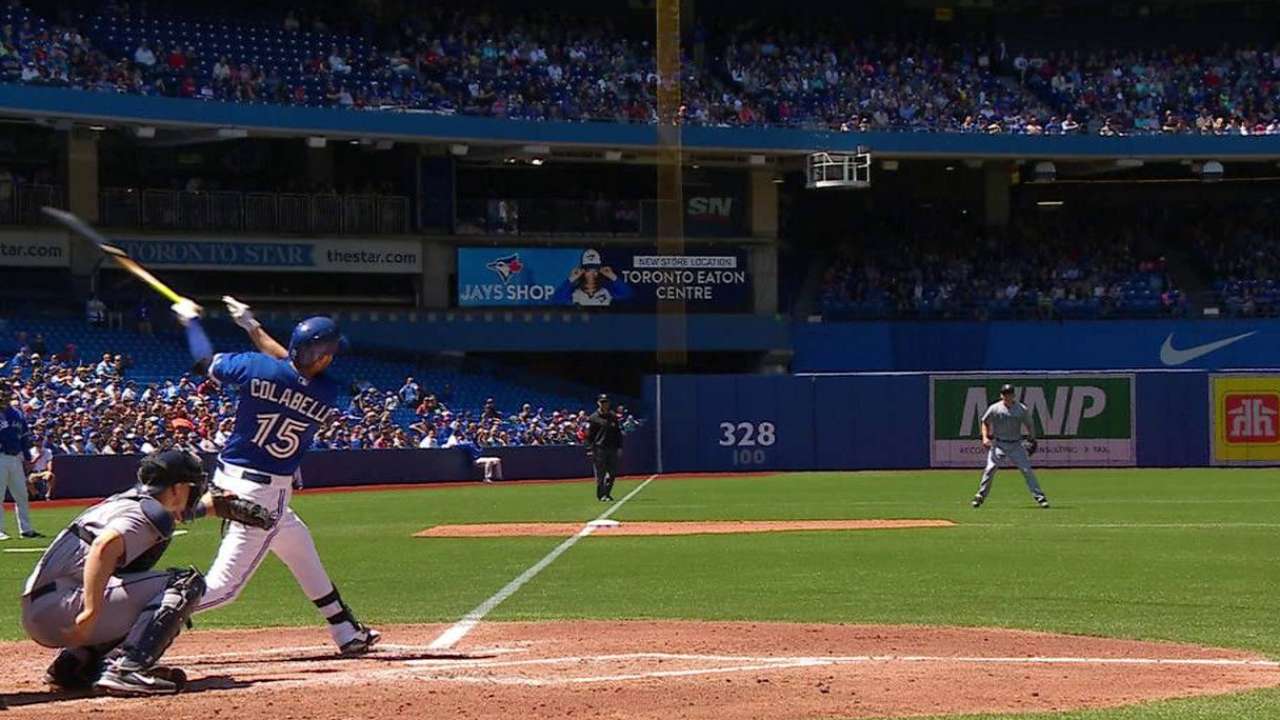 TORONTO -- A string of injuries to their starting lineup has forced the Blue Jays to use players out of position, and it's bitten them the past two games.
For the second straight day, Chris Colabello committed a defensive miscue that proved costly in the Blue Jays' 3-2 loss to the Mariners.
In the first two contests against Seattle, Colabello homered later in the game, but that's provided little solace for the 30-year-old first baseman, who's been thrust into right field out of necessity. It's like Groundhog Day in the worst kind of a way, he said.
"No excuses," Colabello said. "I'm not one to live things down pretty easily. I've tried to let stuff go before I leave the clubhouse. But when a guy's out there pitching his butt off, you make a play for him."
Saturday's gaffe occurred in the third inning when Chris Taylor launched a fly ball high into right field with one out. Colabello said he got turned around and wasn't able to track back quick enough to make the play as the ball bounced into the stands for a ground-rule double. That set up a two-run double to left field by Willie Bloomquist to give the Mariners a 3-1 lead.
Colabello went yard in the fourth to make it a one-run game, but the Blue Jays couldn't muster any further offense as they fell to 2-10 in one-run games this season.
In the series opener, Colabello misjudged a sinking liner on a two-run triple during a three-run Mariners' inning in another one-run loss.
"You wanna be a complete baseball player, save runs and get runs. If it had been a two-run homer to take a lead or something, at the end of the day, maybe feel a little bit better about it," Colabello said of Saturday's loss.
Colabello has been playing an outfield role as the club awaits Jose Bautista's return to his normal position in right. Across the park, Danny Valencia, an infielder, has been stuck manning left field, a position that would be reserved for Michael Saunders, who's six weeks away from return as he recovers from a bone bruise in his left knee.
It all adds up to a less-than-ideal lineup for the struggling Blue Jays, who've dropped 11 of their past 14 games.
"We have a lot of guys on the DL, guys playing out of position, guys that were in the Minor Leagues that are up here, a lot of missing pieces to our starting lineup," said Mark Buehrle, who took the loss on the mound. "If we get some of these guys back, get them healthy, I feel like we've got the pieces in here. But when guys are playing out of position, hurt, through injuries, it's not a good thing."
Blue Jays manager John Gibbons wasn't about to hang the loss on any one or two players.
"We've got two guys who are infielders playing the outfield, and they've been doing a good job," Gibbons said. "That's basically what it is. They're gutting it out every day they're out there. They've done a good job for us, really."
Jamie Ross is an associate reporter for MLB.com. This story was not subject to the approval of Major League Baseball or its clubs.