Oberholtzer nearing rehab start; Fields back soon
Deduno feels good after mound session, will remain as long reliever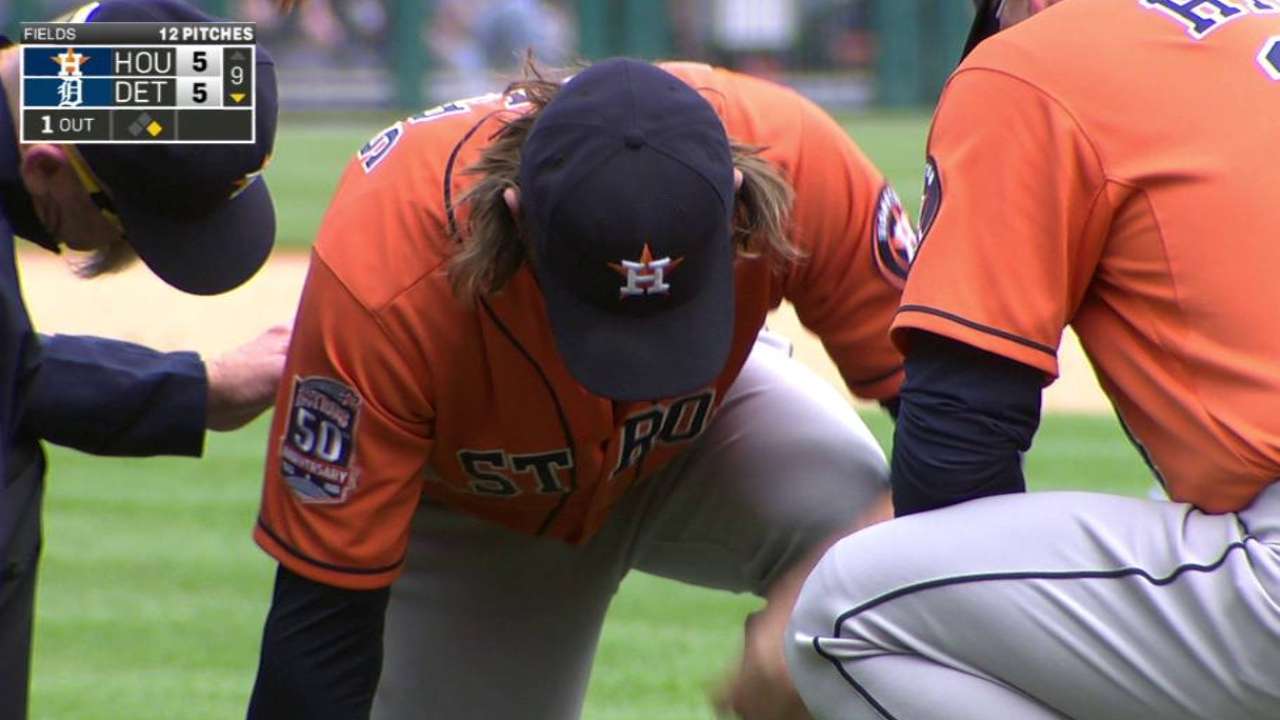 DETROIT -- The Astros have a number of ailing pitchers, but all are improving, and there are number of options in place.
Right-handed reliever Josh Fields was scheduled to throw off a mound Saturday after taking a comeback line drive off his right knee late in Thursday's game in Detroit. Fields said he feels much better than he did Friday, and manager A.J. Hinch speculated Fields would be available very soon, if not Saturday.
As for pitchers on the 15-day disabled list, right-handed reliever Samuel Deduno (lower back strain) threw off a mound Saturday and felt good. Deduno is eligible to come off the DL late next week. He'll throw a bullpen in Baltimore before facing some live competition. The plan is to keep Deduno as the long reliever.
"The three-inning mark for a long reliever is about what you need, which generally is in the 40-to-55 range," Hinch said about Deduno's bullpen pitch count. "He's started a bit as well, but we'd like to get him in the 45-to-50 range to fill a role as a long reliever."
Left-handed starter Brett Oberholtzer (left index finger blister) is also eligible to come off the DL late next week. He threw a bullpen on Thursday and felt fine, and will throw a live batting practice in Fresno before a rehab start. Until then, Hinch said Oberholtzer is not factoring into the equation yet.
"Now he wants to face a few hitters, prior to a rehab assignment in Triple-A," Hinch said." I would imagine that would happen this weekend. After that, it's the normal progression for a starter to get another bullpen and throw in a game. We're not too far removed from him being at that five-inning threshold. He'll probably be scheduled for four or five innings in that first outing in Triple-A."
Rookie Lance McCullers is making his second career start on Saturday and could get one more in before Oberholtzer returns. Hinch said it's also possible Oberholtzer could end up in the bullpen.
Despite these injuries, along with the prolonged absence of Brad Peacock with a left intercostal strain, the Astros have kept 13 pitchers on the active roster. Hinch has kept plenty of options available, and there will be even more when Deduno and Oberholtzer return.
"It's been 13 almost all year," Hinch said. "Thirteen pitchers for us, the way our bullpen shapes up, with as many relievers as we have that are pitching well and staying fresh, that's a great advantage. Carrying two lefties plus a long reliever makes it difficult to only carry 12. Right now, we like the way that matches up.
"There are some stretches where you don't use your relievers a ton, and you think you're carrying one too many, and when you say that, you have an extra-inning game, a guy who needs a day off, a line drive off a knee, and you need every pitcher you have. I like the construction of our bullpen right now. The perfect allotment is being able to go back and forth, but that's not always the case."
Chris Vannini is a contributor to MLB.com. This story was not subject to the approval of Major League Baseball or its clubs.