Ausmus: 'Joba's the eighth-inning guy'
Reliever solidifies role with clean 8th vs. Astros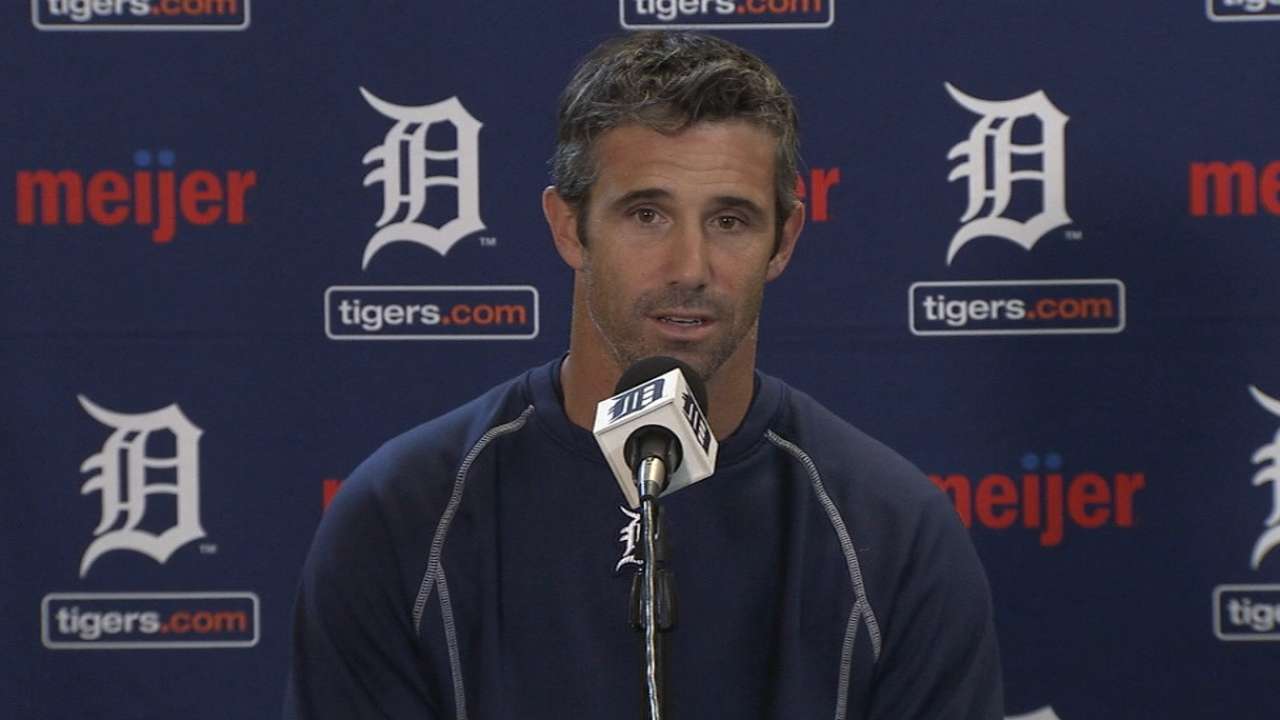 Before the Tigers gave themselves some breathing room with a three-run eighth inning in Friday's 6-2 win, they sought a clean outing from Joba Chamberlain against the top of the Astros' order.
A stress-free inning hasn't quite been the norm from the right-handed reliever, who entered having allowed hits in five of his last eight appearances. But on Friday, he had no issues dispatching Houston, and, in the process, perhaps solidifying his role as Detroit's setup man.
"Joba's the eighth-inning guy," manager Brad Ausmus said afterward, explaining his rationale for inserting Chamberlain instead of right-hander Angel Nesbitt or lefty Tom Gorzelanny.
In his six appearances since a nightmare outing on May 6 -- in which he surrendered four runs with two outs against the White Sox -- Chamberlain has given up just one run. That includes appearances four days in a row between May 19-22.
"Obviously, being in the bullpen, you get the opportunity to be an everyday player," Chamberlain said. "So as things go, you're able to get on the bump and go after it. When you give up a few runs, you're able to get back out there the next day."
Ausmus has attributed some of Chamberlain's success to improved velocity, especially on his slider. On Friday, an 86-mph offering produced a swinging strike three from George Springer to end the eighth. The slider also resulted in a pair of strikes to leadoff man Jose Altuve, who ultimately grounded out.
"It actually started in the Chicago game," Chamberlain said. "[Pitching coach Jeff Jones] came up to me and said, 'That's the hardest that's ever been.' I didn't change anything. Nothing. Just trying to get everything figured out, situated."
The right-hander assuming a setup role creates a formidable one-two combination alongside closer Joakim Soria. On Friday, though, Soria wasn't needed, as the Tigers manufactured three runs in the eighth, allowing him to sit in favor of Gorzelanny. The lefty tossed a scoreless ninth, putting the finishing touches on an outstanding night for the Tigers' pitching staff and lowering the bullpen's ERA to 2.75.
"Everything's going well," Chamberlain said. "We've just got to continue to work hard and, as long as these starters give us a chance, keep going deep in games. It's fun to watch those guys pitch. We've just gotta get the ball to the next guy."
Alejandro Zúñiga is an associate reporter for MLB.com. Follow him on Twitter @ByAZuniga. This story was not subject to the approval of Major League Baseball or its clubs.