Phils shake off Nats' batting practice tunes
Philadelphia to use 'silent treatment' at Citizens Bank Park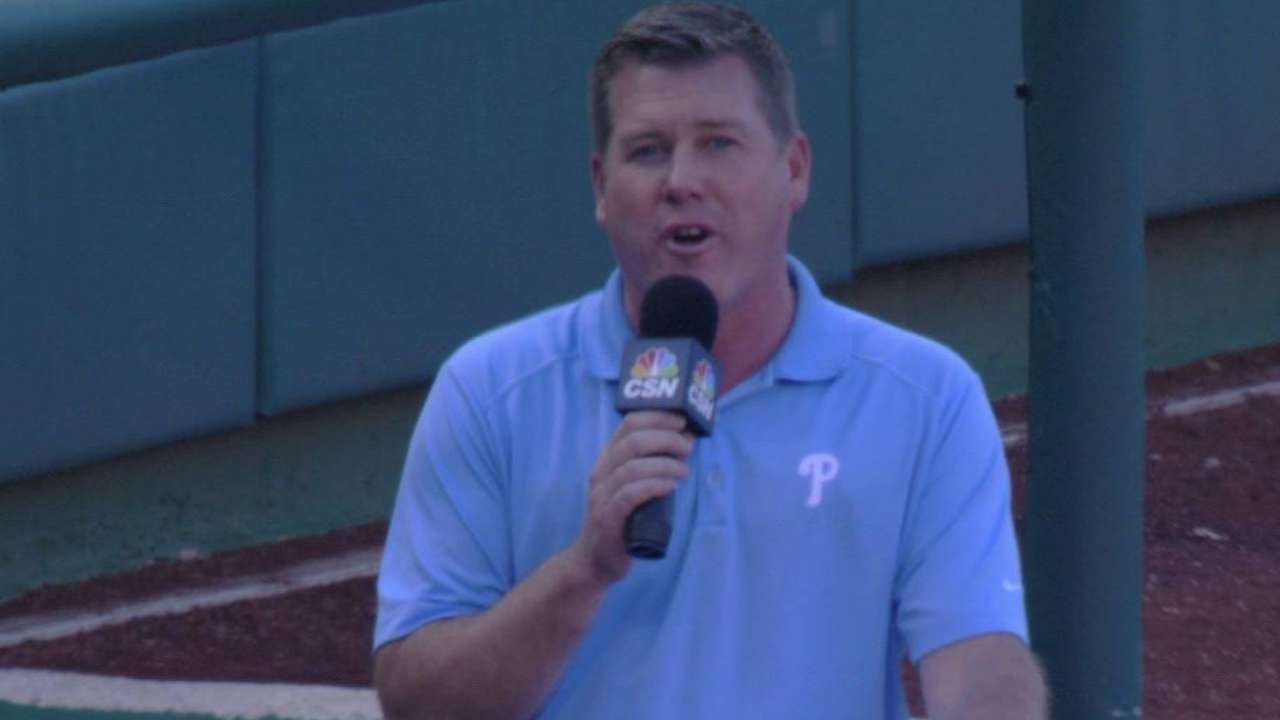 WASHINGTON -- The U.S. military bombarded Panamanian dictator Manuel Noriega with heavy metal music to force him from his compound and surrender in 1989. Britney Spears' music has blared from merchant ships to scare away pirates off the horn of Africa.
The Nationals have chosen "Somewhere Out There" by Linda Ronstadt and James Ingram, seemingly to annoy their opponents.
They have been playing pop ballads during opposing teams' batting practices this season, and the playlist has varied every day. But the past couple days the Phillies have been fortunate (or unfortunate) to hear Patrick Swayze's "She's Like the Wind," Starland Vocal Band's "Afternoon Delight," Anne Murray's "You Needed Me," Dan Hill's "Can't We Try," and Spandau Ballet's "True."
"We'll take care of that," Phillies manager Ryne Sandberg said before Saturday's game against the Nationals at Nationals Park. "We're going with the silent treatment at our place.
"It's bush league. And irrelevant. What's the point?"
Some of the Phillies are amused at the tunes. Some could not care less. Others want mercy.
"I don't think there's any malice behind it," Phillies right-hander Justin De Fratus said. "I think it's funny. They played that 'Fievel Goes West' song yesterday. If anything, it's a change of pace from some of the stuff we hear every day."
"I mean, come on," Jeff Francoeur said. "If you did it one time it's funny. But we come here so many times."
The Phillies actually had a bigger beef than the music. They feel they get on the field for batting practice late at Nationals Park compared to other ballparks, giving them less time to get ready between BP and first pitch. But according to the Phillies' and Nationals' respective media guides, batting practice starts only five minutes later for opposing teams at Nationals Park than at Citizens Bank Park.
"It's very inconvenient," Sandberg said. "That will be another adjustment. That seed was planted about six weeks ago."
Nevertheless, the yacht rock continues.
"I didn't even notice it," Nationals outfielder Jayson Werth said with a hint of a smile. "But it's nice soothing music they've got going on here. It's nice for the fans at the ballpark before the game. Yeah, maybe get a beer, a pretzel, enjoy BP."
Todd Zolecki is a reporter for MLB.com. Read his Phillies blog The Zo Zone, follow him on Twitter and listen to his podcast. This story was not subject to the approval of Major League Baseball or its clubs.