Mesoraco suffers setback in injury rehab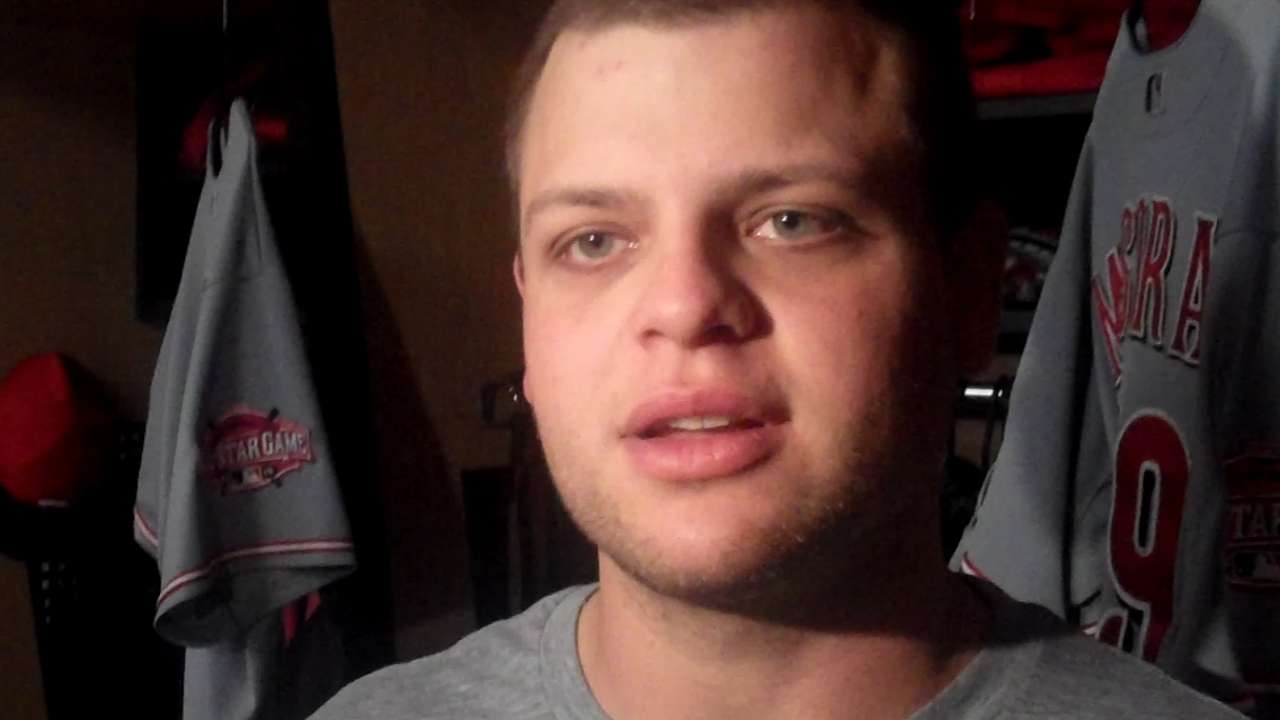 CLEVELAND -- The rest of the 2015 season appeared in jeopardy for Reds catcher Devin Mesoraco after it was revealed on Saturday that he had a setback with the left hip impingement he has been dealing with for several weeks.
Mesoraco, who has not been able to catch in a game since April 12, has been limited to only pinch-hitting or designated hitter duty. He was initially optimistic on Tuesday in Kansas City when he tested his hip by doing some crouching for the first time.
"In Kansas City, it went OK. But afterwards it started feeling like it did at the beginning. [Friday] we went out there and I had a hard time getting through what I was supposed to do," Mesoraco said. "It didn't go very well."
Mesoraco, who tried squatting 15 times and giving signs on Friday, had viewed this week as pivotal in determining whether he would need surgery to repair his hip.
"It was very difficult," he said of trying to squat. "It is probably something that isn't going to happen any time soon. I think it obviously caused some problems afterwards too. That's why it doesn't make sense to do a whole lot more right now. It doesn't feel good."
Mesoraco was expected to be the Reds DH for all five games in American League parks this week. He did it in both games vs. the Royals but was not in the lineup Friday or Saturday. Manager Bryan Price didn't plan on starting him on Sunday either.
"I think he'll be available to pinch-hit but I don't think at this point in time, he'll be ready to be even a four or five at-bat designated hitter today and tomorrow," Price said. "I just don't think we're going to see a lot of Devin here in the days and weeks to come.
"The decision to be made by Devin and the club is pending so I'd rather not say what the next course of action is. I don't anticipate him being able to influence our club as a regular player any time soon."
When he first felt discomfort in his hip, Mesoraco and the club never expected he would be unable to catch for so long. Because he could still hit comfortably, he and the team avoided using the disabled list and also put off what would likely be season-ending surgery, so every avenue of treatment and therapy could be explored first.
Now a new course of action could be coming soon for a frustrated Mesoraco, who was signed to a four-year, $28 million contract in the offseason.
"We've really been doing some stuff that has been helping and has been making me feel better," Mesoraco said. "Then to go out there and not be able to get into a normal catching position that I'm used to, is definitely disappointing. Compound that with feeling worse after trying to do all that stuff, it's not a good thing."
Mesoraco planned to go over his options with the medical staff when the team returns to Cincinnati after the weekend.
"I certainly haven't been able to do a whole lot this year to help the team," he saiid. "That's definitely been very tough for me. I expected to come in, hit in the middle of the lineup, catch every day and it hasn't worked out like that."
Mark Sheldon is a reporter for MLB.com. Read his blog, Mark My Word, follow him on Twitter @m_sheldon and Facebook and listen to his podcast. This story was not subject to the approval of Major League Baseball or its clubs.