Mending Stroman visits teammates in Toronto
After tearing left ACL in spring, righty eyeing September return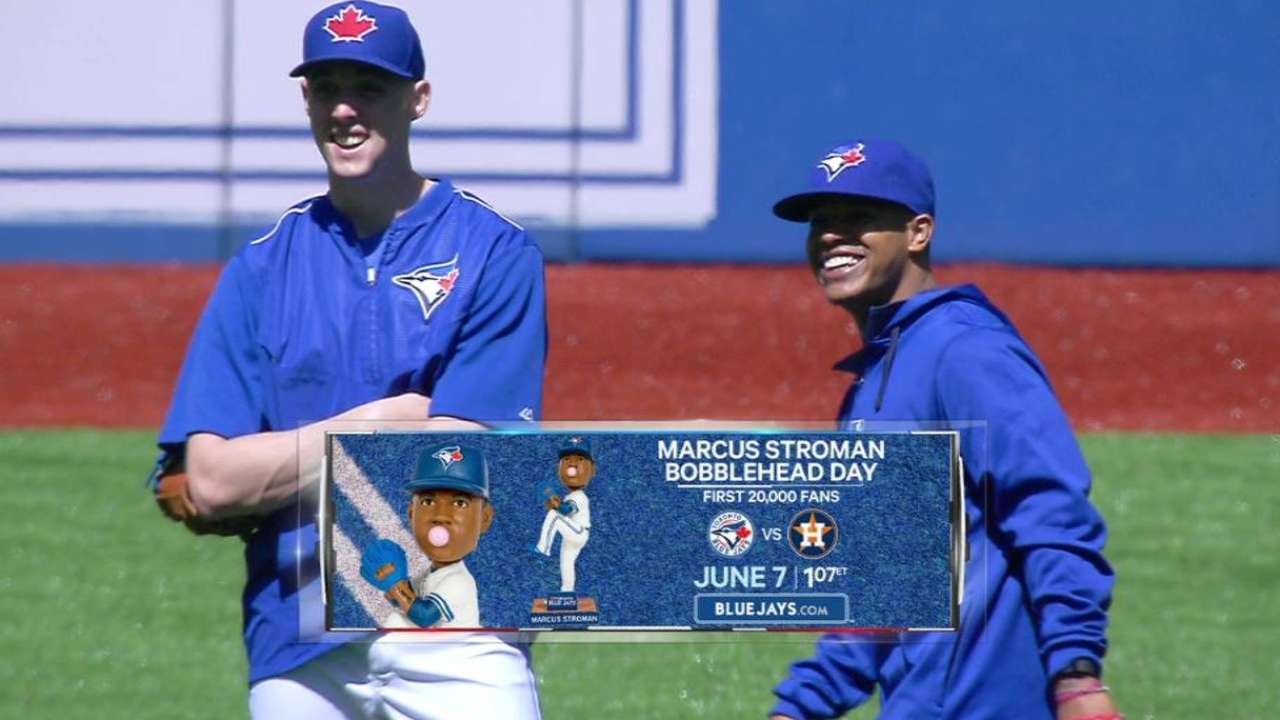 TORONTO -- School's out for Marcus Stroman, for the weekend anyway.
The injured Blue Jays pitcher took a break from his studies at Duke University and visited Rogers Centre to see his teammates and shag fly balls on Saturday before the Blue Jays took on the Mariners.
"It's definitely good putting [the uniform] on and being up here with the roof open, sun out, seeing all of the guys," Stroman said after the team took batting practice. "Bopping around the clubhouse like I would any other day if I was here. Definitely good seeing the guys. I definitely needed it. A little break from what I've been doing, and I'm just excited to be back in the city."
Stroman. who's recovering from left knee surgery after he tore his ACL during Spring Training, recently began throwing again without a brace on his knee. The 24-year-old said he's making "unbelievable" progress in his rehab, which he's working on with Blue Jays staff at Duke for four hours a day, six days a week. That's in addition to taking two classes and an independent study as he works toward completing his sociology degree in August.
"It's intense. It's a lot," Stroman said. "My best friend is with me. ... He'll pick me up, I'll change in the car, meal in the car, eat on the go on the way to class. By the time I get home at 8:30, I'm dead. I wanna go to bed."
.@A_Sanch41, Liam Hendriks & @MStrooo6 sign for fans before today's game pic.twitter.com/m1HpNdf8JJ

- Blue Jays (@BlueJays) May 23, 2015
The right-hander's presence has been sorely missed in the Blue Jays' starting rotation. After playing a leading role as a rookie in the second half of 2014, Stroman was expected to be a front-end starter this season. But he tore his ACL during a fielding drill during Spring Training, putting on hold the high hopes that many had for him in his sophomore campaign. The injury is supposed to sideline him for the entire 2015 season, but Stroman said he's still eying a return in September.
"Yeah. That's in my mindset. Every day I wake up, it's obviously to be back pitching this year in Toronto," said Stroman, who's able to execute full squats and dead lifts. "That's my mindset, that's what I pride myself on and that's what's in the back of my mind, doing everything that I'm doing. We'll see what happens, I can't come out and give you a for-sure answer, but the way I'm progressing, I'm throwing already and I feel great, so we'll see what happens."
Blue Jays manager John Gibbons couldn't say if Stroman's timeline was in line with the Blue Jays' plan, but the manager didn't rule it out.
"[Stroman is] a different bird," Gibbons said. "I wouldn't put anything past him."
Jamie Ross is an associate reporter for MLB.com. This story was not subject to the approval of Major League Baseball or its clubs.