MLB.com Columnist
Tracy Ringolsby
10 things we've learned so far in 2015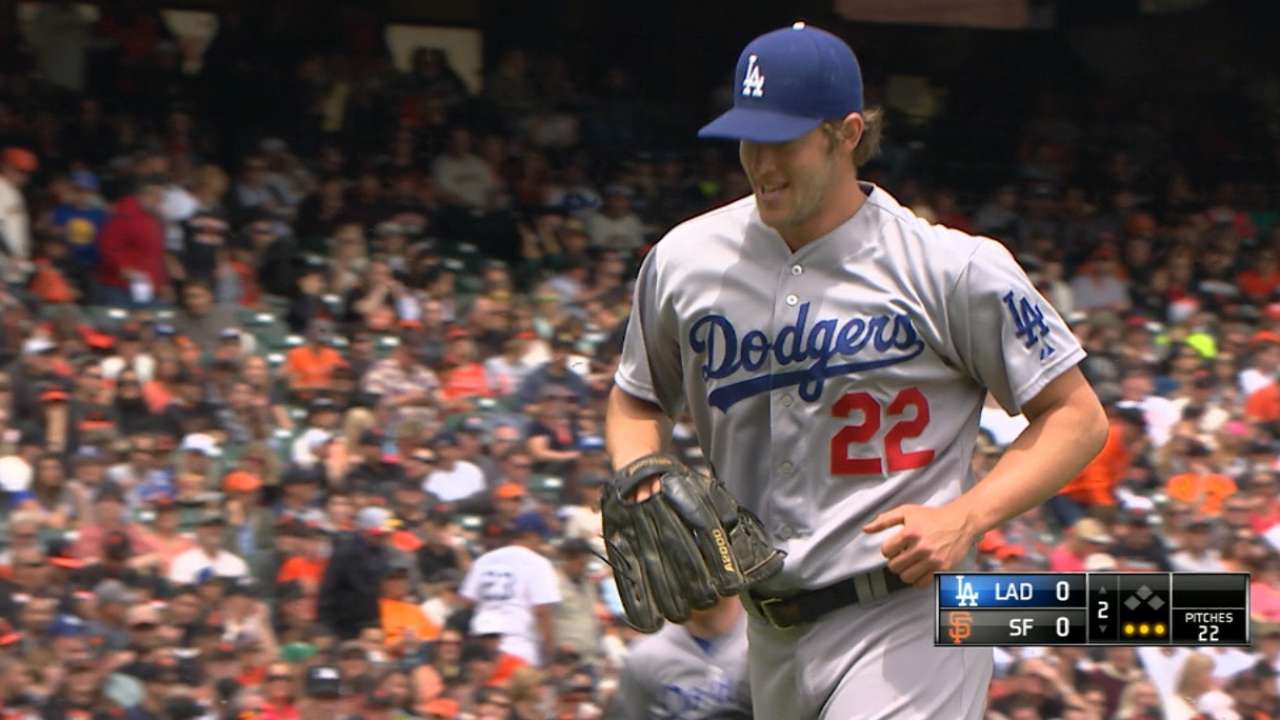 The pace of games has picked up, replay reviews have become a regular part of the in-game routine, and Rob Manfred is settling comfortably into his new role as Commissioner.
The regular season has reached the one-quarter point, and it is time to hand off to the next member of the relay team. With early returns surprises can surface.
Here are 10 things we have learned in the first fourth of the Major League season (all stats before play Saturday):
1. They Are Human: Dodgers left-hander Clayton Kershaw and Indians right-hander Corey Kluber are the reigning Cy Young Award winners. Kluber, who was 18-9 with a 2.44 ERA last year, is 1-5 in nine games with a 3.79 ERA this season. Kershaw, meanwhile, who was 21-3 with a 1.77 ERA while winning his third National League Cy Young Award in four years, has matched that loss total in nine starts (2-3, 4.32) and has given up six home runs.
2. Show Me State of Mind: The Cardinals and Royals are playing at Kaufmann Stadium this weekend, and they'll meet again in St. Louis next month. Could it be a World Series preview? The Cardinals have established themselves as among the NL Elite and are looking for a fifth consecutive postseason appearance, even with rotation ace Adam Wainwright out for the season.
Michael Wacha has stepped up (6-0, 2.13 ERA) to fill that No. 1 slot, and Lance Lynn and John Lackey both check in with 2.96 ERAs.
The Royals ended a 29-year postseason drought last season -- losing to the Giants in seven games in the World Series -- and are even better this year. Mike Moustaskas has given up his pull-happy approach at the plate, and it has paid off with a .342 average that ranks second in the American League. The other corner infielder, Eric Hosmer, is hitting .313 and sixth in the AL with 30 RBIs.
3. Mission Control: Don't do a double take. Yes, the Astros are sitting atop the AL West. Houston's 27-15 record is the best in the league. Are these the same Astros who averaged 104 losses over the past four years and have suffered six consecutive losing seasons?
Well, same name and home park, but far from the same approach to the game. They are only hitting .228 -- last in the AL -- and five of the eight players with 100 or more at-bats went into the weekend with an average of .229 or lower. But the Astros lead the league with 62 home runs and are sixth with 189 runs scored.
And Dallas Keuchel has given them a legitimate ace. He's 6-0 with a 1.67 ERA and .186 opponents' average against, and the Astros have won eight of his nine starts. Despite pitching in Minute Maid Park, he's only allowed one home run.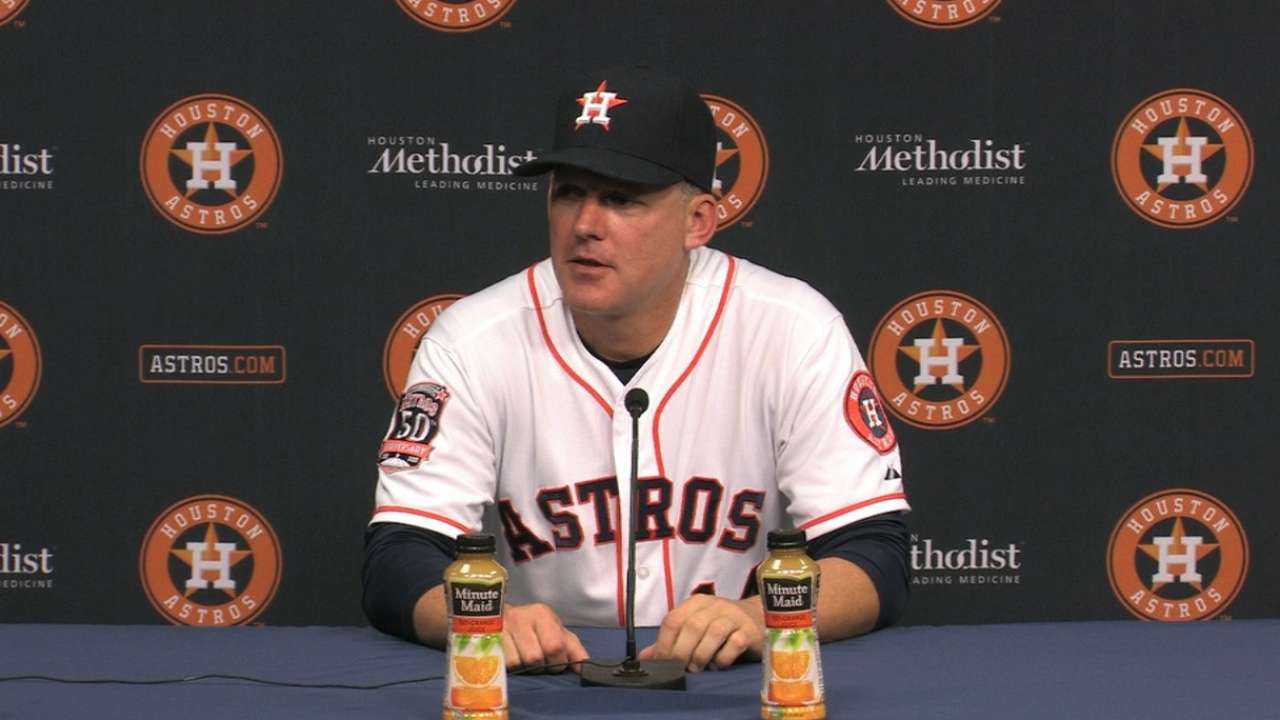 4. Life after Joe Maddon: Maddon left the Rays to become manager of the Cubs, but Tampa Bay hasn't missed a beat. Check out those AL East standings -- the Rays are on top, a half-game in front of the Yankees.
Contrary to public opinion, the Rays have a veteran lineup -- seven of nine regulars are 29 older -- and Padres castoff Brad Boxberger has provided a resounding finishing touch, converting all 12 of his save opportunities.
5. They Are Back: Hall of Famer Paul Molitor had never managed before this season, but he knows the game. And even though the bulk of his career was spent elsewhere, he knows the Twin Cities, having grown up in the area and attended the University of Minnesota. With Terry Ryan returning to his role as the general manager, the Twins are back to being a franchise built on accountability. It's no coincidence that Torii Hunter returned after spending time with the Angels and Tigers and the team is playing well. Hunter is one of those "Terry Ryan Twins,'' according to Dodgers manager Don Mattingly -- a term of respect for the focus of being a team, not an individual, that is fostered by Ryan.
6. Next man up: Patience may be preached, but it is not always practiced. The Brewers dismissed manager Ron Roenicke, replacing him with Craig Counsell, and the Marlins let Mike Redmond go, moving general manager Dan Jennings into the skipper role. Neither had ever previously managed or coached at the professional level.
Those moves marked the 82nd and 83rd time a manager had been fired within the first 50 games of a season. Only four of the previous 81 changes resulted in a trip to the postseason. But it was more than a slow start that led to this year's managerial moves. The Brewers did, after all, set a record last year for days in first place in a season without making the postseason. The Marlins extended Remond's contract through 2017 at the end of last year, but he was 155-207 in two-plus seasons.
7. He's Arrived: Bryce Harper is no longer a promise. He is an impact player. At the age of 22, Harper is finally healthy and has been a key factor in the Nationals getting well after an early struggle. The Nats are atop the NL East, and Harper is leading the NL in home runs (16), slugging (.750), on base percentage (.475) and walks (38). He's also second in the NL in RBIs (39), and his .336 average ranks third. As the Nationals won 17 of 21 to climb out of last place, Harper hit .397 with 10 home runs and 27 RBIs.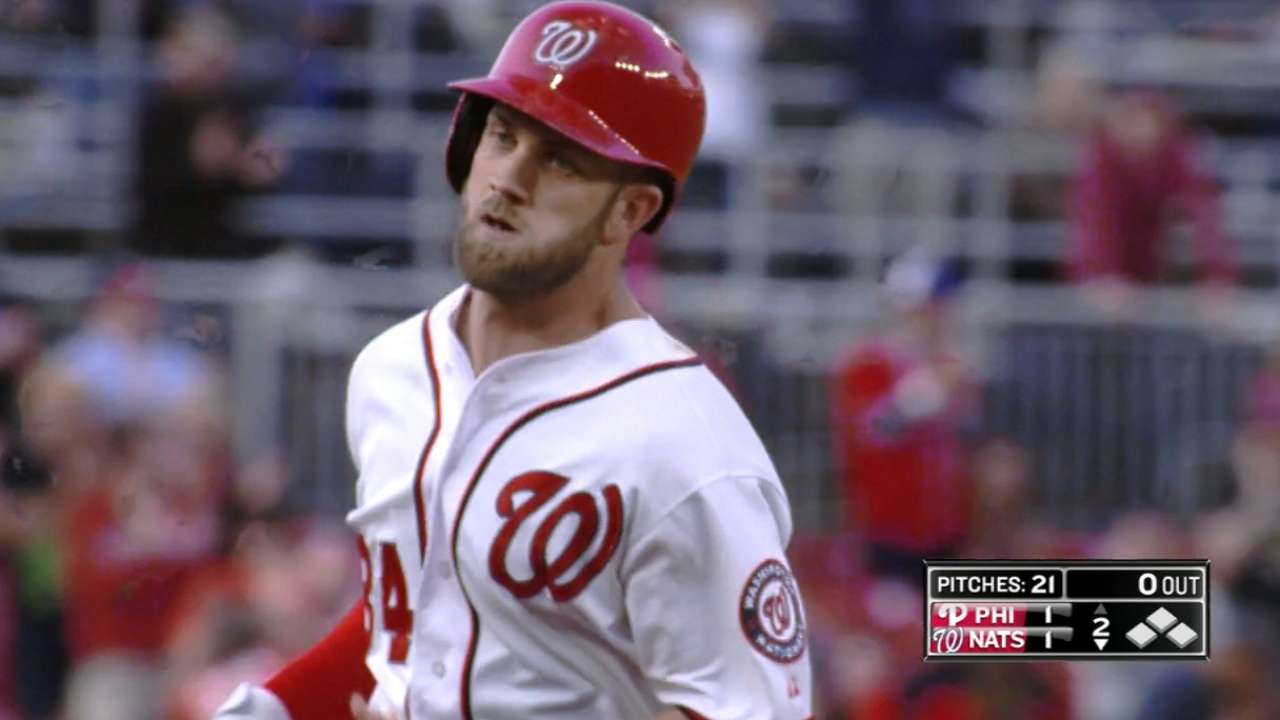 8. Adjustment Period: After all of their offseason wheeling and dealing, the Padres are figuring out where everyone fits, and sitting three games below .500. The Padres rank fourth in the NL with 182 runs, and Justin Upton has settled in nicely with 11 home runs and 29 RBIs. But not all the pieces have fallen into place.
Four Padres regulars are hitting .223 or lower, and other than James Shields (5-0), the Padres are struggling on the mound. Craig Kimbrel is 11 for 12 in saves with a 5.74 ERA -- well above the 2.10 ERA he posted in 2011, the highest of his career for a full season. And he has already allowed 10 earned runs, one shy of last year's total.
9. New King In Town: Oh, the old king, Felix Hernandez, is still around Seattle, but Nelson Cruz is making his mark, showing he can survive quite well in Safeco, where some past power hitters have faded into oblivion.
Felix is 6-1 with a 2.30 ERA. Nice, but it is Cruz who has stolen the show, leading the AL with a .354 average and 17 home runs. His 34 RBIs rank rank second, and he's proving he wasn't merely a mirage created by the small dimensions at Camden Yards, where he set career highs with 40 homers and 108 RBIs a year ago.
10. Failing Grade: Coming off three consecutive postseason appearances, the A's are sitting at the bottom of the AL West. They are 14-30 with the worst winning percentage in baseball at.318. They rank eighth in the AL with a 4.04 ERA. Sonny Gray is 4-2 with a 1.92 ERA, but the rest of the rotation has struggled. The bullpen has converted only five of 13 save opportunities. And shortstop Marcus Semien has made 16 of the team's Major League-leading 46 errors.
Tracy Ringolsby is a columnist for MLB.com. Read his blog, < b>Write 'em Cowboy. This story was not subject to the approval of Major League Baseball or its clubs.