Goldy clutch as usual, but Ahmed emerges as unlikely hero
D-backs' key hits come from two very different sources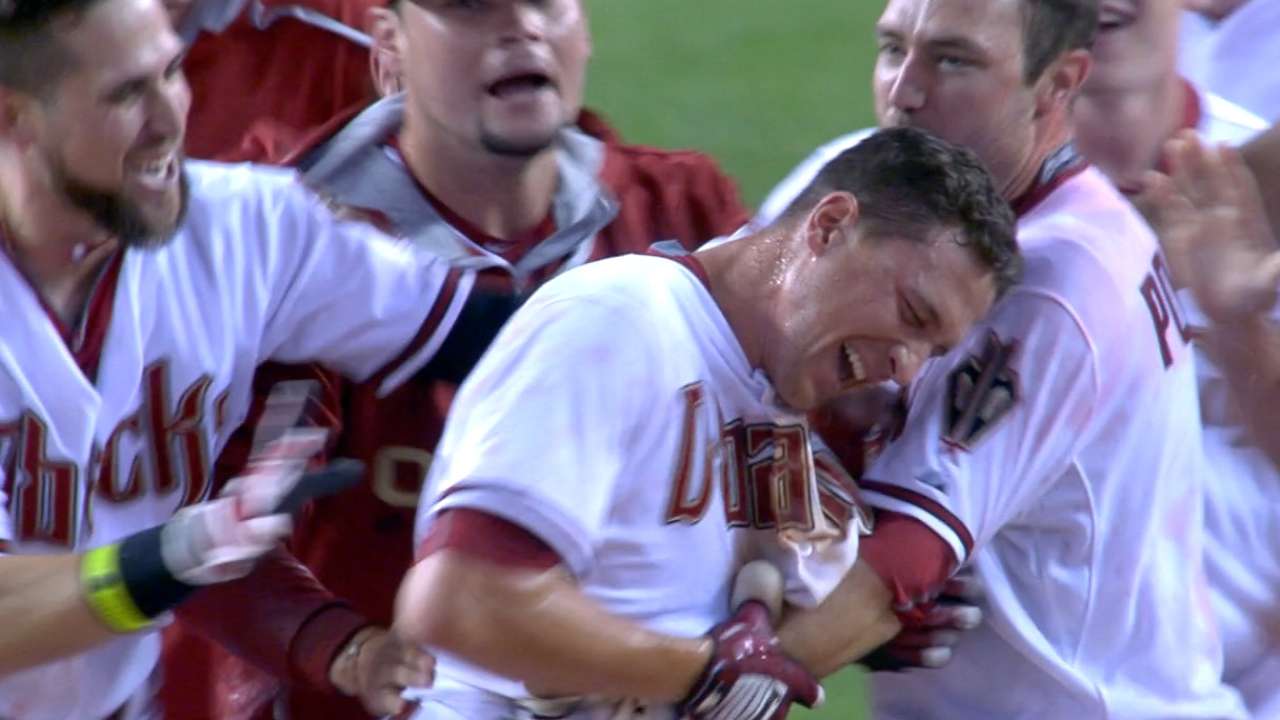 PHOENIX -- D-backs manager Chip Hale isn't surprised that Nick Ahmed has started to heat up offensively after a slow start to the season. And he certainly isn't shocked that slugger Paul Goldschmidt continues to come through in key situations.
On Friday night, it took heroics from both Ahmed and Goldschmidt for the D-backs to pull out a 5-4 win over the Cubs in 13 innings.
Ahmed delivered the walk-off hit, an RBI single to left off of Cubs reliever Zac Rosscup that scored Tuffy Gosewisch, who had reached on a one-out double. Ahmed went 3-for-6, also hitting his first homer of the season in the fifth, a solo blast off of Jon Lester.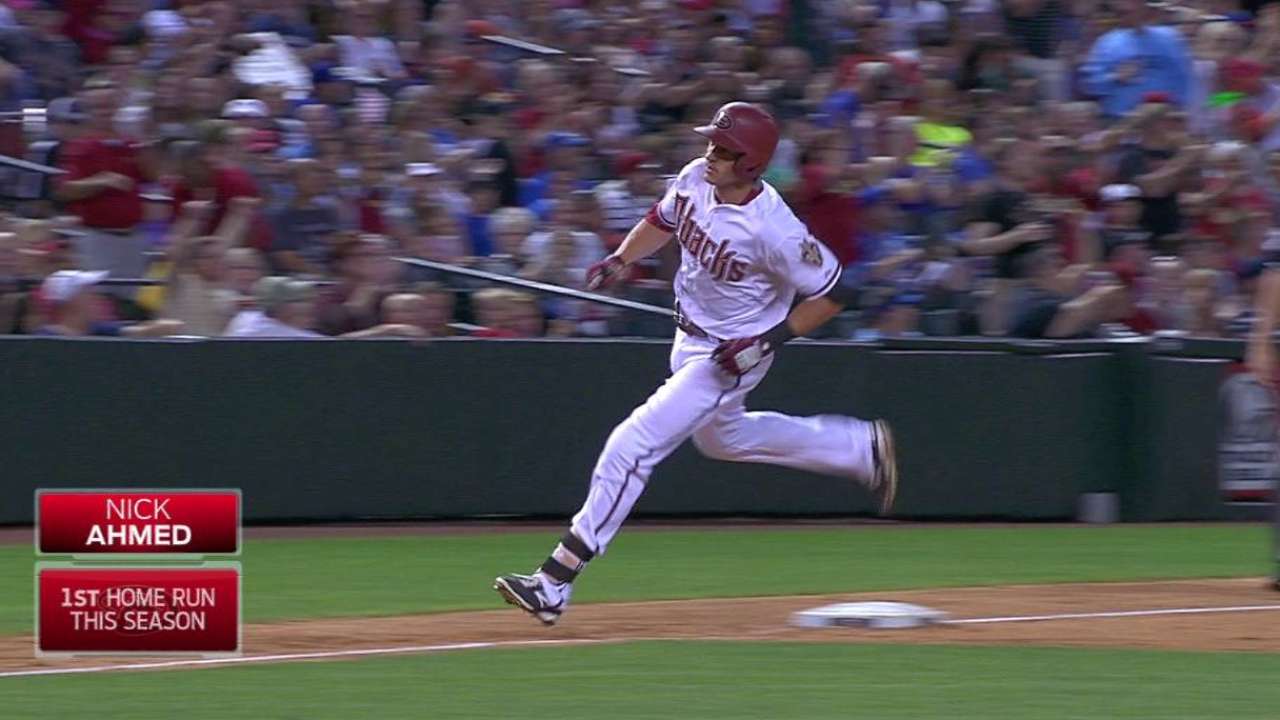 The D-backs shortstop is 7-for-13 with four RBIs during the team's five-game winning streak, raising his batting average to .212.
"I've made some improvements, made some adjustments, and am starting to put the barrel on the ball better,"Ahmed said. "Teammates here, to stick with me and stay behind me, keep instilling confidence in me even though I'm struggling, that really helped a lot."
Ahmed had mainly contributed with his glove early in the season, playing above-average defense while he struggled at the plate. Now, Hale is beginning to see the extra work that Ahmed has put in with hitting coaches Turner Ward and Mark Grace pay off.
"It's exciting to see,"Hale said. "He works so hard at all parts of his game that when he has success like this you're really happy for him."
Before Ahmed delivered the game-winning hit, the D-backs were in a tough situation in the 10th, trailing the Cubs 4-2 after Addison Reed allowed a pair of runs in relief.
A.J. Pollock hit a two-out double to left to keep the D-backs alive in the bottom of the 10th. Then, Goldschmidt knotted the game back up with his 11th homer of the year, a two-run blast to left off a 2-2 pitch from Cubs closer Hector Rondon.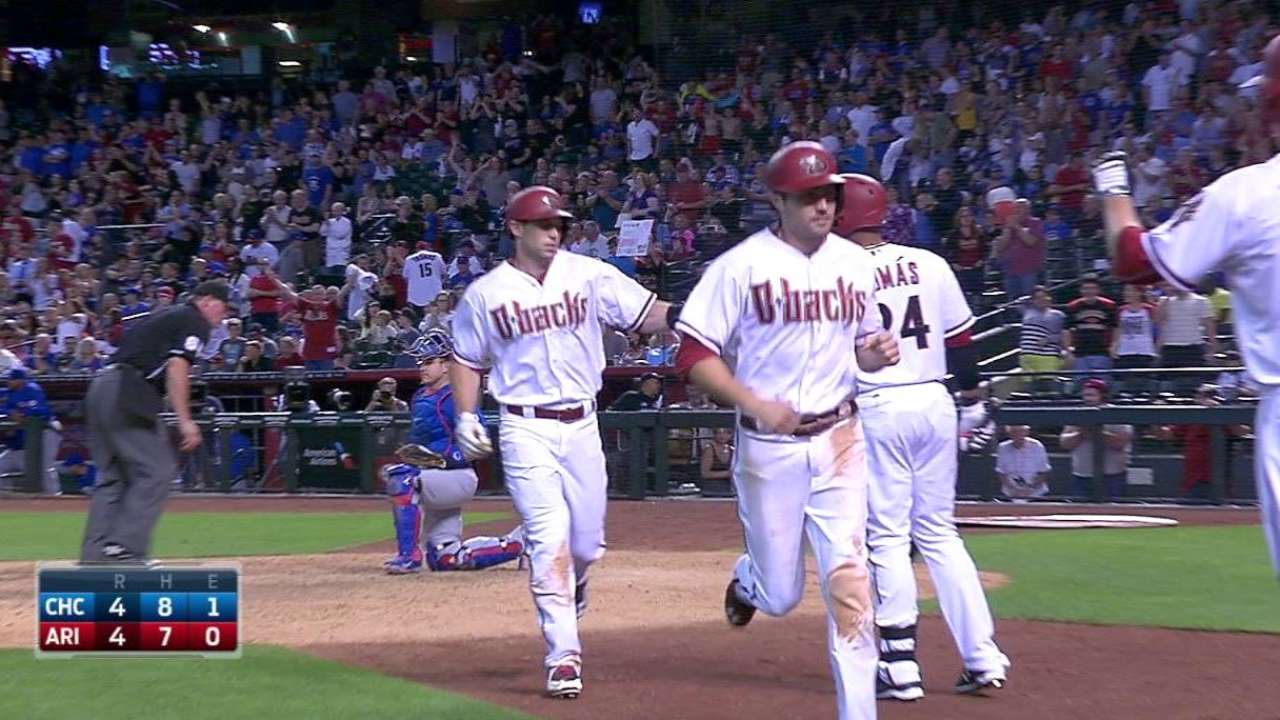 "The crazy part is I'm not shocked,"Pollock said. "It just what he does. It's crazy, but it's no big deal to him. He just hits home runs to tie games and win games."
Goldschmidt went 3-for-5 with a trio of RBIs, continuing to be the team's offensive leader. He is batting .331 and has driven in 32 runs, fourth most in the National League.
"Goldy's Goldy," Hale said. "That's why he's our guy. Everybody leans on him and sometimes it's tough being that guy, but he's made to do those things."
Jake Rill is an associate reporter for MLB.com. This story was not subject to the approval of Major League Baseball or its clubs.