Rockies undaunted by deficit, rain before loss
Colorado scores eight runs in final three innings vs. Giants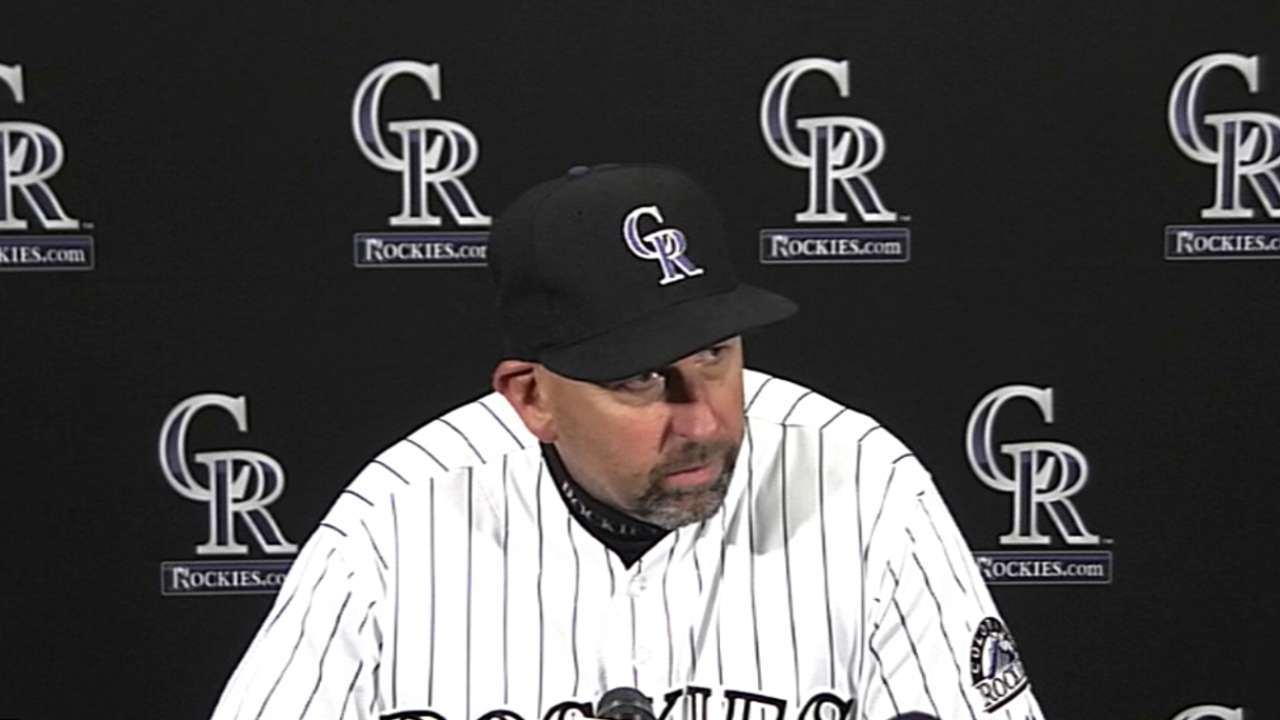 DENVER -- With its tendency to chew up sizeable leads and spit them aside, Coors Field has been a hotbed for bizarreness since its opening in 1995.
The combination of a nearly two-hour rain delay, an in-game fireworks performance and a late injection of Colorado offense nearly produced another chapter late Friday night.
But what the Rockies' bats did in the final three frames couldn't fully erase what they didn't do in the first six, and the Giants snuck out of Coors Field with an 11-8 victory in the series opener.
The severe weather -- along with the postgame fireworks show turned rain-delay entertainment -- arrived after the Rockies started the ninth inning with three straight singles. They still trailed, 11-5, but didn't mind waiting until the weather subsided.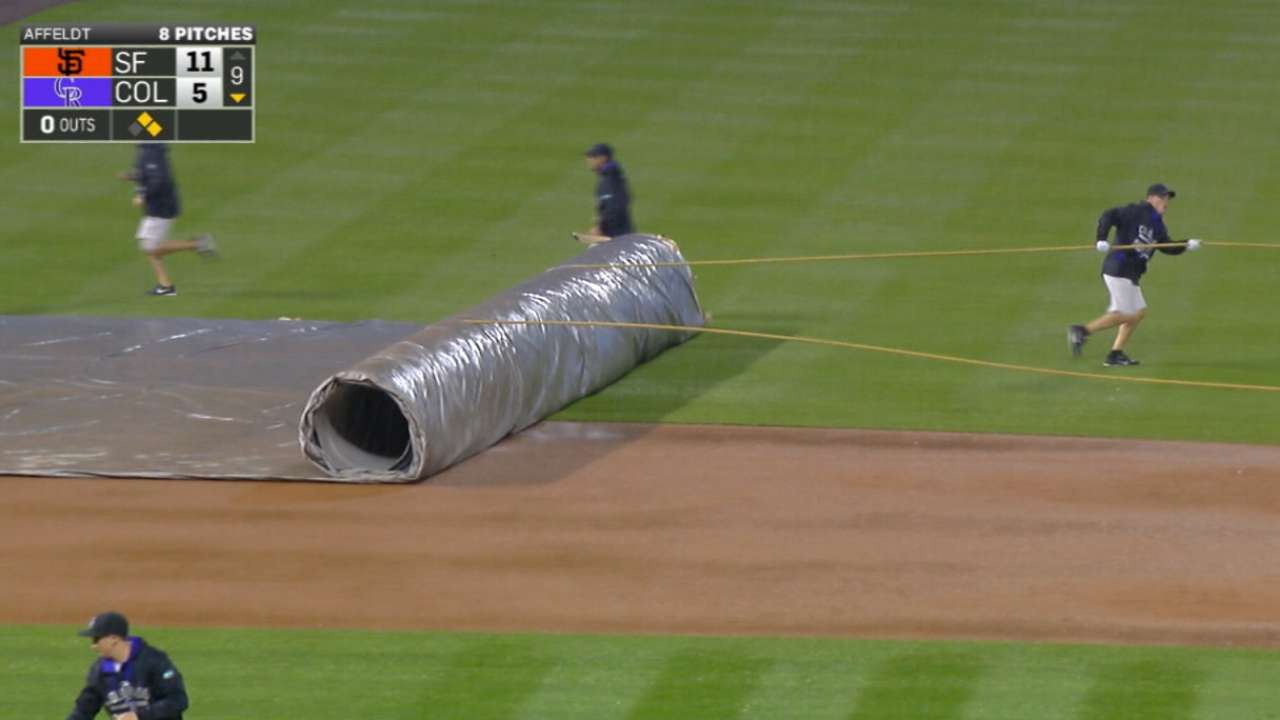 "Everybody was really wanting that last at-bat in that last inning," left fielder Ben Paulsen said. "Everybody went in the cage probably 30 minutes before [the rain delay ended] and took some hacks. We were waiting around so long -- might as well make a run at it."
Pinch-hitter Michael McKenry kept the line moving with an RBI single. Carlos Gonzalez then followed suit, and three batters later, Paulsen cranked a two-out RBI double to unthinkably bring the tying run to the plate with a pair on.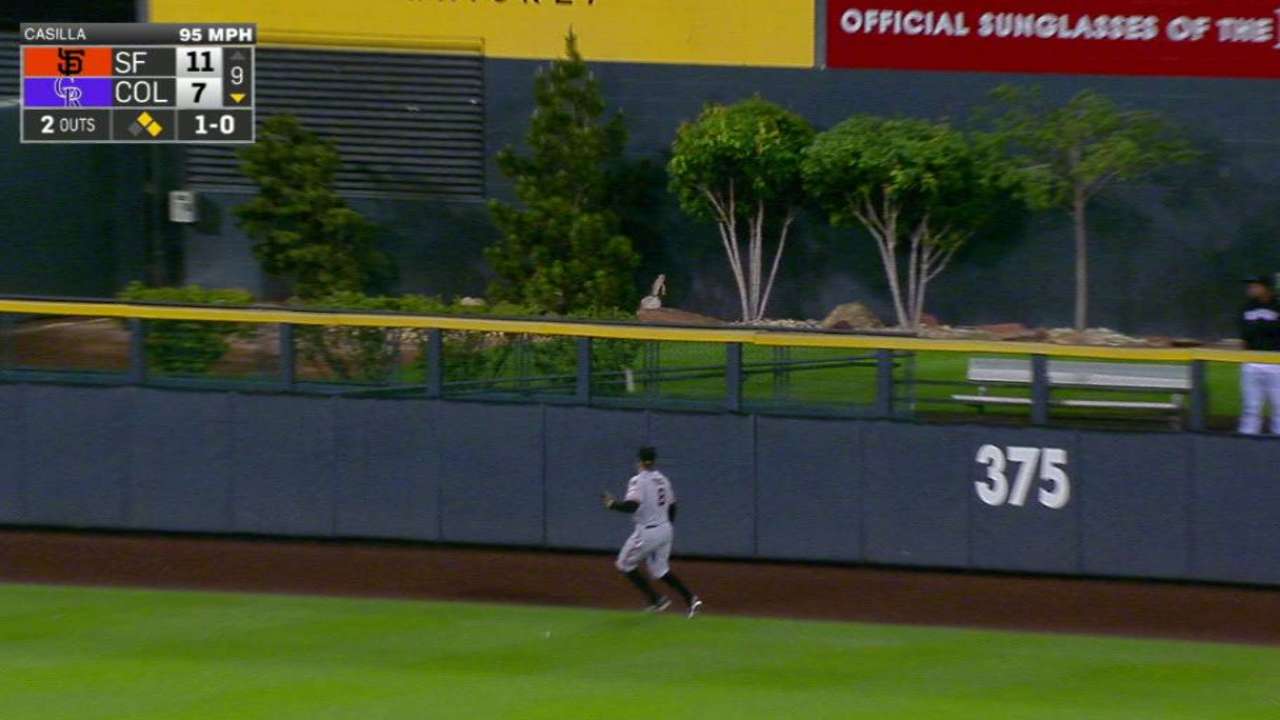 Nick Hundley's strikeout, though, signaled the end.
"[Giants starter Ryan] Vogelsong got us early, and I think everyone was trying to salvage their days there," said DJ LeMahieu, whose three-run homer off George Kontos in the seventh trimmed the Giants' lead to 7-3.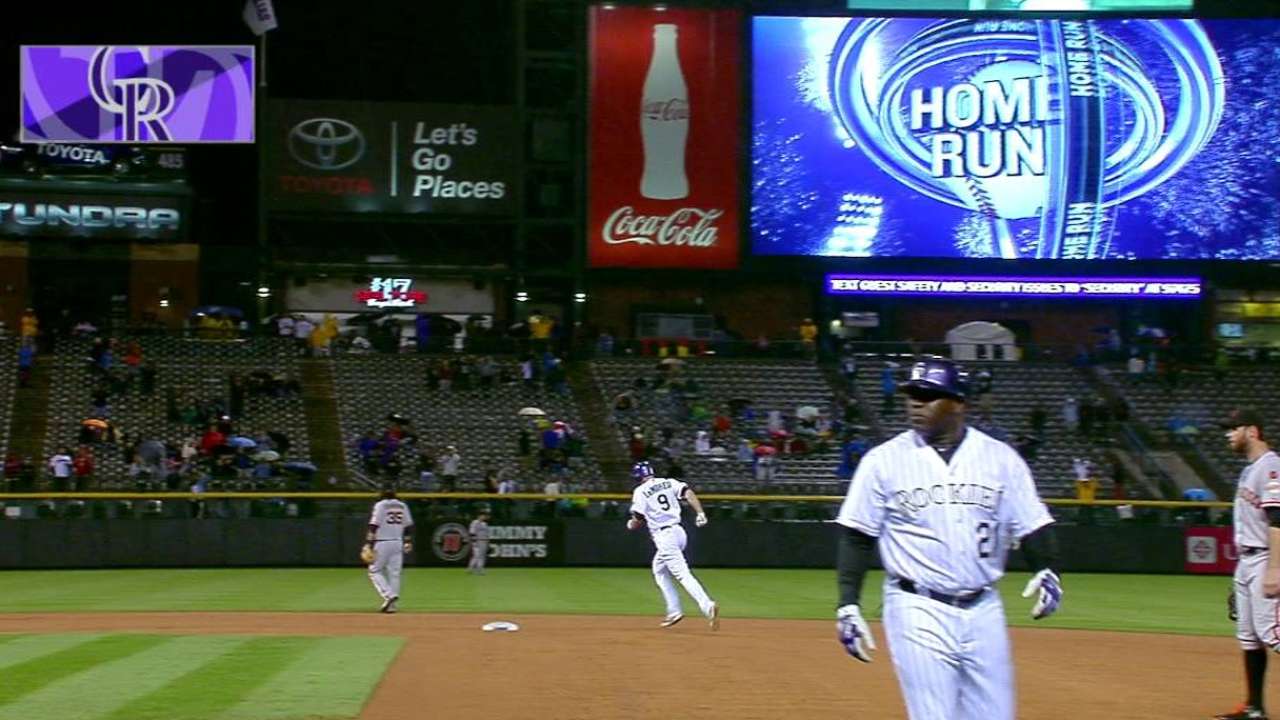 Against Vogelsong, the Rockies didn't muster a hit until the fourth inning and put only one runner in scoring position. The right-hander's six scoreless innings were a product of solid location.
"He was using his cutter very well, mixing speeds," LeMahieu said. "I feel like against me and everyone else, he was making perfect pitches -- balls that you couldn't put very good swings on. He kept it up pretty good."
Vogelsong's last three Coors Field starts covered 11 1/3 frames -- a span where the Rockies plated 17 runs, batted .400 (22-for-55) and clubbed eight homers. Colorado won all three of those games and knocked him out before the sixth inning in each.
That part of Friday night was a different story, but the back end nearly wrote a familiar chapter.
"You don't want to mentally shut it off too soon, and our guys did a good job of coming up with big hits there," LeMahieu said. "I mean, that's tough there to be in a two-hour delay and put up good at-bats."
Dargan Southard is an associate reporter for MLB.com. This story was not subject to the approval of Major League Baseball or its clubs.