Braun's scorching bat sparks huge outburst
Slugger smacks 11th homer, his fifth of Brewers' 8-game road swing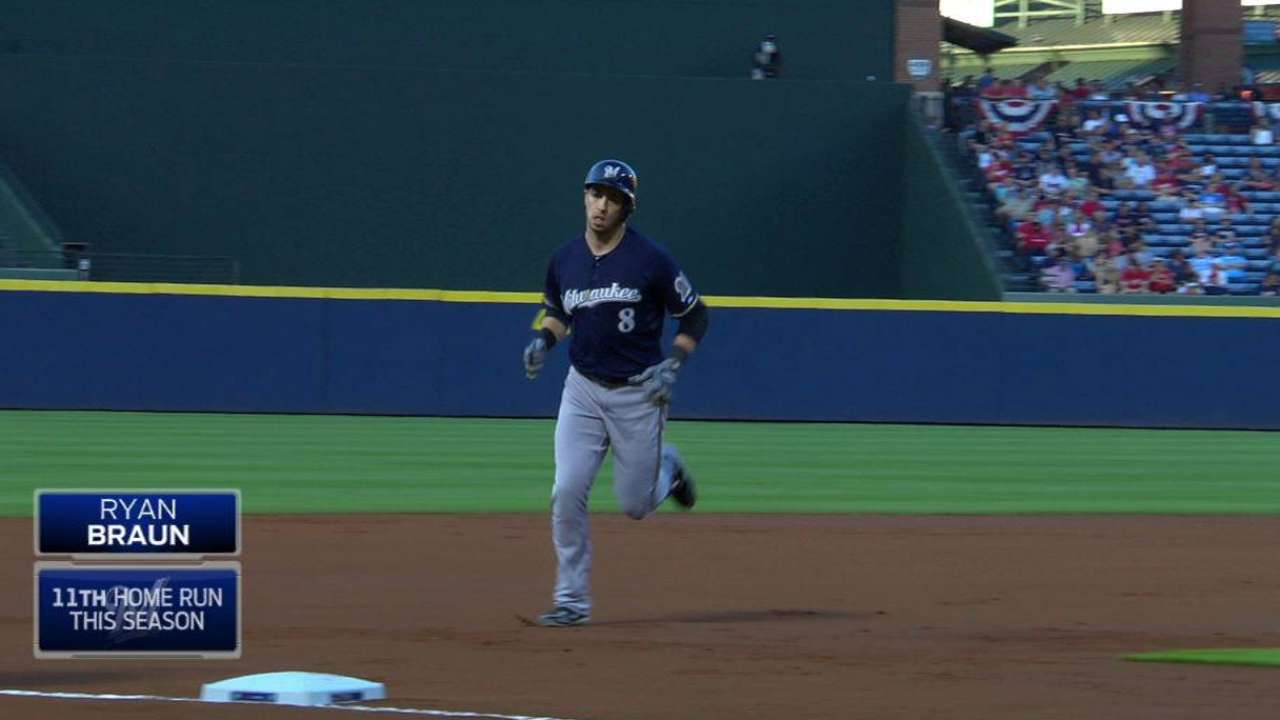 ATLANTA -- The Brewers have seen their share of misfortune at the plate this season. But at times -- like in an 11-0 romp Friday night against the Braves -- they've managed some offensive magic.
If they can just mix in some pretty good, semi-magical nights once in a while in this seemingly feast-or-famine season, they could make some headway.
"Sometimes," said slugger Ryan Braun, whose three-hit, four-RBI night sparked Milwaukee at Turner Field, "you're going to face a good pitcher on a tough night, and you know you're not going to score many runs. But we've had more of these games recently. So it's encouraging."
The Brewers lately have been the picture of inconsistency. In their last five wins, including Friday, the Brewers have scored a whopping 39 runs -- an average of 7.8 a game. But in their last five losses, they've scored only seven runs -- an average of 1.4.
"It seems simple on a night like tonight," Brewers manager Craig Counsell said. "When we got two strikes, we made them earn that last strike. Just finishing off an at-bat. Sometimes it ends up in a walk, sometimes it ends up in a hit. But some good things are going to happen if you finish that at-bat."
The Brewers, statistically speaking, sport one of the worst lineups in the National League. They entered Friday's action with the lowest on-base percentage in the NL (.281, when the league average was .315) and the 13th-ranked OPS (.662; league average at .706). Their OPS+, which accounts for the vagaries of different ballparks, was the lowest in the league, too.
But they can smack the ball around, and by the time Friday's shellacking was over, the Brewers had rung up 11 runs (one shy of their season high) on 12 hits (one short of their season best) with five doubles (tying the season high). Braun's first-inning two-run homer, his 11th of the season, was all they would need.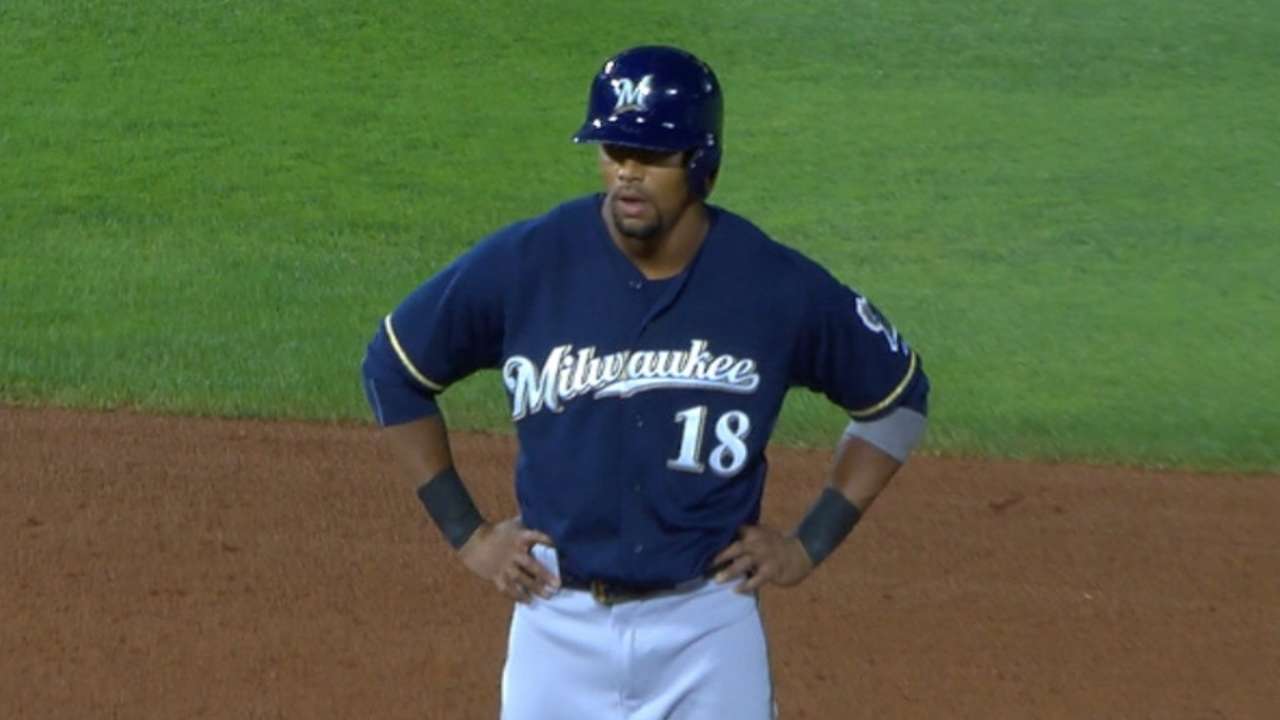 It was the biggest win in a shutout for Milwaukee since the Brewers beat the Pirates, 20-0, on April 22, 2010. It also was the third time in a 13-game span that the Brewers scored at least 10 runs with at least 10 hits. They did that only five times all last year.
Maybe most encouraging for the Brewers was they drew a season-high eight walks. All this one night after a 10-1 loss to the Braves in which they had only two hits, two walks and struck out 10 times.
Neither Counsell nor Braun expects the Brewers suddenly to become a patient lineup that works counts to get on base. They are, as Counsell points out, a "slug" team, going for big swings and extra-base hits.
"We'll walk a little bit. But it's really hard to ask Carlos Gomez, or Jean Segura [to work a walk]," Braun said. "They are who they are.
"You hope the [team's] plate discipline gets a little bit better as guys go, but to me, it's something that's kind of inherent. You either have it by the time you get to the big leagues or you don't.''
Considering how Braun has hit lately, the Brewers can afford a few guys swinging away with abandon. Braun is on a tear, hitting .385 (10-for-26) with five home runs in the eight games the Brewers have played on their 10-game road trip, which ends Sunday. In his past 16 games, he is hitting .358 (19-for-53) with six homers and 20 RBIs.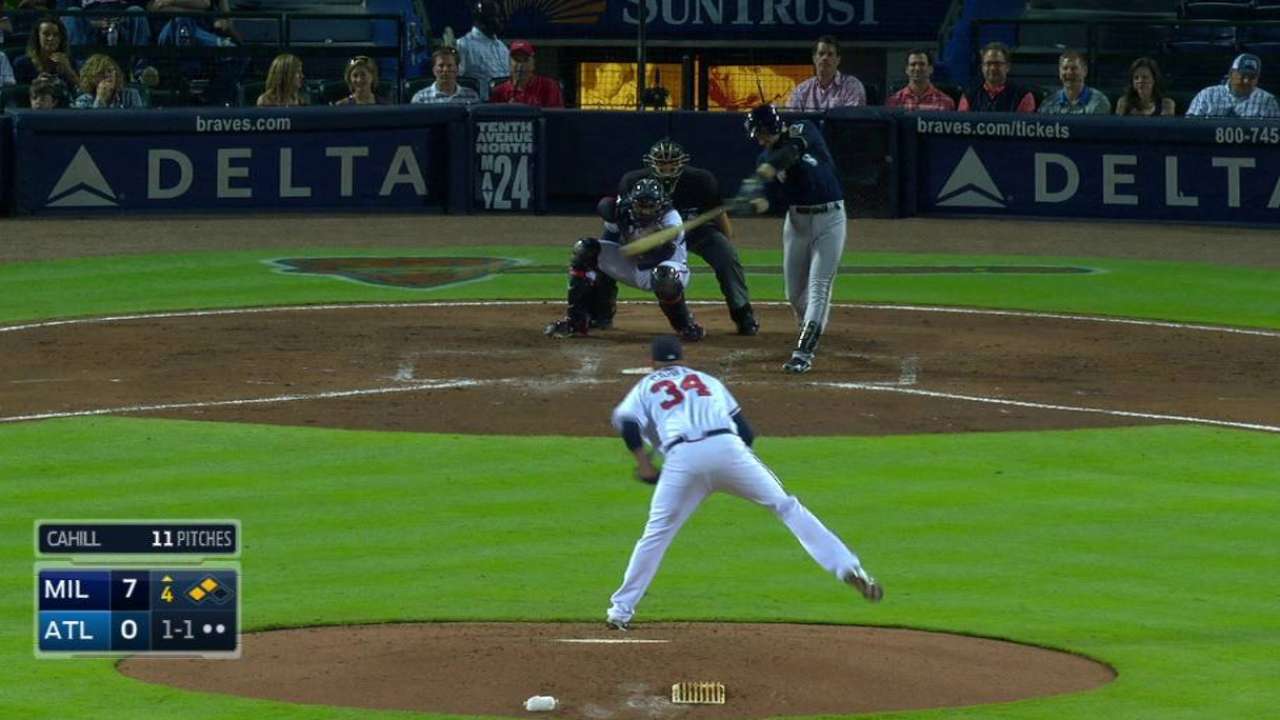 That kind of production can go a long way toward getting the Brewers (16-27) closer to .500, something no one expected after a forgettable 5-17 April.
"We played a good game. And that's what we've been looking for," said Counsell, now 9-9 as the Milwaukee manager. "Let's play a consistent brand of baseball."
John Donovan is a contributor to MLB.com. This story was not subject to the approval of Major League Baseball or its clubs.