Padres' Renfroe among top performers in Minors Friday
San Diego's No. 1 prospect notches a career-high four hits, including two doubles, for Double-A San Antonio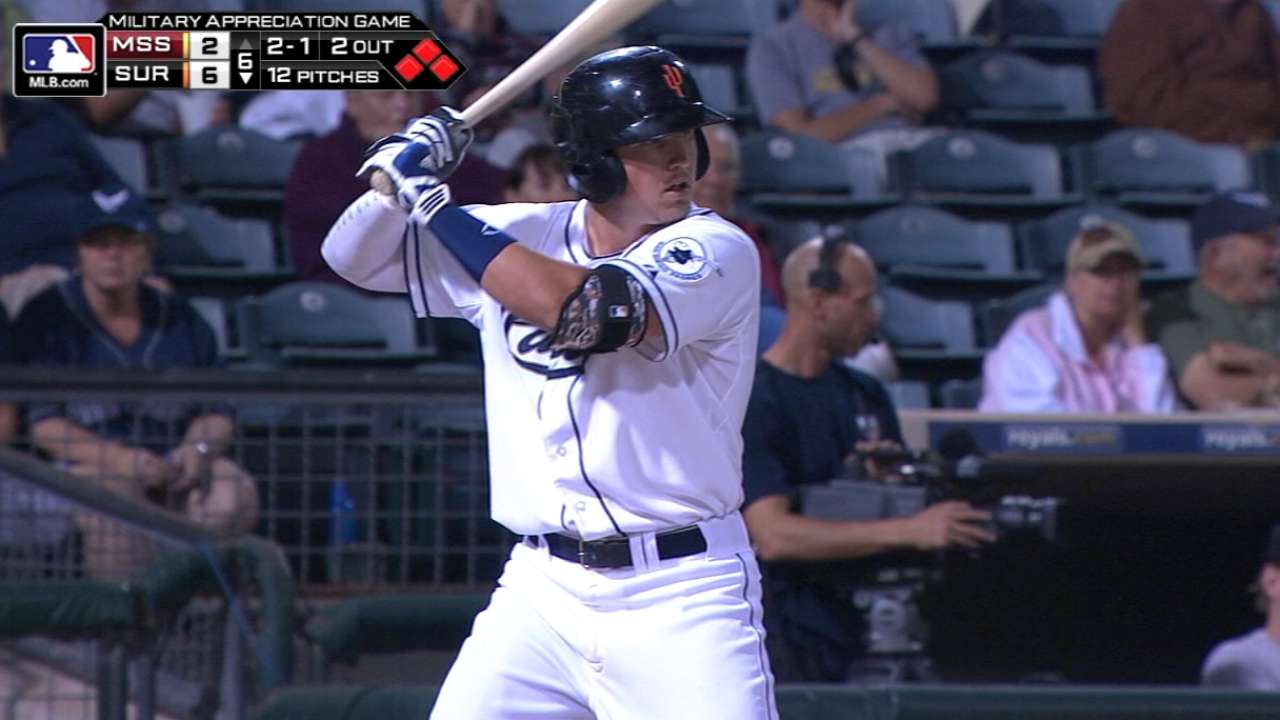 Padres No. 1 prospect (No. 44 overall) Hunter Renfroe has more than 200 career Minor League hits, but the Double-A San Antonio outfielder had never collected four in one game until Friday night against Frisco.
Renfroe went 4-for-4 with two doubles, two RBIs and a walk for the Missions, and now has a five-game hitting streak. Over that time, he's boosted his season line from .205/.248/.315 to .252/.305/.374.
Teammate -- and Padres No. 3 prospect -- Trea Turner also stood out on Friday, extending his hitting streak to eight games while notching his sixth RBI in six games. The shortstop, baseball's No. 58 overall prospect, has five homers and 22 RBIs on the year.
More standout performances from Top 100 prospects on Friday
• Cubs No. 4 prospect (No. 45 overall) Kyle Schwarber helped Double-A Tennessee to a 4-1 win over Montgomery on Friday by hitting a three-run homer. He now has 10 on the year, which is good for fifth in the Minor Leagues.
• Pirates No. 7 prospect (No. 85 overall) Alen Hanson went 2-for-4 with a homer and three RBIs for Triple-A Indianapolis, marking his fifth straight game with multiple hits. The 22-year-old is now hitting above .300 for the first time all season, sporting a .301/.351/.436 line with two home runs and 18 RBIs.
• Indians No. 3 prospect (No. 100 overall) Bradley Zimmer swatted his eighth home run of the season for Class A Lynchburg. The blast was his third in six games, and the center fielder is now hitting .309/.404/.526 with 22 RBIs this year.
Other notable performances from around the Minor Leagues
• Reds No. 25 prospect Junior Arias came through with his fourth walk-off hit in nine games for Class A Advanced Daytona. The clutch outfielder smacked a double in the bottom of the 12th inning, the tiebreaking cherry on top of a 3-for-6 performance. Arias has only played 13 games for Daytona, but has now ended almost a third of them with a game-winning hit.
• Dodgers No. 6 prospect Jose De Leon was solid in his Double-A debut. The Tulsa pitcher gave up three runs on three hits in six innings, striking out eight batters in the process. He picked up the loss, making him a combined 4-2 on the year. De Leon's strikeout-to-walk ratio now stand at 66/10.
• Indians No. 7 prospect Francisco Mejia and Class A Lake County narrowly lost to Great Lakes, 7-6, but the catcher smashed a three-run home run in the game. The blast was his second in four games, and he's now hitting .224/.323/.388 with four home runs and 16 RBIs on the season.
• Athletics No. 9 prospect Chad Pinder continues to rake for Double-A Midland, hitting a grand slam on Friday. The homer was his sixth of the season, and he's 13-for-26 (.500) over his past six games. In that span, his line has jumped from .242/.338/.417 to .288/.371/.466.
• Phillies No. 5 prospect Zach Eflin was one out away from a complete game, one-hit shutout for Double-A Reading. The 21-year-old right-hander handled Portland in 8 2/3 innings of work, giving up four hits and two unearned runs while striking out five. The hurler is now 4-3 with a 2.28 ERA. "I felt like I had everything," Eflin told MiLB.com after Friday's game. "I threw a couple bad off-speed pitches, but other than that, I was able to command everything and get ahead with fastballs and get ahead with off-speed. So it was a good day."
• Red Sox No. 13 prospect Michael Kopech picked up his first win since April 25 for Class A Greenville. The 2014 first-round pick gave up four hits and one run in five innings. He also struck out six batters, and now boasts a 30-to-9 K/BB ratio.
• Royals No. 9 prospect Jorge Bonifacio hit a three-run home run off Jose De Leon for Double-A Northwest Arkansas in his squad's 3-0 win against Tulsa. The blast was his seventh of the season, and the 21-year-old also has 25 RBIs to his name.
• Cubs No. 7 prospect Duane Underwood moved to 5-0 on the season for Class A Advanced Myrtle Beach, helping the Pelicans to an 8-4 win over Potomac. The righty gave up six hits and two earned runs in six innings, and now boasts a 1.38 ERA on the year.
• Tigers No. 3 prospect Buck Farmer improved to 5-1 with a strong performance for Triple-A Toledo. The former fifth-round Draft pick gave up two runs (one earned) in seven innings of work, outdueling Daniel Norris, baseball's No. 17 overall prospect, in the process. Farmer also cut his season ERA from 3.25 to 2.98.
• Giants No. 17 prospect Adam Duvall is now second in the Minor Leagues with 12 home runs this season. The Triple-A Sacramento slugger hit a two-run shot on Friday as part of a 2-for-5 night, and now has 36 RBIs on the year.
• D-backs No. 7 prospect Peter O'Brien totaled nine bases for Triple-A Reno. On the night, he was 4-for-5 with two doubles, a home run and five RBIs. The performance continued a season-long onslaught that now includes 10 homers, 41 RBIs and a .342/.379/.658 line.
• Astros No. 25 prospect Jacob Nottingham went 4-for-5 with a homer and three RBIs for Class A Quad Cities. Friday marked his first four-hit game of the season, and his first home run since May 13. On the year, he has seven dingers and 27 RBIs.
• Orioles No. 23 prospect Trey Mancini had his third straight multi-hit game for Class A Advanced Frederick. The first baseman went 3-for-4 with three runs, a double and an RBI. Over the past three days, he's gone 8-for-12 with a homer and three RBIs. Teammate and Orioles No. 25 prospect Mitch Horacek chipped in with 10 strikeouts in 6 2/3 innings. The southpaw picked up his first win since April 20, and now sits at 3-4 with a 3.63 ERA.
• Rays No. 23 prospect German Marquez tossed his longest Minor League start for Class A Advanced Charlotte. He threw seven shutout innings, giving up just two hits. Marquez has a 0.64 ERA in May after he posted a 4.74 ERA in April. "Last year, he got off to a slow start, too," manager Michael Johns told MiLB.com. "It just seems that he gets better with each outing. He learns, he improves. There was a time last season when he was one of the best pitchers in baseball."
• Nationals No. 26 prospect Christopher Bostick hit his first homer of the season for Class A Advanced Potomac. The second baseman went 2-for-5 with a solo shot on Friday, and now has seven RBIs on the year.
Alex M. Smith is a reporter for MLB.com. This story was not subject to the approval of Major League Baseball or its clubs.