Can one inning jump-start Angels' offense?
Club hopes nine-run fifth vs. Red Sox is a sign of things to come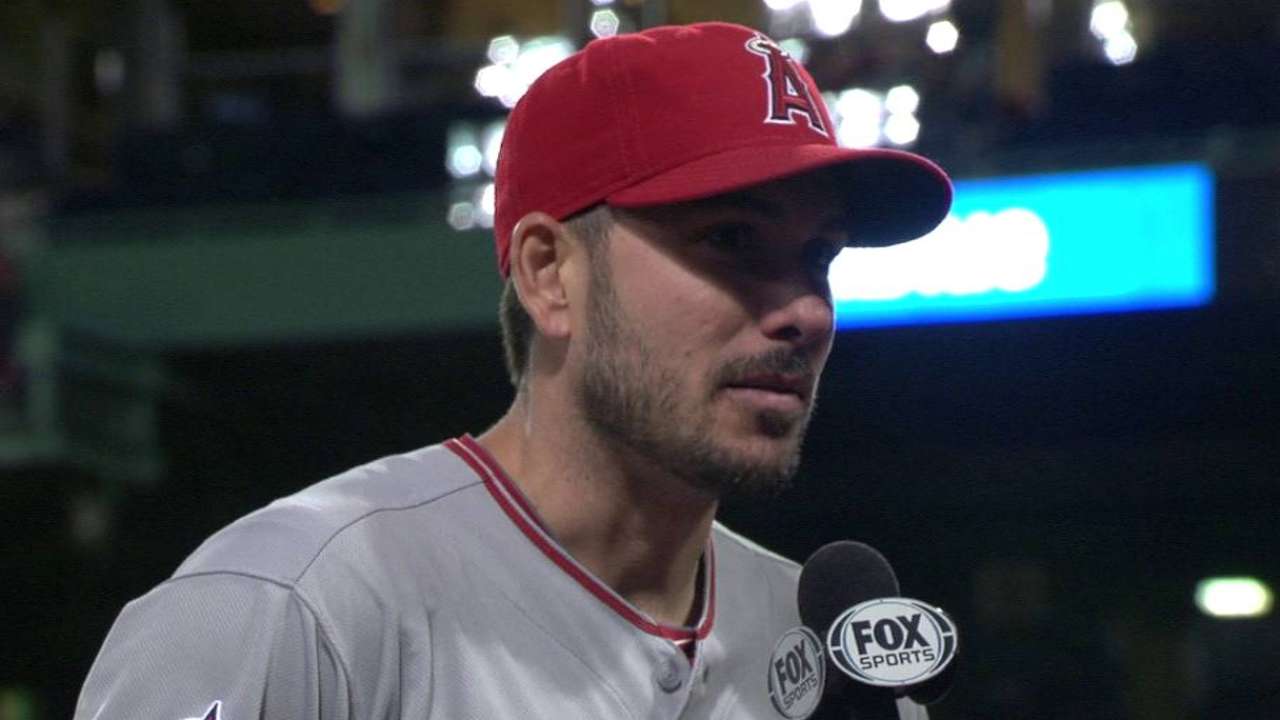 BOSTON -- A three-run homer from a catcher who was hitting below .100 two weeks ago, a two-run shot from a shortstop who hadn't gone deep all year, six total bases from a No. 3 hitter who could've easily gone on the disabled list, two opposite-field hits from a newcomer still trying to fit in and one nine-run inning from an offense that had statistically been among the worst in baseball.
It may have only been one game -- one inning, really -- but the Angels will gladly take it.
"It was a good night for us, one through nine," Angels center fielder Mike Trout said after Friday's 12-5 rout over the Red Sox at Fenway Park. "We had great at-bats."
The Angels entered the weekend series scoring the second-fewest runs per game and sporting the lowest OPS in the Majors, then feasted on a Red Sox pitching staff that had allowed just 18 runs over the last eight games.
It all culminated in a 39-minute top of the fifth, which saw 13 batters come to bat and 10 of them reach base.
Trout singled to the left side for the first of three hits, plating a couple of runs to give the Angels their first lead, then pulled off an acrobatic slide to avoid a tag from Brock Holt and steal third base for the first time this year. Third-base umpire John Tumpane initially ruled Trout out, but Trout signaled for a replay review and the Angels got the call overturned.
"It was almost like 'The Matrix' the way he got around that tag," Angels manager Mike Scioscia said. "It was obviously a big slide, and a big break."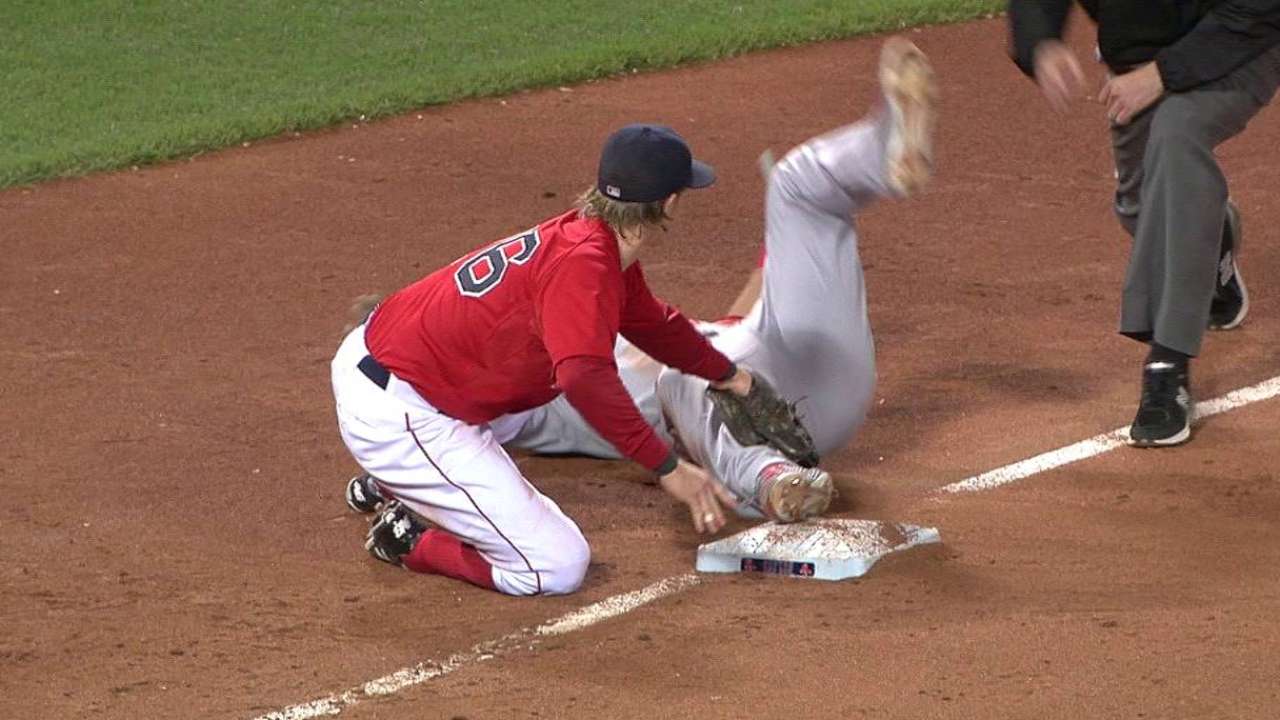 Shortly after that, the Angels' floundering offense erupted.
Kole Calhoun knocked an RBI single up the middle and David Freese followed with a run-scoring double. Matt Joyce promptly drew a walk and Chris Iannetta belted a three-run shot over the Green Monster in left-center field. Marc Krauss then reached second after Red Sox right fielder Rusney Castillo dropped his fly ball, then he scored on Erick Aybar's first home run of the year, capping the Angels' first nine-run inning since April 20, 2013.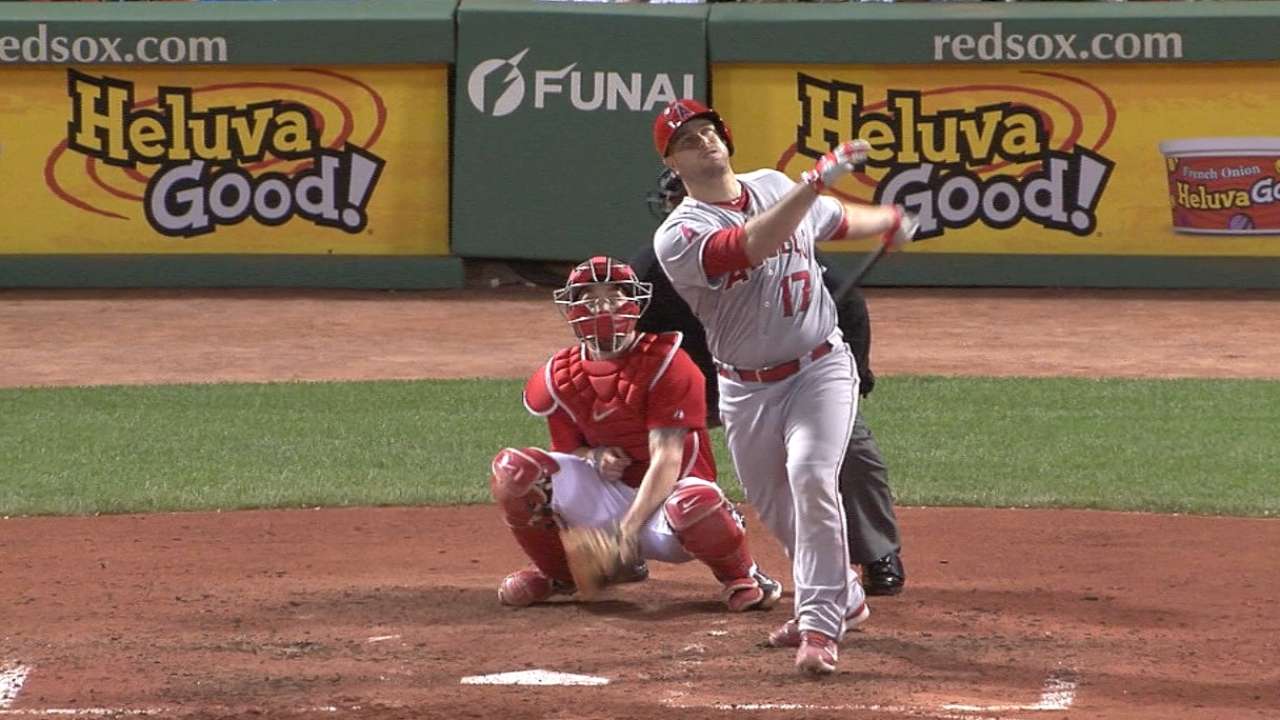 The starting pitcher that day was Rick Porcello, the same one who started for the Red Sox on Friday.
"You never know when things are going to come and go in this game," Iannetta said, "so you take what you can get when you get it. You keep battling. Our offense is too good overall to be held down the way we have been. We saw last year we're kind of streaky. Once we get rolling, we stretch it out for a long period of time. But it takes us some time to get going. This has been a little longer than we'd like, but I think we're going in the right direction."
Iannetta and Joyce seemingly are.
Iannetta was batting .091 as recently as May 9, but he has since reeled off nine hits, two homers and eight RBIs in 21 at-bats, lifting his batting average to .172. After reaching base four times on Friday -- on a double high off the Green Monster, a bloop single to shallow left, a walk and a hit-by-pitch -- Joyce is 5-for-17 on this road trip and has his batting average at .164.
Still way too low, of course, but perhaps trending in the right direction.
"I think I'm doing a little better than I was the first month," Joyce said, laughing. "I'm getting there, yeah. It's definitely a tough game and it's a game of adjustments. You try to make the adjustments, keep working, keep putting the time in, and hopefully it carries into the field."
Albert Pujols, playing two days after taking a fastball to his left wrist, recorded two of the three outs in that top of the fifth. But he led off the fourth with a line-drive homer to left-center field and notched a double on an eighth-inning fly ball that Castillo couldn't corral.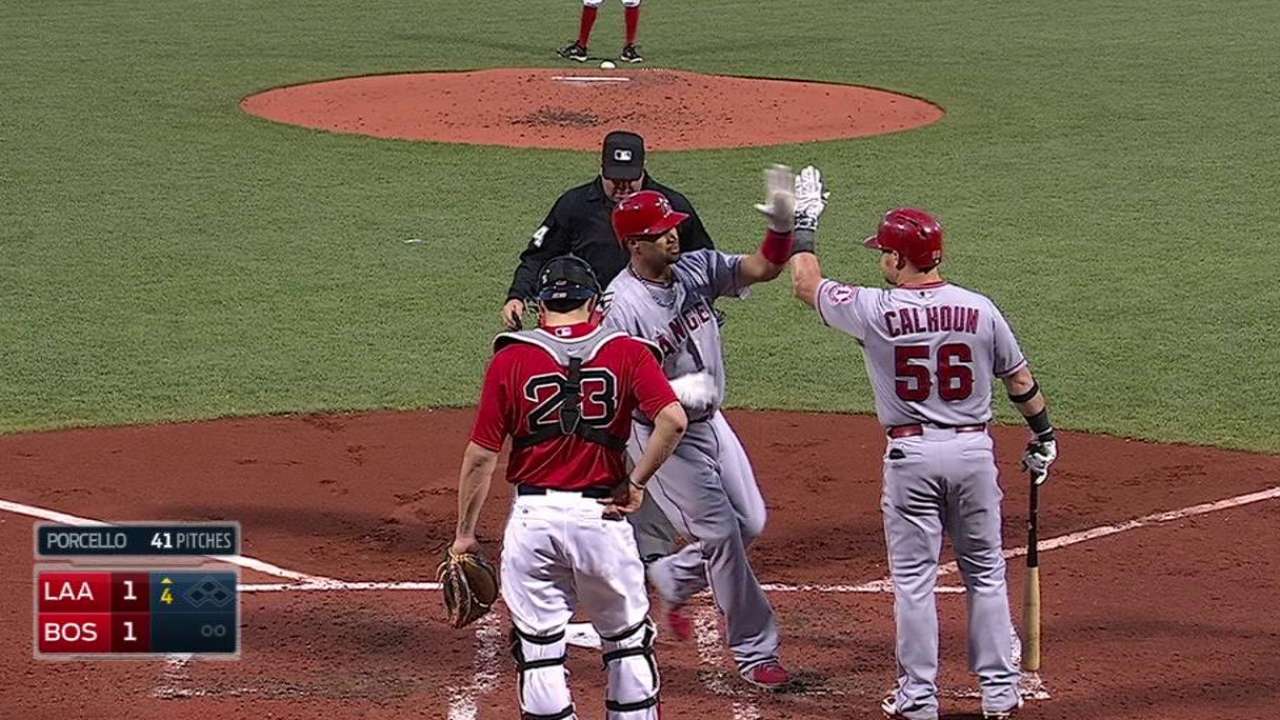 The Angels had a lot of those big, crooked-number innings last year, while leading the Majors in runs with an offense that included Josh Hamilton and Howie Kendrick.
They appreciate those innings a little more this year.
"We've been looking for an inning like that all year long," Pujols said. "Hopefully we continue to do that. It'd be nice to finish this road trip strong."
Alden Gonzalez is a reporter for MLB.com. Read his blog, Gonzo and "The Show", follow him on Twitter @Alden_Gonzalez and listen to his podcast. This story was not subject to the approval of Major League Baseball or its clubs.