Vogt's solo shot bright spot of A's offense
Veteran catcher goes deep to collect team-leading 10th home run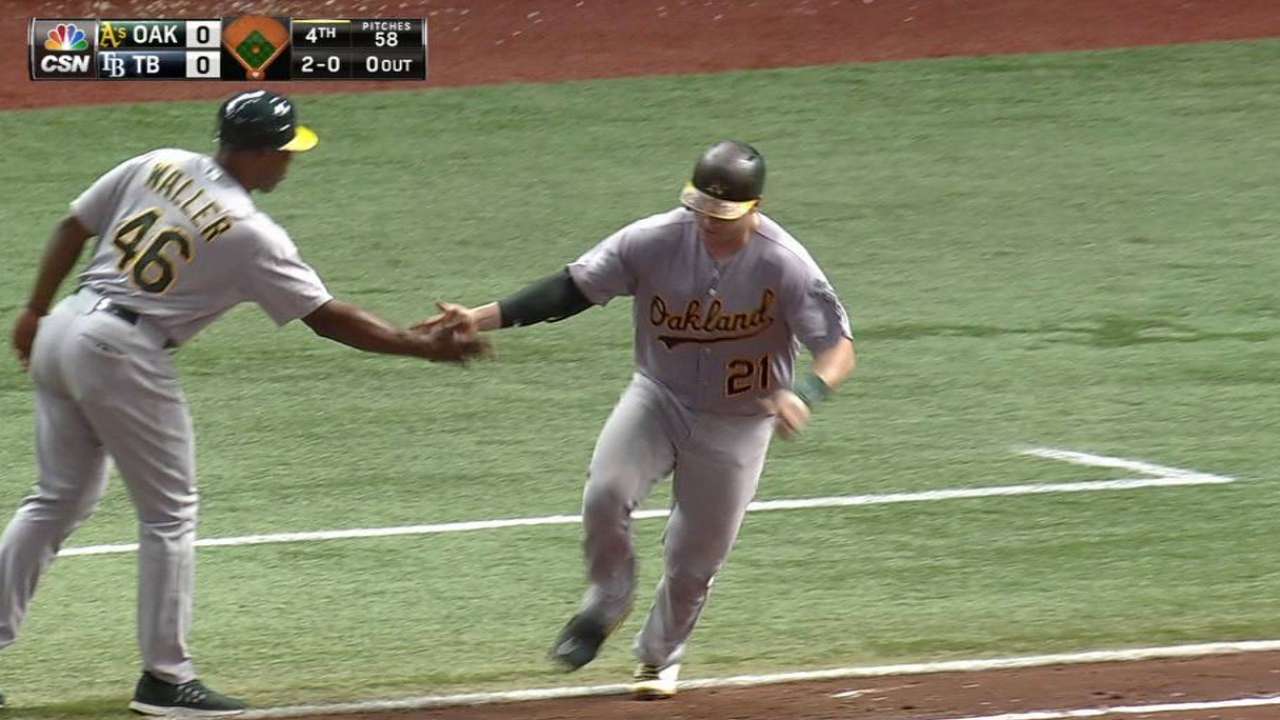 ST. PETERSBURG -- Amidst the dense offensive fog that has enveloped the Athletics over the past 16 games, catcher Stephen Vogt has managed to remain a beacon of consistency.
Vogt's fourth-inning blast off one-time batterymate Chris Archer on Friday night at Tropicana Field gave the A's an early lead in a game they would go on to lose, 5-2.
Vogt's home run was his team-leading 10th of the season. He also leads the A's with 31 RBIs. His six home runs and 16 RBIs in May are both career highs for a single month.
"Stephen has had a terrific year to this point. No question. You look at his production numbers [.309 batting average, 10 home runs, 31 RBIs] and they're right up there with the league leaders," said A's manager Bob Melvin.
Vogt had struggled somewhat on the current road trip prior to taking Archer deep, going 1-for-12 prior to the roundtripper. But he found a 2-0 Archer fastball very much to his liking and lined it deep into the right-field seats to break a scoreless tie and breathe some temporary life into an Oakland offense desperate for a spark.
Vogt caught Archer throughout the 2011 and '12 seasons and in early '13 before an April trade to Oakland, but he didn't hesitate when asked if his familiarity with the Rays' right-hander gives him an advantage when he steps into the box.
"If anything, it hurts, because you're trying to overthink with him," said Vogt. "You'll think, 'OK, I know he likes to do one thing in this situation,' or, 'I know he likes to do another thing in that situation,' so I always over-guess when I'm facing my good buddies.
"I got into a 2-0 count to start the inning off. He's got to attack me there. He did, and fortunately I was able to square it up, but he's every bit as good as I remember him, if not better."
Vogt had a one-word answer when asked to explain the Athletics' .176 batting average with runners in scoring position over their past 16 games, compared to a robust .310 mark over their first 28 contests.
"Losing," said the veteran catcher.
"When you're losing, everybody tries to do more, and do more, and do more," Vogt said. "At the beginning of the year, we figured we'd just stay positive and everything would turn around. Everybody continued to have relaxed at-bats, and now everybody wants to step up and be the guy that gets the big hit instead of just moving the line like we were doing earlier in the year.
"That's just something we've got to get back to."
Michael Kolligian is a contributor to MLB.com. This story was not subject to the approval of Major League Baseball or its clubs.