J.D. Martinez filling Tigers' cleanup void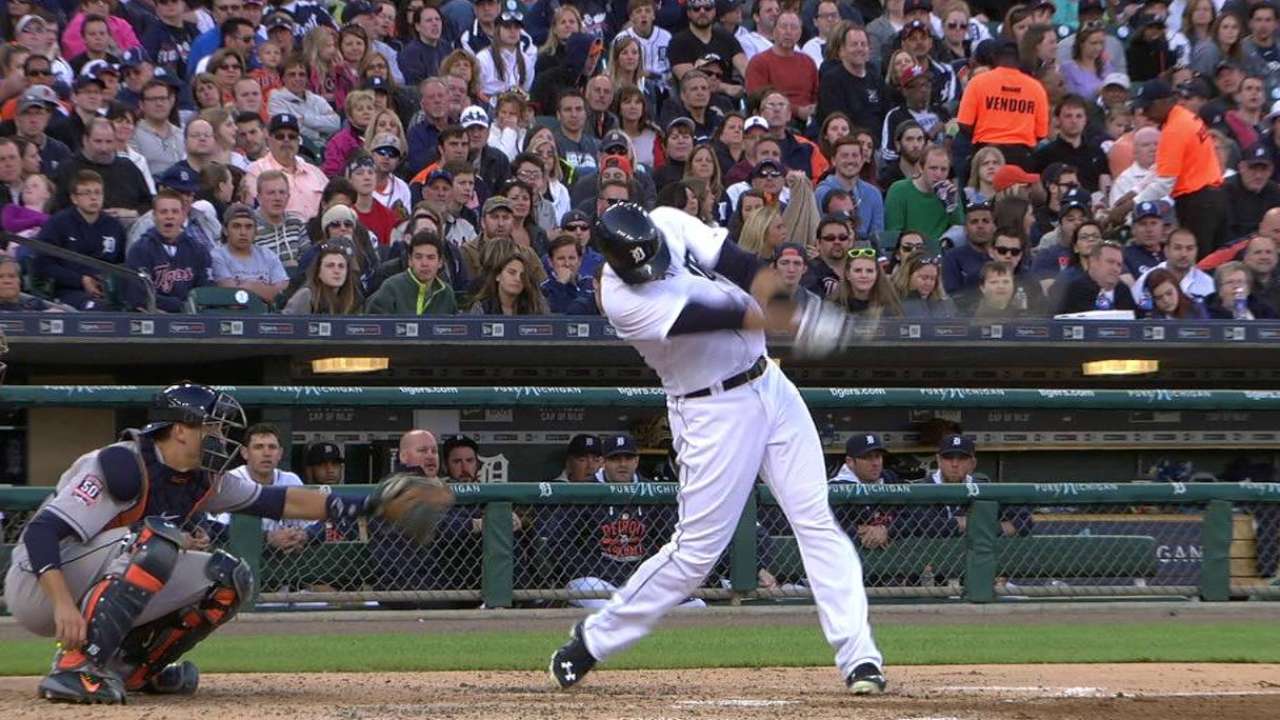 DETROIT -- J.D. Martinez watched his first-pitch drive off Collin McHugh head deep to left field and hoped for the best. It wasn't a crushing blow to him to see it turn foul.
"Really, surprisingly, it wasn't," he said after the Tigers' 6-2 win on Friday. "Usually they are. I hit it and I was like, 'Whoo, that felt good.' I thought it was going to be able to stay fair. But I still had that I've-still-got-him feeling."
Martinez did. All he needed was the next pitch to get him. His go-ahead three-run homer cam on a completely different pitch, and a different swing, but it demonstrated the approach that has allowed him to not only follow up his breakout 2014 season, but for now, fill the cleanup void left by Victor Martinez.
When he jumped on McHugh's first-pitch curveball with two on and two outs in the third inning, he was out in front. When McHugh followed that 73-mph offering with a 91-mph fastball, Martinez connected with that, too, but sent it out on a line to right field. It was his sixth opposite-field shot out of nine homers this season.
Martinez wasn't anticipating, he said, only reacting.
"I feel like when I'm hitting good, that's where I'm hitting the ball," Martinez said. "I feel like if I stay inside, watching [Miguel Cabrera], the way he hits the ball, he stays inside everything. He's a guy that I look up to and really try to follow as much as I can, the way he goes about hitting a baseball.
"That's just one thing I picked up from him: You hit your offspeed to left and your fastballs to right, right-center. That'll keep you in between everything."
Now, he's not just following Cabrera's approach. He's following Cabrera in the batting order. When the Astros elected to pitch to Cabrera rather than intentionally walk him with a runner on third, first base open and two outs in the fifth inning -- Cabrera walked anyway, but after a 10-pitch battle -- it seemed like a nod of respect to Martinez.
"It doesn't even matter to me, to be honest with you," Martinez said. "If they're going to walk Miggy and put a guy on, I'm OK with that. All of a sudden I run into one and it's two runs. I really don't mind it. I like it. I know my numbers don't show it, really, with runners in scoring position this year, but I like it and I prefer it. I wish I could go up every single time and have guys on base."
Since ending his 0-for-25 slump, Martinez has hit safely in 12 of 13 games, batting .375 (18-for-48) with three homers, six RBIs and eight runs scored. Cabrera, meanwhile, has been intentionally walked only once in front of him.
"My sense is Miggy will still get his fair share of intentional or unintentional walks," manager Brad Ausmus said. "Victor did an excellent job protecting him last year, obviously. We feel like in terms of protecting Miggy, J.D.'s our best option with the personnel we have."
The one void he can't replace is the postgame clubhouse music. When Victor Martinez went home to rehab, he took his iPad with him, complete with their postgame mix. When everyone noticed one song was on a continuous loop, J.D. shrugged.
"That's the only song we have," Martinez said.
Jason Beck is a reporter for MLB.com. Read Beck's Blog and follow him on Twitter @beckjason. This story was not subject to the approval of Major League Baseball or its clubs.