Longo blasts three-run homer to spark Rays' scoring
Third baseman adjusts, launches home run off former teammate Kazmir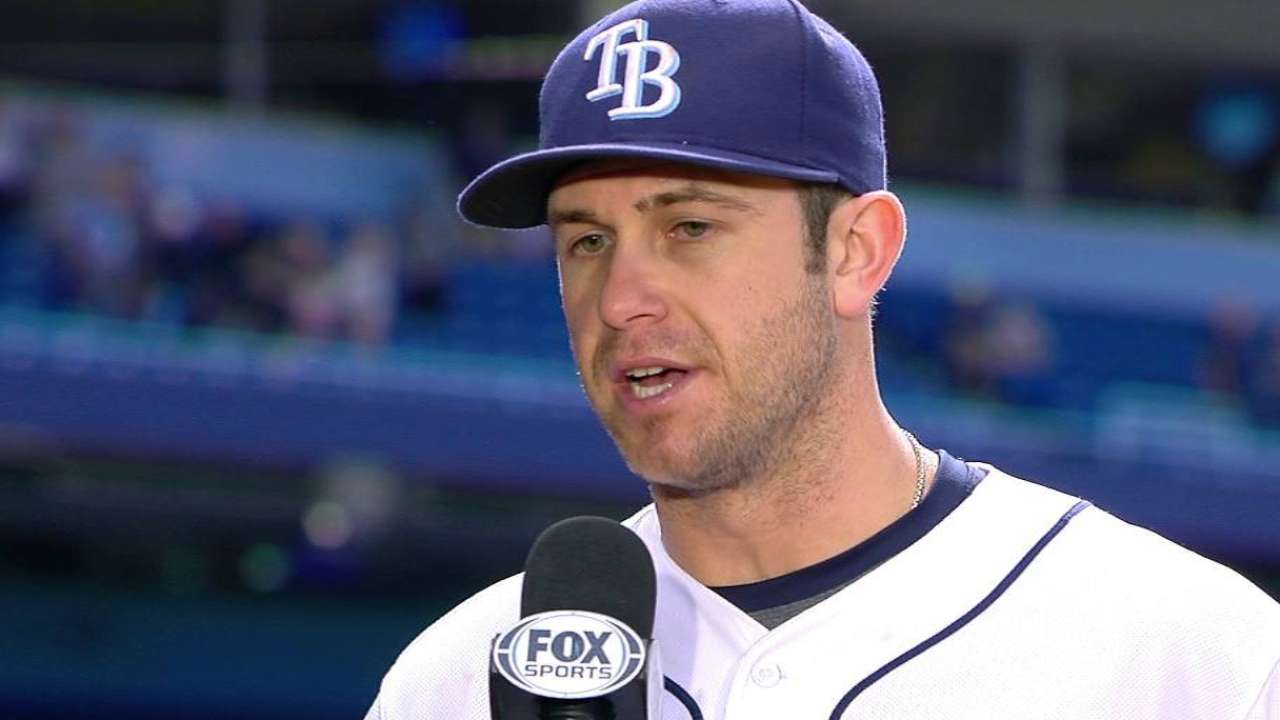 ST. PETERSBURG -- The tape of Scott Kazmir did not tell the whole story, and in the third inning, it cost Evan Longoria.
With runners on second and third and one out, the Rays' third baseman shot a ground ball toward Athletics third baseman Brett Lawrie, who threw home and got Brandon Guyer at the plate to keep the game scoreless.
Two innings later, Longoria adjusted, sending a 1-2 two-seam fastball over the fence in left-center field for a three-run home run that gave Tampa Bay a 3-1 lead.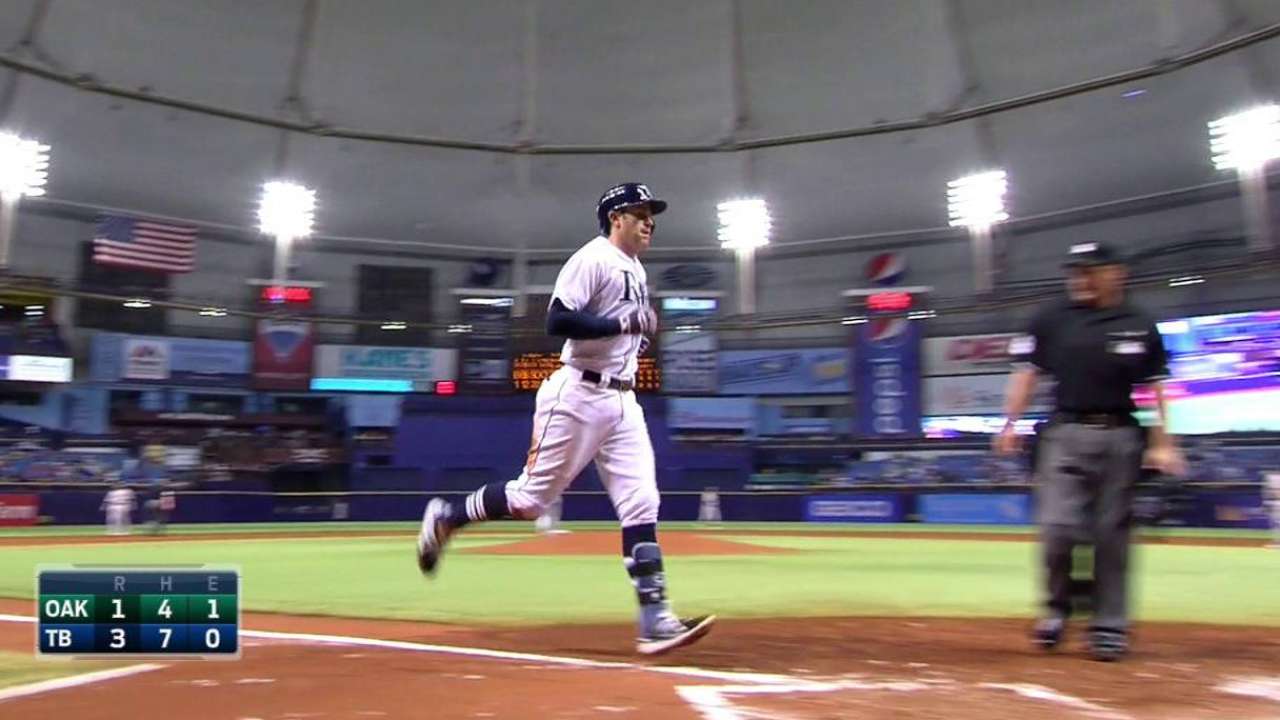 "He was throwing the ball really well, and it was a little bit different than what we had seen in the video," Longoria said. "He was up as high as 96 [mph], which you knew he had that, and you know he was capable of doing those things, but it was something that we hadn't really seen.
"There were two strikes, and I was just trying to put the ball in play. I had a similar situation earlier in the game, where he threw two fastballs and they were both down in the zone, and I grounded out to third. The plan was just to try and drive the ball into the outfield and score one run, and I ended up getting three out of it."
The home run was part of a day that saw Longoria reach base safely in three of his four plate appearances in the Rays' 5-2 victory over the A's, drawing a walk in the first and singling in the seventh. He also stole his first base of the season in the third.
Coming into Friday's contest, Longoria had gone just 1-for-8 (.125) against his former Rays teammate Kazmir (2008-09), but the three-run blast, which was his first home run since May 9 against Texas, gave him some bragging rights for the future.
"There's a lot of respect there, just going back as far as we have," Longoria said. "I have a lot of respect for what he's overcome and what he's done. He was obviously really, really good for a while here and then had some struggles, and now being back to the pitcher he was is pretty impressive, so whether or not the home run comes up again remains to be seen."
Longoria now has 17 RBIs in the month of May, but he may still be stuck in a tie for the team lead in RBIs had it not been for Steven Souza Jr.'s at-bat prior to the homer. Following a Guyer single, Souza dropped down a bunt on the right side of the infield and hustled, forcing first baseman Max Muncy to not field the throw from Kazmir cleanly. Guyer advanced to third, placing the idea of a fly ball into Longoria's head.
"I was trying to bunt for a base hit, and if it didn't work out, we could get a guy over for Longo and [James] Loney to get something going," Souza said. "It was a close play at first, and yeah, it broke open the gates for Longo."
Troy Provost-Heron is an associate reporter for MLB.com. This story was not subject to the approval of Major League Baseball or its clubs.