Lester's futility at plate ties record for pitcher
Cubs ace also gets no-decision in 13-inning loss to D-backs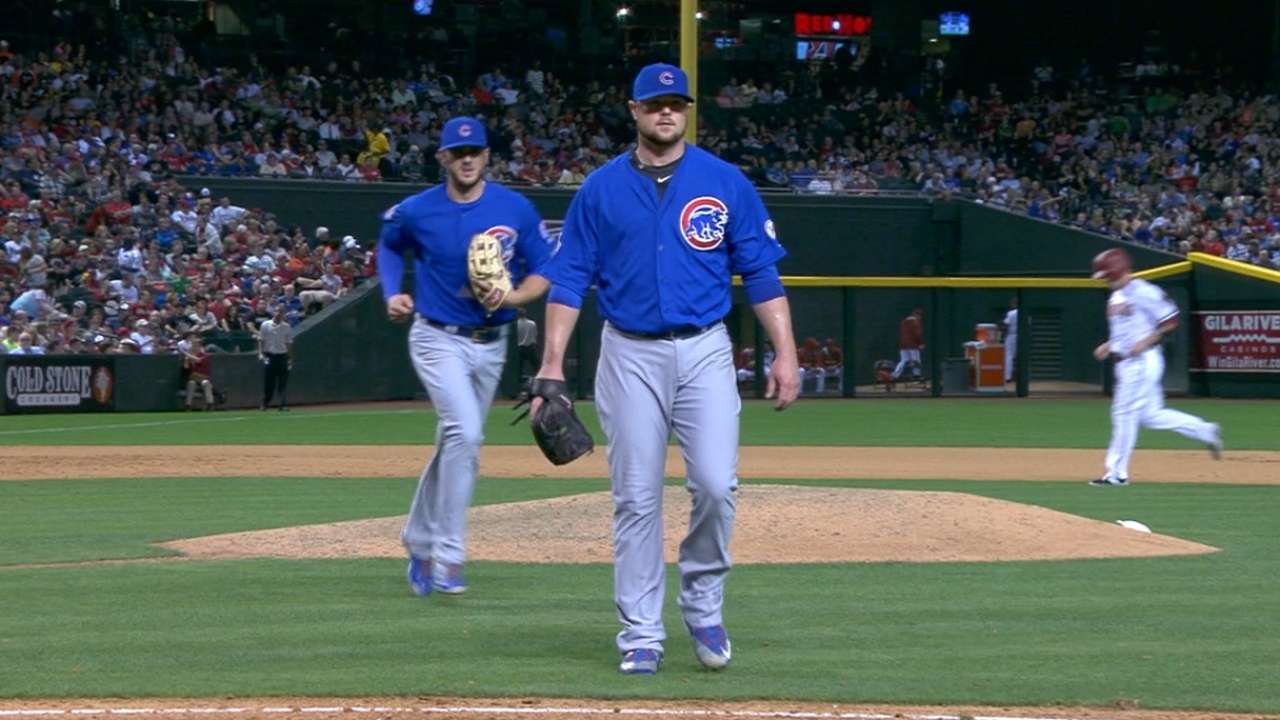 PHOENIX -- Jon Lester didn't get a win or a hit Friday night, but at least he's no longer trying to impress his new teammates.
The Cubs lefty did not get a decision Friday night in a 5-4, 13-inning loss at Chase Field.
"I wouldn't say it was a grind but it wasn't the sharpest I've been," said Lester, who gave up two runs over seven innings. "The one pitch, the homer [to Nick Ahmed], I just left it a little bit up and that guy did a good job of staying on it. Unfortunately, that ties the game right there [at 1]."
In his last six starts, Lester has given up 10 earned runs over 40 innings for a 2.25 ERA. Compare that to April when he was charged with 15 earned runs over 21 2/3 innings.
"I don't know if pressing is the right word," Lester said. "You come to a new team, new guys, new city, new everything and you want to get off on the right foot. Everybody knows with the contract stuff, I defintely don't want to be one of those guys who at the end of it, you look at it as a bust."
The lefty signed a six-year, $155 million contract with the Cubs in December. They're also hoping it's not a bust.
"I think the results have been better," Lester said. "I'm just trying to figure things out as we go."
It would help if he got a hit. Lester also went 0-for-3 at the plate, and now is 0-for-57 in his career, which ties Joey Hamilton for the longest hitless streak by a pitcher at the start of his career. Hamilton's struggles came in 1994-95 with the Padres.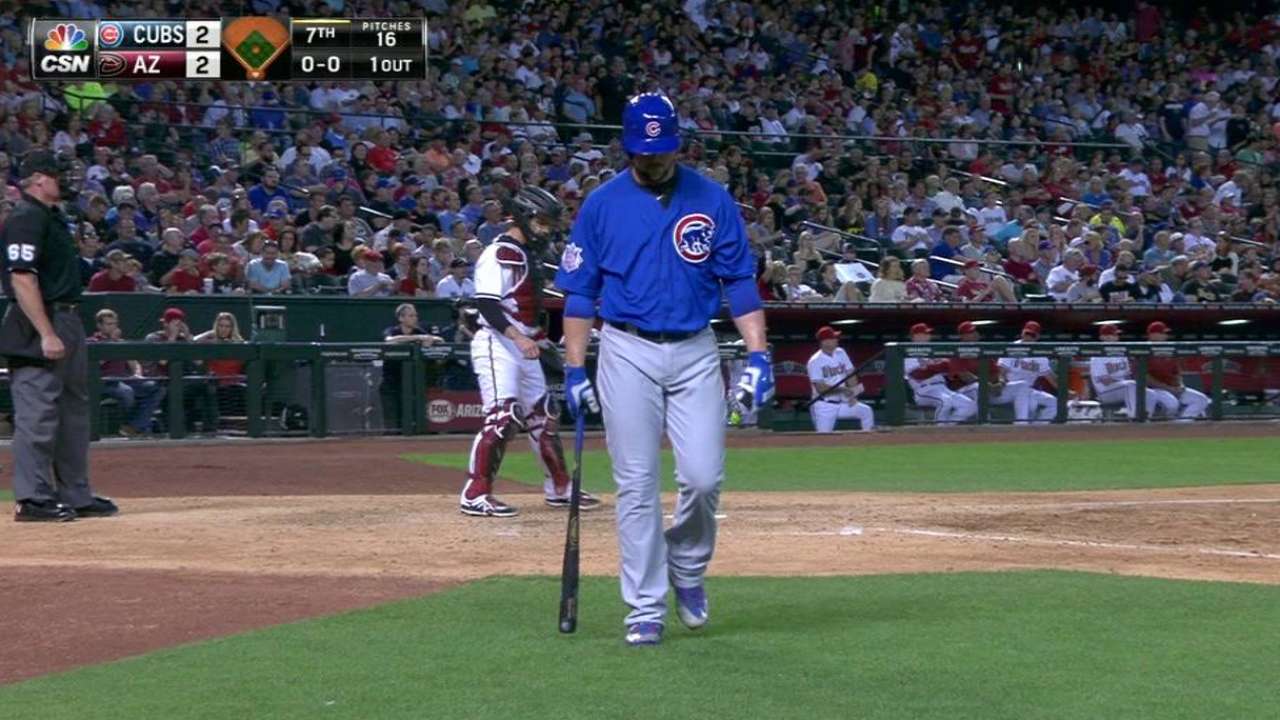 "The biggest thing we're waiting on is the first hit," Cubs manager Joe Maddon said. "That will truly get the monkey off his back."
Lester isn't alone. Hank Aguirre, who pitched from 1955-70, was 33-for-388 (.085), while Bob Buhl is legendary. He posted a lifetime .089 (76-for-857) batting average in 15 seasons from 1953-67. In 1962, Buhl pitched for Cubs and Milwaukee Braves. He was 0-for-1 for Braves and 0-for-69 for Cubs, giving him the single-season record for most at-bats without a hit (0-for-70) for a non-position player.
There have been other Cubs pitchers who can't hit. Mike Bielecki was 18-7 with a 3.41 ERA in 1989, but was 3-for-70 at the plate with 35 strikeouts. Of course, in his first at-bat in the NLCS, he hit a two-run single.
Maddon is optimistic.
"Jonny has a good swing," Maddon said of Lester. "From a mechanical perspective, he has a good hack. His first hit could go over the wall."
Carrie Muskat is a reporter for MLB.com. She writes a blog, Muskat Ramblings. You can follow her on Twitter @CarrieMuskat and listen to her podcast. This story was not subject to the approval of Major League Baseball or its clubs.