Simon keeps aggressive Astros guessing in win
Veteran gives up two unearned runs in seven innings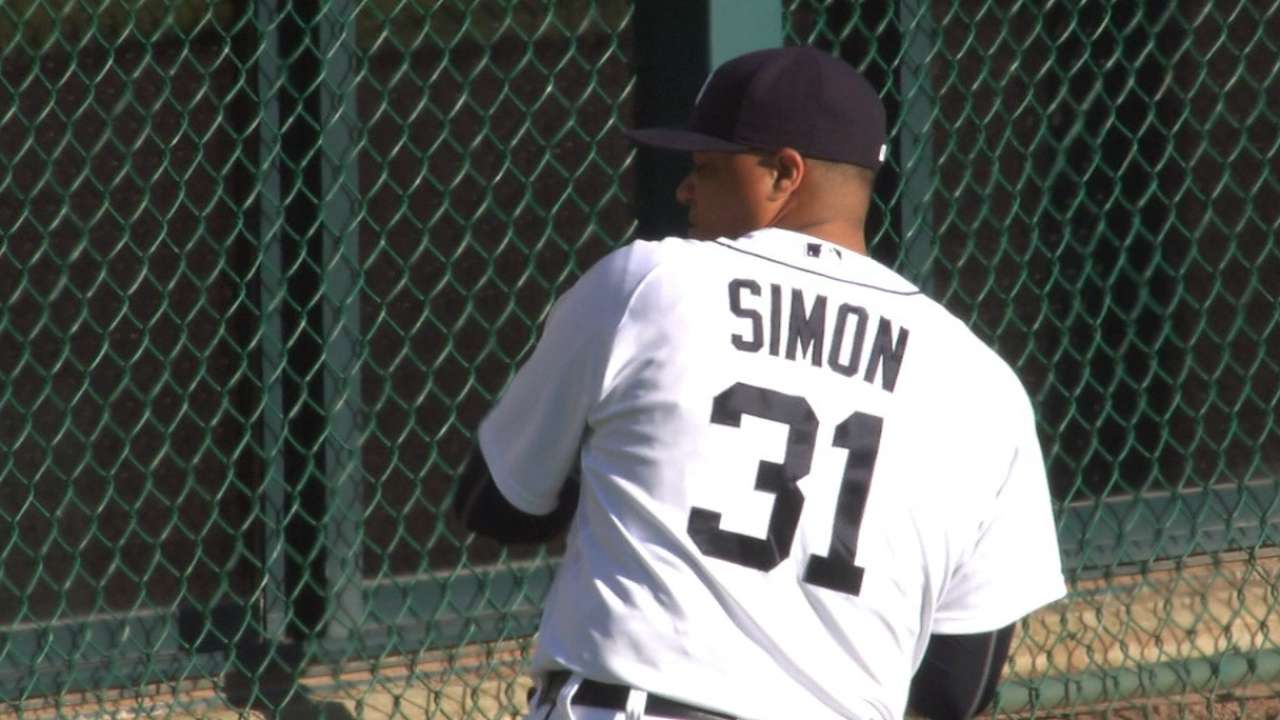 DETROIT -- Alfredo Simon's strangest pitch of Friday night, an eephus, was so slow it didn't register on the Comerica Park radar gun. Evan Gattis, the Astros' designated hitter, didn't bite.
But enough of Simon's offerings kept Houston guessing, and the right-hander settled down after allowing two unearned runs in the third inning to toss seven frames in the Tigers' 6-2 win.
In addition to the eephus, Simon threw a curveball from a three-quarter arm slot to strike out first baseman Chris Carter to end the fourth inning, as he limited Houston to four hits.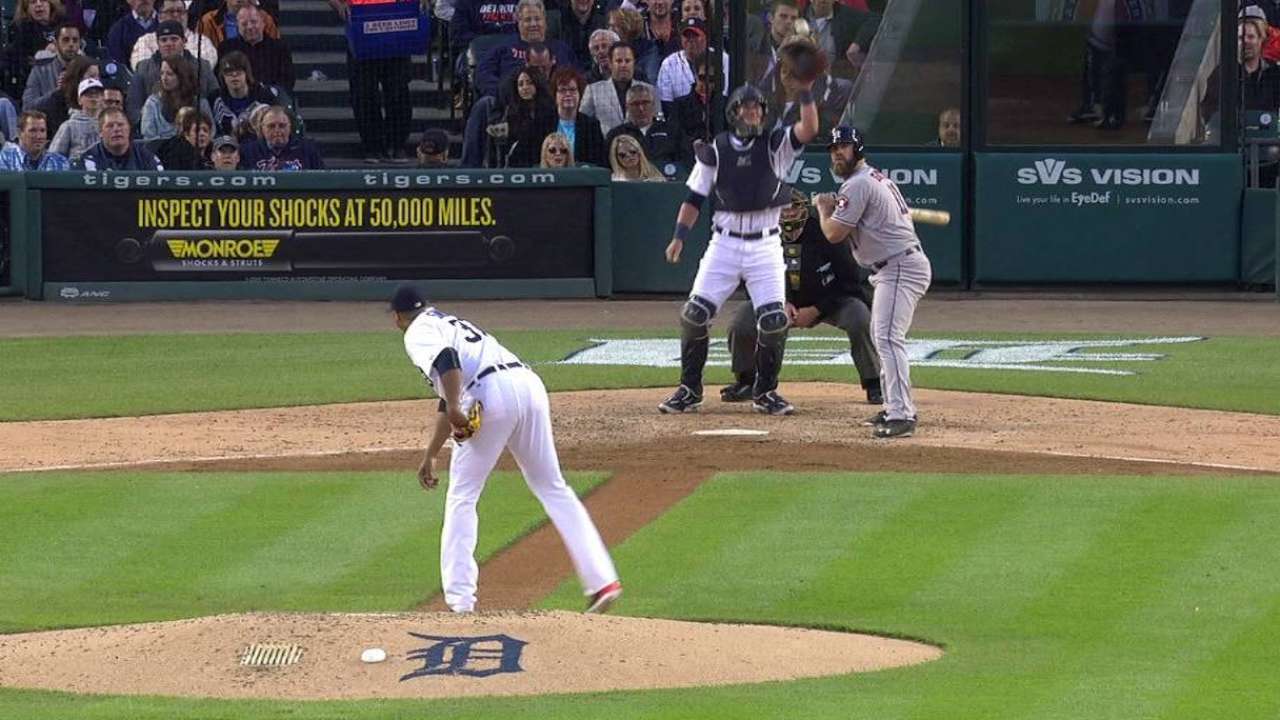 "Like Forrest Gump says, 'Alfredo Simon is like a box of chocolates,'" Detroit manager Brad Ausmus said. "You never know what you're going to get. You never know what pitch, what arm angle."
In the third inning, though, it seemed as if Simon's night might end early. Jason Castro led off with a double, and he scored three batters later when the usually sure-handed Ian Kinsler bobbled a routine grounder from Luis Valbuena. The Astros' third baseman was then driven in by a George Springer double to the center-field wall.
"Early on, I think he was a little frustrated with his location," said catcher James McCann. "He wasn't able to find really his fastball or his splitter."
The Astros' aggressiveness helped mask Simon's rough start. In the first inning, Gattis swung at what McCann called a "borderline" 3-0 fastball and popped out with a runner on base and two outs.
"If they take it, it might be a different ballgame, you never know," McCann said.
Instead, J.D. Martinez launched a three-run home run in the bottom half of the third, and Simon locked down Houston from there. The right-hander retired the next eight Astros and allowed just one more hit on the night, a two-out single in the seventh.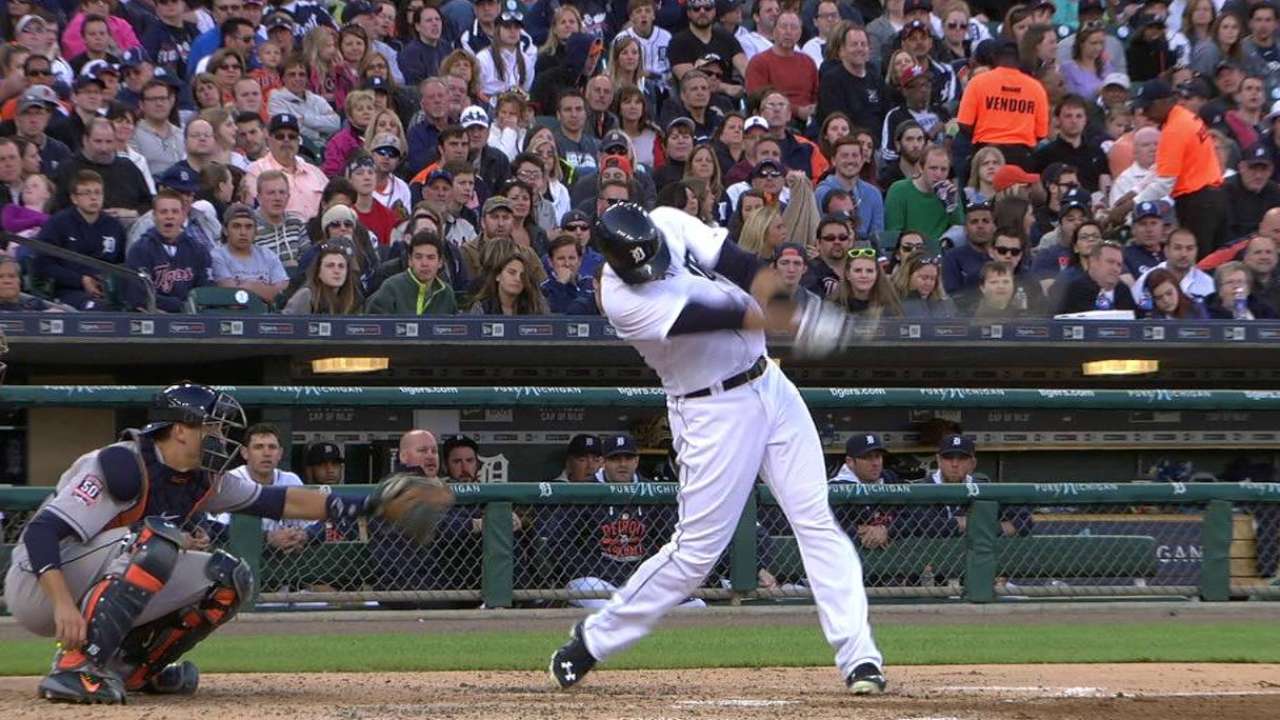 "He pounded the zone," McCann said. "He got ahead and did what he wanted to do. That was kind of the theme of the night for him. When he got ahead, he got to pitch how he wanted, and he made them hit his pitches, and that's how he has success."
The result was yet another positive outing for Simon at Comerica Park. In four home starts, the right-hander has allowed a total of three earned runs, all while striking out 21 and walking just four.
"I just feel really comfortable here," Simon said. "That's a park for pitching. Every time where I go behind the count, I can throw fastballs. It's a big park, and if they hit a fly ball, it's not easy to hit a home run here."
The formula worked well Friday, as he held the Astros scoreless after the error-aided third inning and kept the Tigers in position to win their third game in a row.
"That's the most important inning, the inning after we score," Ausmus said. "If you can stop momentum right there, it goes a long way in the right direction."
Alejandro Zúñiga is an associate reporter for MLB.com. Follow him on Twitter @ByAZuniga. This story was not subject to the approval of Major League Baseball or its clubs.