Orioles come through in clutch opportunities
Young, Joseph and Machado deliver huge run-scoring hits in victory over Marlins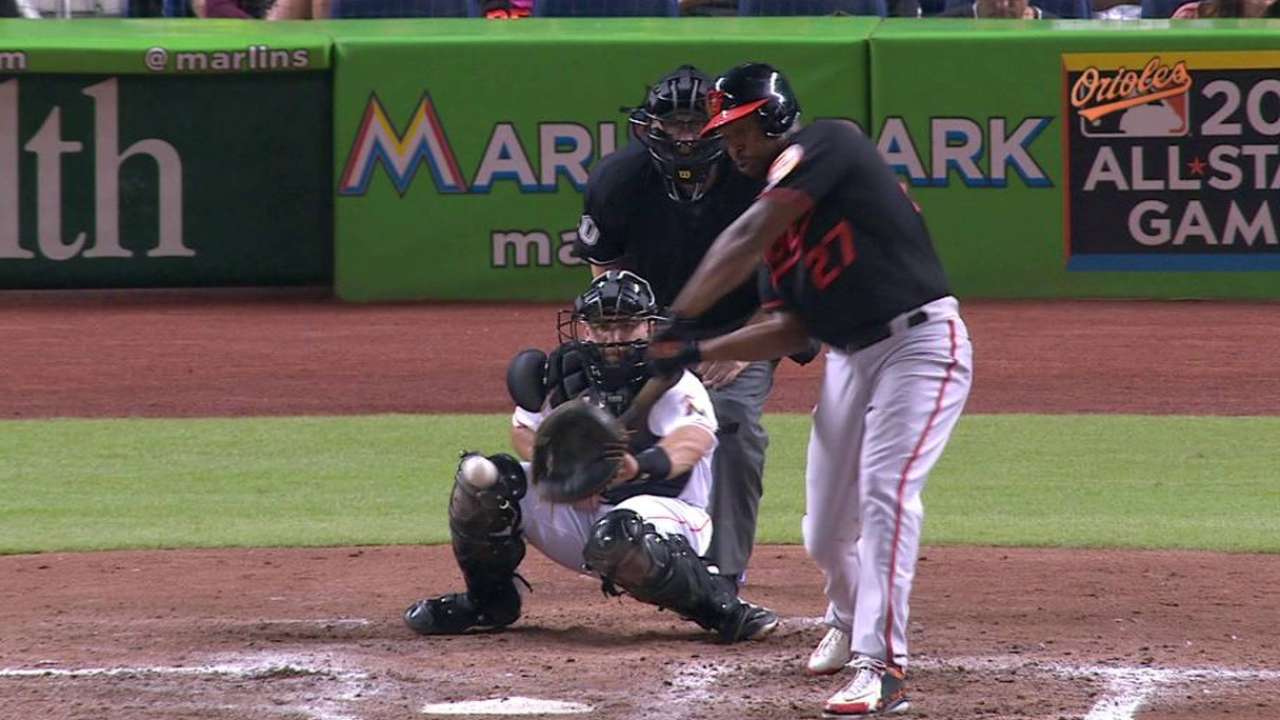 MIAMI -- Trailing by three runs in the fourth inning of Friday's contest, Baltimore squandered a golden opportunity and left the bases loaded when J.J. Hardy flied out to center against Marlins starter Henderson Alvarez.
However, the Orioles didn't let those chances pass in the later innings of their 8-5 win at Marlins Park. The O's scored all eight of their runs after the fourth inning, keyed by a pair of two-run scoring hits and a key pinch-hit double.
"After the fourth inning, they were just finding a way to get on base, and it's amazing what they did in those innings," said Baltimore starter Ubaldo Jimenez, who allowed three runs in a four-inning no-decision.
Delmon Young provided the first big knock, as he pinch-hit in the fifth inning and drove an RBI double off of the center-field wall. It cut the Baltimore deficit to 3-1.
"He kind of started that part of the game," O's manager Buck Showalter said. "... I think he's one of our best pinch-hitters. Hats off to him."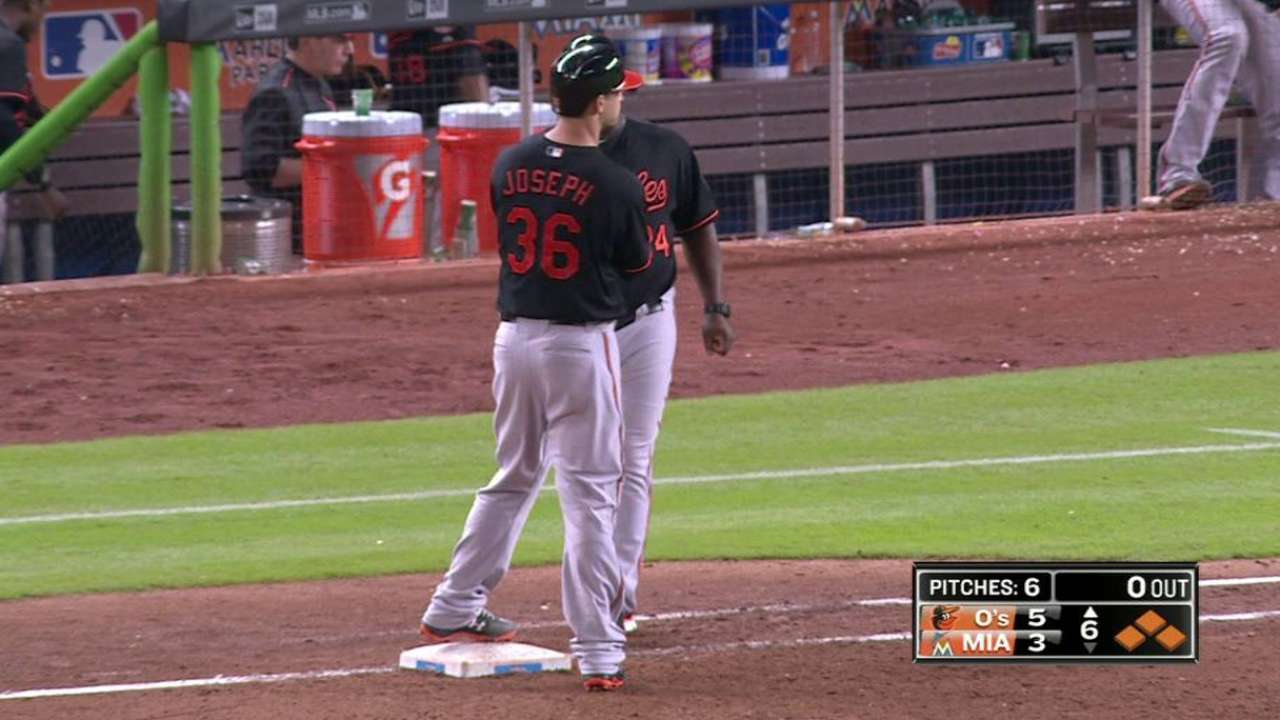 Catcher Caleb Joseph then keyed a four-run sixth inning with a two-RBI single as Baltimore took a 6-4 lead. He finished the night 3-for-4.
"There's an ebb and flow," Joseph said. "I've been catching quite a bit and was just trying to keep my legs under me and trying not to do too much. I just tried to stay within, and it was a big win for the team today."
Manny Machado provided the last big hit, which came in the form of a two-run double down the left-field line in the eighth inning to open up an 8-4 lead. He finished with two hits, while Jimmy Paredes also went 3-for-5 with an RBI.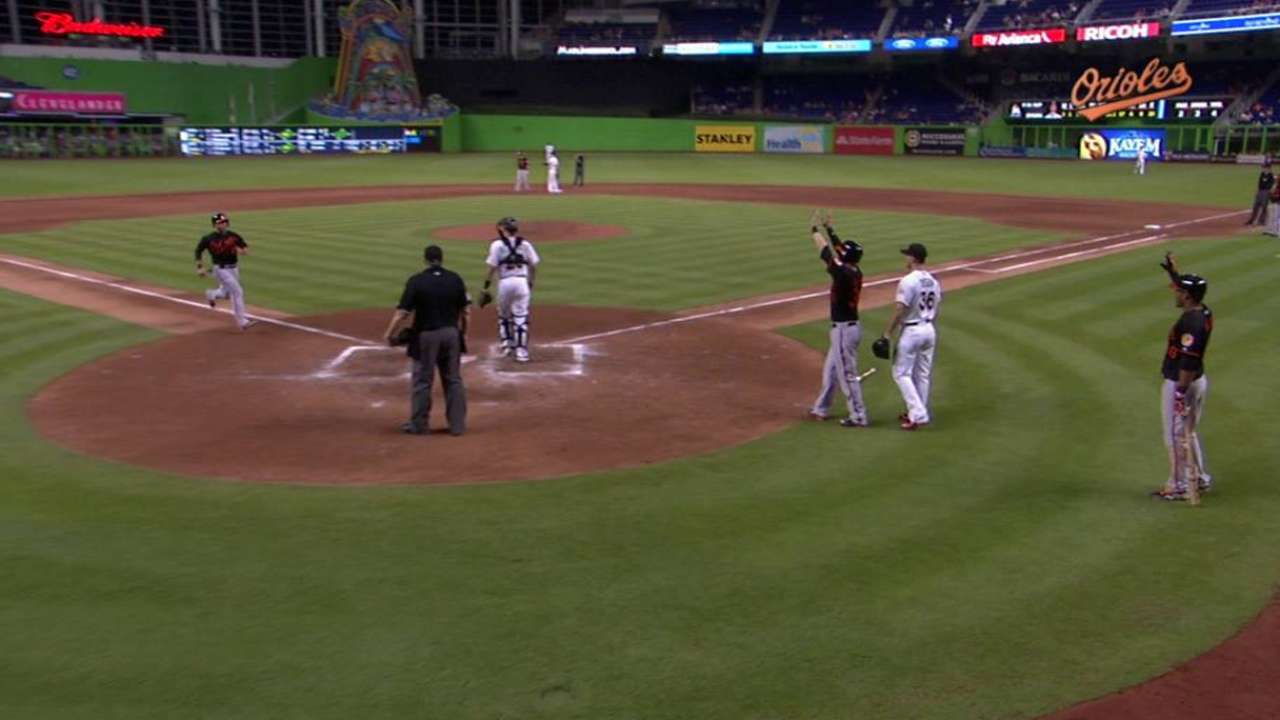 In all, Baltimore pounded out 11 hits. Despite leaving 10 runners on base, the offense ultimately found a way to make the hits matter after being unable to do so in the early innings.
"The Marlins were extremely aggressive offensively all game," said reliever Tyler Wilson, who picked up his first career win. "Then, obviously, we had some really big hits, too, and strung together some big innings, and that was great to see. We got a lot of really good individual performances inside of a great team performance."
Steve Wilaj is an associate reporter for MLB.com. This story was not subject to the approval of Major League Baseball or its clubs.