Secure Thor takes positives from uneven start
With spot in six-man rotation for now, Syndergaard comfortable learning from third MLB outing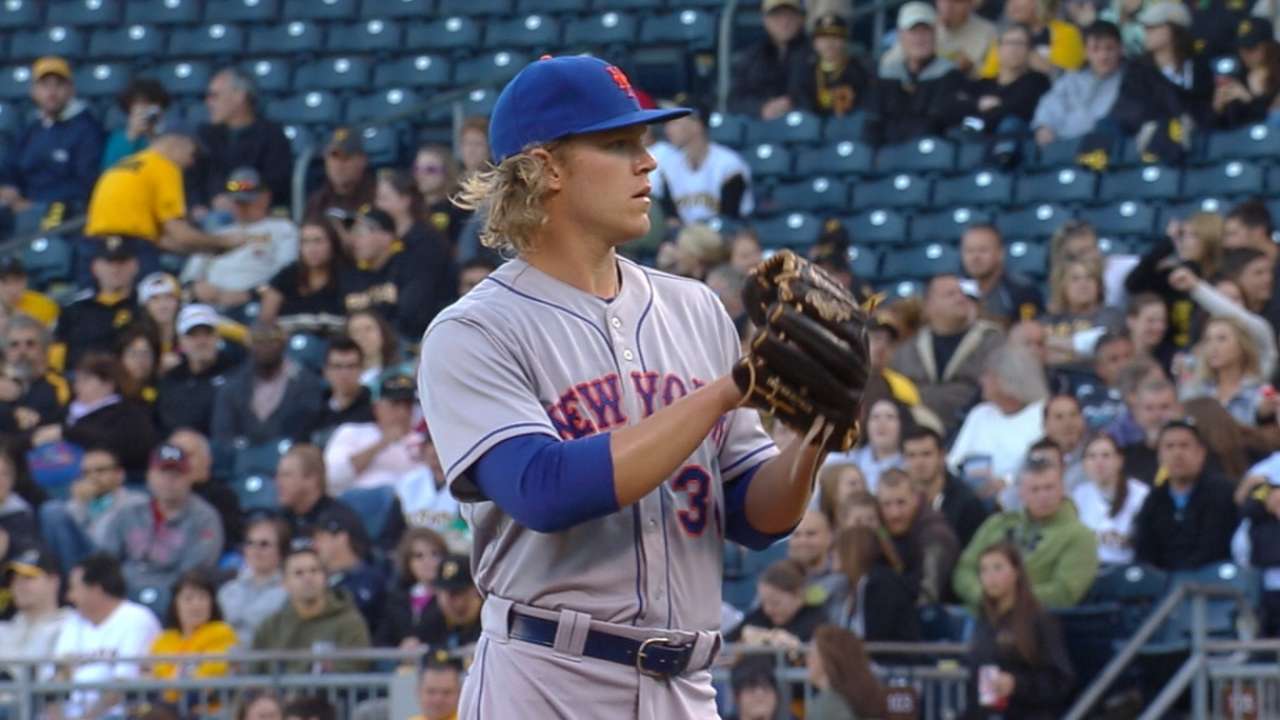 PITTSBURGH -- Noah Syndergaard's third Major League start was far from perfect. Syndergaard was somewhat inefficient. He gave up four runs, three earned, through it's debatable how many of those were his fault. He was on the mound for two stolen bases, taking the second loss of his career.
But for much of his 4-1 defeat to the Pirates on Friday night, Syndergaard flashed plenty more of what the Mets know he can to be. For that reason, and because the Mets feel he has little left to prove in the Minors, manager Terry Collins confirmed afterward what most around the team already knew.
"Right now," Collins said, "he's not going anywhere."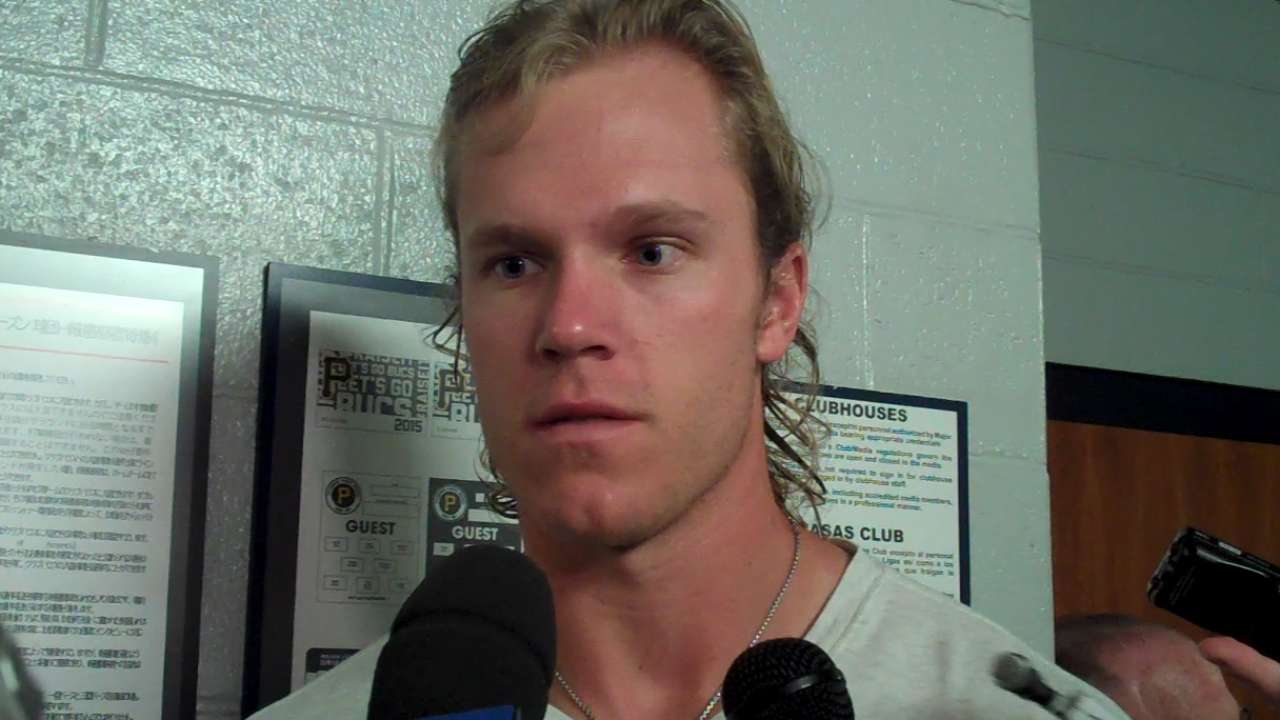 Instead, Syndergaard will stay with the big club, likely as part of a six-man rotation that will afford Dillon Gee some starts as well. The idea is to give every Mets pitcher regular extra rest, particularly Matt Harvey, Jacob deGrom and Bartolo Colon.
There are still plenty of kinks to be worked out with that strategy. Collins said that when Harvey saw the news on Twitter, he marched into the manager's office to demand an explanation. Syndergaard wouldn't say if he already knew before the game that he was sticking with the Mets; at the time, he was preparing for his start by watching a "Game of Thrones" episode on his tablet.
"I'm glad to stay here," Syndergaard said. "I feel like I've had some pretty good success here and I'm looking forward to making my next start."
In this one, Syndergaard featured elite swing-and-miss stuff early, striking out the first four batters he faced while dialing his fastball up to 98 mph. He did cave for two runs in the second, though the inning might have ended earlier had Lucas Duda gloved Gregory Polanco's two-out single that plated the first of them. Instead, the ball glanced off Duda's glove for a questionable hit, which even Duda said he considered a surefire error.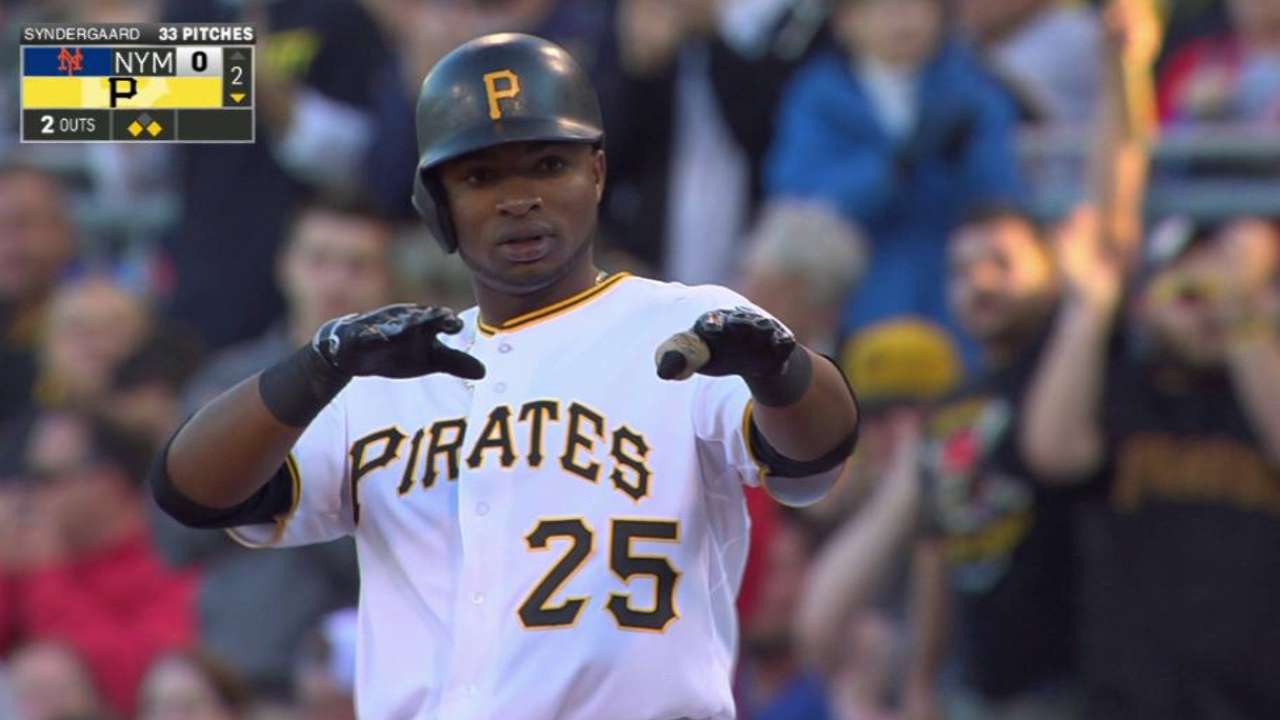 Syndergaard recovered to retire another eight in a row after that, before his own defensive error led to another two-run Pirates rally in the sixth. By the end of that inning, Syndergaard was at 99 pitches, his work done for the night.
"I didn't have the best velocity on my fastball," he said. "But I feel like there are some positives I can take out of it. I was able to throw quite a bit of pretty good changeups down in the zone to get strikeouts, and I was able to locate my curveball, throw it in for a first-pitch strike and throw it in the dirt when needed."
Syndergaard knows there is plenty he must improve if he wants to stick in Flushing throughout this summer. But he also knows now that he'll have ample chance to do it, without worry that a few misplaced fastballs or a four-run outing will result in an immediate demotion to Triple-A.
"There are some things he's got to work on," Collins said. "Nobody's perfect in the game. But I like him a lot."
Anthony DiComo is a reporter for MLB.com. Follow him on Twitter @AnthonyDiComo and Facebook, and listen to his podcast. This story was not subject to the approval of Major League Baseball or its clubs.