Samardzija settles in after shaky start
Sox righty strikes out 9, retires 17 straight over 8 innings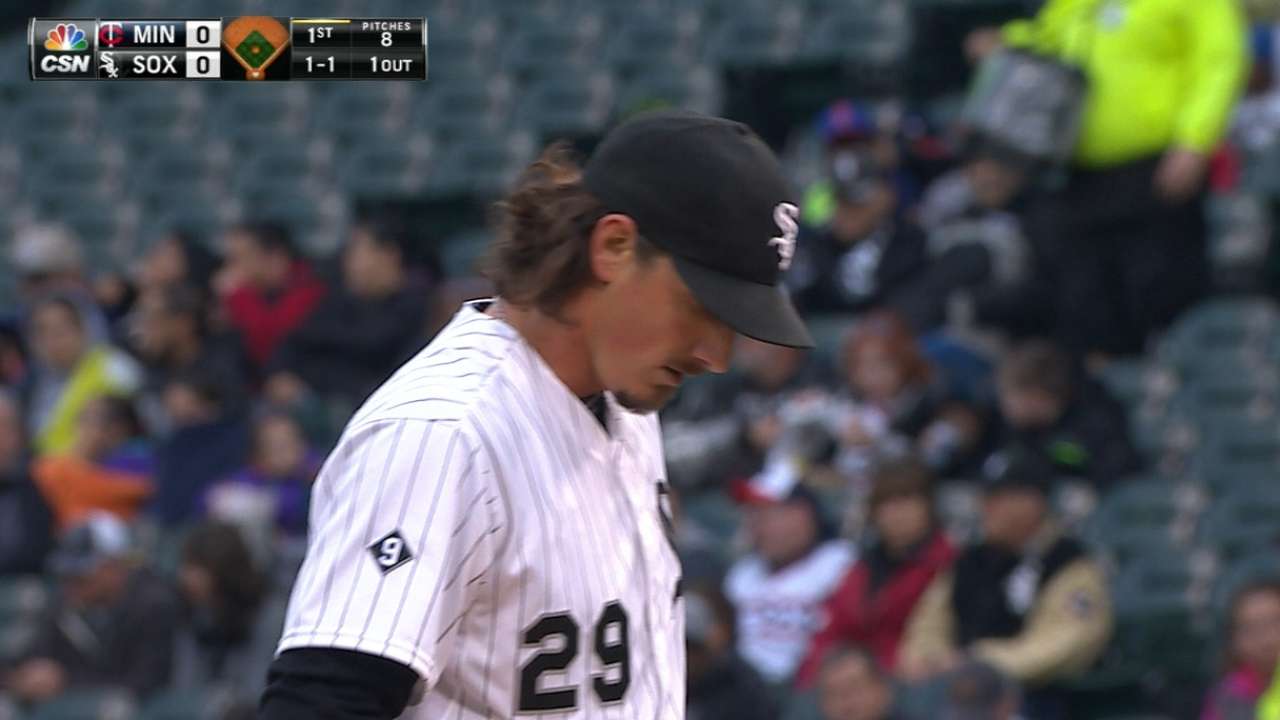 CHICAGO -- The Jeff Samardzija who faced the first six Minnesota hitters during a 3-2 White Sox victory Friday night at U.S. Cellular Field didn't seem destined to be in this weekend series opener for long.
Samardzija allowed two runs in the first inning, went to five full-counts among those six and topped out at 35 pitches after walking Eduardo Escobar to open the second. Luckily for the White Sox, that particular version of Samardzija didn't stay long.
There wasn't another baserunner for the Twins until Escobar's two-out single in the seventh, ending a stretch of 17 straight batters retired. Samardzija actually retired 21 of the final 22 he faced, striking out a season-high nine among those 21 outs. It was quite possibly the best stretch for him in a White Sox uniform, leading his team to a much-needed victory that snapped a three-game losing streak.
"I don't know if he was kind of getting his feet wet," said White Sox manager Robin Ventura of Samardzija's early heavy counts in comparison to the 83 pitches thrown over those last 22 hitters. "Some guys do that as they start the game, they're trying to feel it out. And then once he gets going he's just letting it go. Once he got through that, I just thought he was getting after it."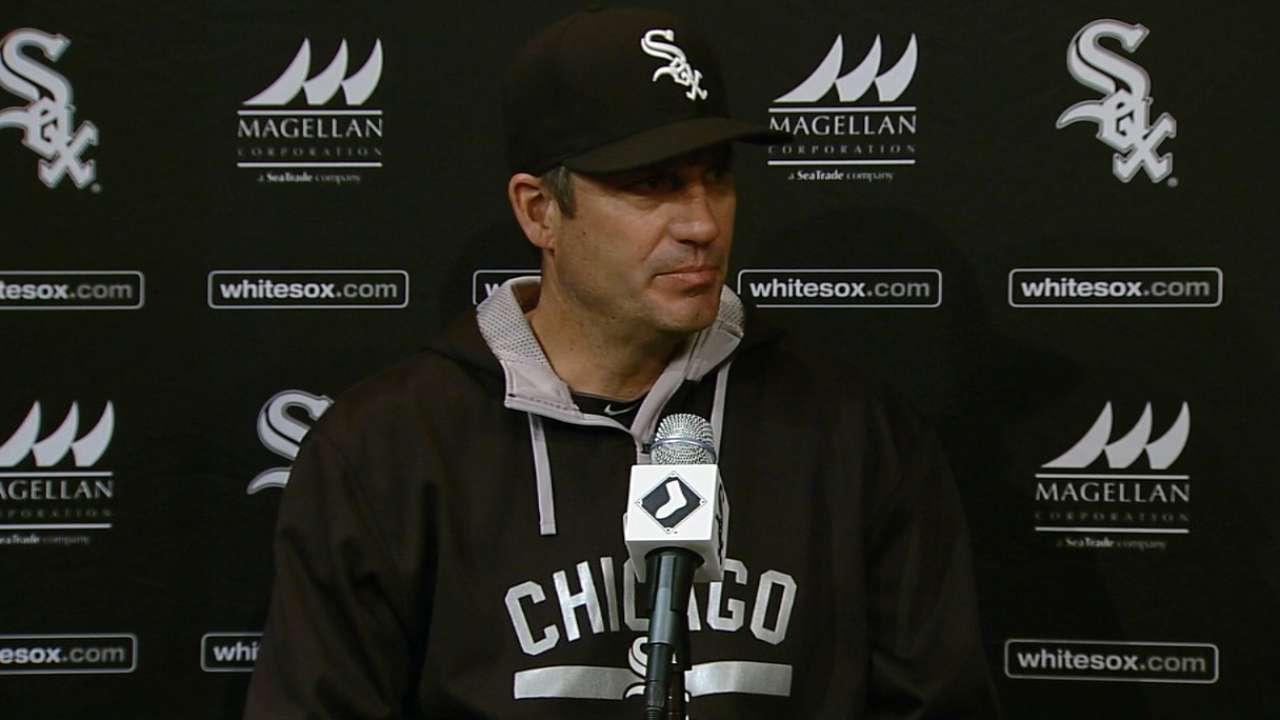 "With this offense we have I know I have to battle every inning and we're gonna have a chance to win," said Samardzija, who improved to 4-2 with ninth-inning help from David Robertson. "The last two times out I felt really good. My pitches are in the zone, which is the most important thing."
Part of that good feeling for Samardzija came from adjustments made during work with pitching coach Don Cooper, who has worked with the pitcher on keeping his aggressiveness in check.
In the eighth inning, with two outs and his pitch count approaching 120, Samardzija reached back and struck out Brian Dozier with a 96-mph fastball and then an 83-mph slider. Samardzija fanned Dozier, Torii Hunter and Joe Mauer in order in the sixth, working eight innings for a second straight start and handing the ball over to Chris Sale Saturday in trying to turn a brief funk against Cleveland into a winning streak against the Twins.
"It was fun to watch. He's a great athlete out there and he goes out and battles," said J.B. Shuck, who scored a run and delivered the game-winning sacrifice fly starting in place of Avisail Garcia in right field. "He wants to win every time and you could really see it tonight. He was in the zone."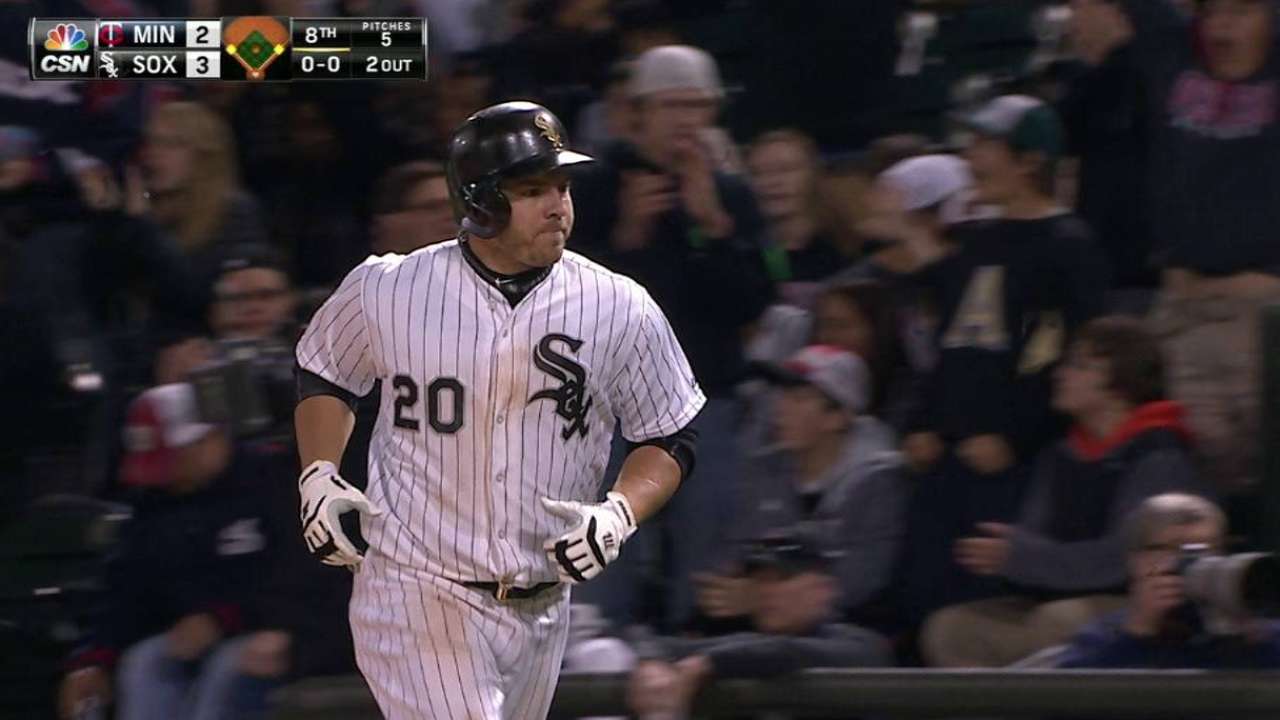 "You have to watch a guy and make a decision based on how he looks," said Samardzija of his 118 pitches following a 120-pitch effort in Oakland. "That's more important than anything else. I love to throw a lot. I throw a lot in bullpens, warming up. That's what we do, we throw. To put a limit on how much we throw seems a little contradictory."
Scott Merkin is a reporter for MLB.com. Read his blog, Merk's Works, follow him on Twitter @scottmerkin and listen to his podcast. This story was not subject to the approval of Major League Baseball or its clubs.