Gomes comes up clutch in bases-loaded jam
Manager Cash confident in righty, who says he likes adrenaline rush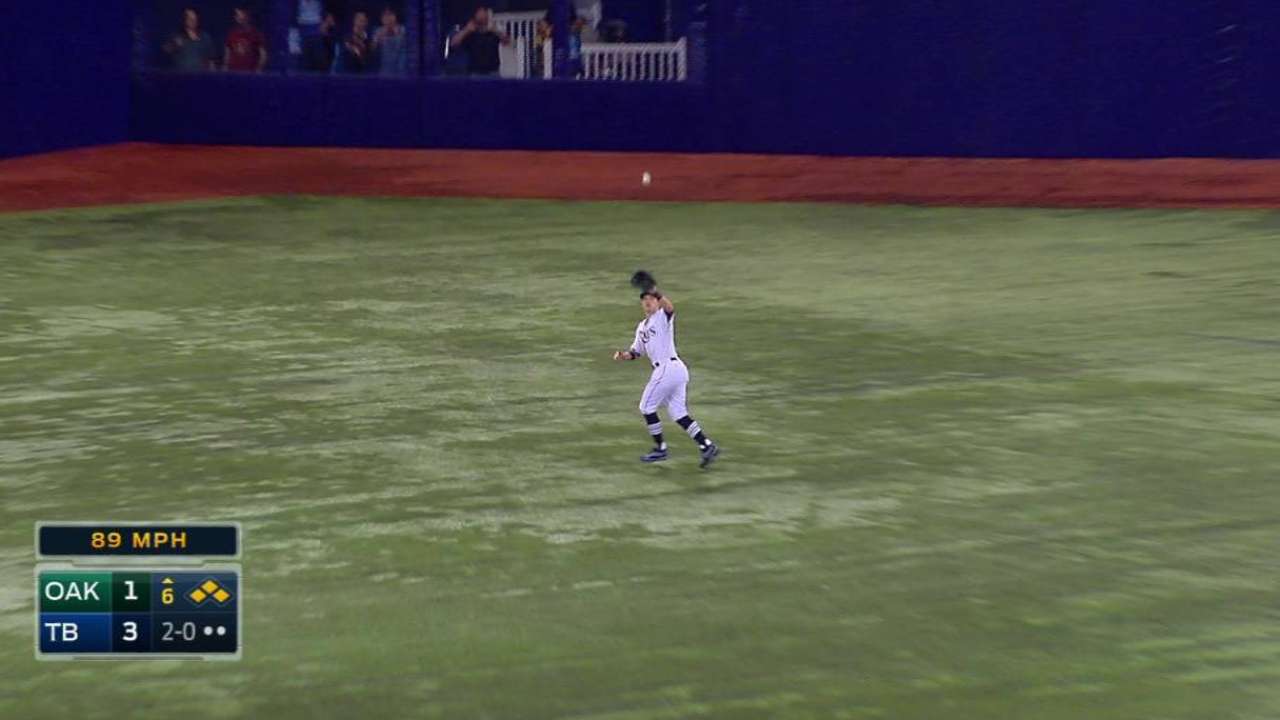 ST. PETERSBURG -- Brandon Gomes has become a familiar name off the lips of Rays manager Kevin Cash this season.
The gritty right-hander once again gave Cash cause to tout his virtues after he put out the fire in Friday night's 5-2 Rays win over the A's.
"I really like the role, where he can come in -- we have nothing against him coming in in a fresh inning, but he just seems to handle the situation with a guy on base," Cash said. "Even when he has to hold a guy, it doesn't alter his pitch mix or anything. He's been tremendous."
It wasn't so much the fact that Gomes allowed no runs and one hit with a strikeout in 1 1/3 innings. It was more about when he did what he did.
With the Rays leadinig, 3-1, starter Chris Archer allowed singles to Stephen Vogt and Brett Lawrie to start the A's sixth. One out later, pinch-hitter Marcus Semien drew a walk to chase Archer and prompt Cash to signal for Gomes. Once again, the right-hander delivered.
Gomes first struck out pesky Sam Fuld swinging at a splitter, then finished off the inning by retiring Billy Burns on a lineout to center.
"Kind of the same thing that I'm always doing," said Gomes when asked about his approach. "Trying to get ahead in that situation. The strikeout is what you want, but first and foremost, get ahead and make quality pitches. Then go from there."
Gomes returned to retire the first two hitters in the seventh before allowing Billy Butler to single through the middle. Left-hander Xavier Cedeno then came in to retire Vogt to end the inning.
Gomes has inherited a team-leading 15 baserunners and has allowed only one of those runners to score. He has made 14 appearances since being selected on April 19, 12 of them scoreless.
"I like that situation," Gomes said. "I like the adrenaline that comes along with it. I think across the bullpen, everybody's trying to do the same thing -- go out there and be aggressive. Everybody has the ability to rack up strikeouts in our 'pen. That's what you need in that situation. I was fortunate enough to get one."
Archer called the Rays' bullpen "the best in baseball," adding that it is "comforting" to leave a game in the hands of said bullpen.
"I wasn't worried about the runs scoring," Archer said. "I knew Gomer would come in and do his job. So it was a tense moment, one out, bases loaded, pretty good contact hitter coming up. But I felt good. Our bullpen is so strong, I wasn't worried."
Bill Chastain is a reporter for MLB.com. This story was not subject to the approval of Major League Baseball or its clubs.