Phillies trumped by ace up Nationals' sleeve
Club had opportunities vs. Scherzer, and had chance to tie in 9th, but went 0-for-8 with RISP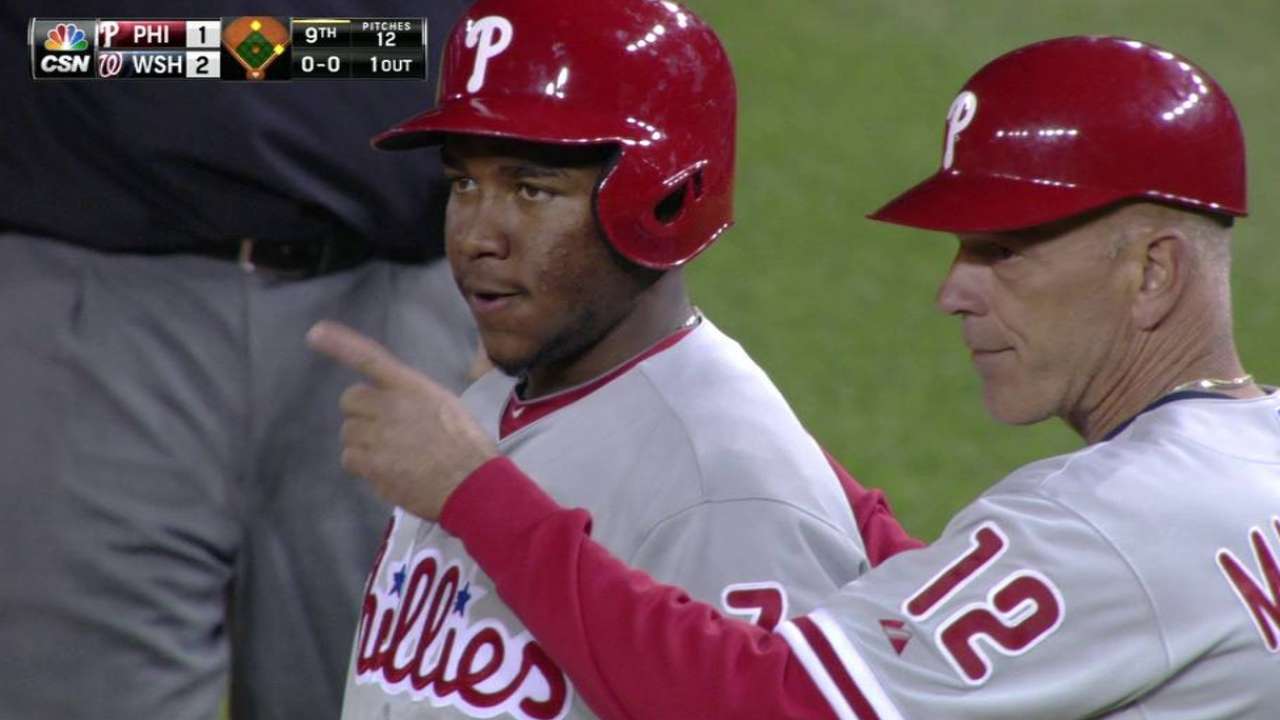 WASHINGTON -- An ace trumps momentum almost every time in baseball.
The Phillies' 2-1 loss to the Nationals on Friday night at Nationals Park proved as much. They had won seven of their previous nine games, hitting .285 and scoring 40 runs in that stretch. But they could not break through against Nationals ace Max Scherzer, who allowed four hits, one run, one walk and struck out six in eight innings.
"He's a pretty good pitcher, I think," Phillies manager Ryne Sandberg said. "He's probably the ace of their staff. I thought we hit some balls hard off of him, hit some balls off the wall, had another ball that was caught in center field. Thought we attacked him pretty well, but yeah, he's top-notch."
The Phillies were 0-for-6 with runners in scoring position against Scherzer, and 0-for-8 in the game.
In one sense, they wasted some golden opportunities.
In another, that is what aces do. They kill rallies.
Phillies center fielder Odubel Herrera doubled deep to center field in the second inning to score Maikel Franco and give the Phillies a 1-0 lead.
"I hit it good," Herrera said. "I hit it perfect. It just didn't go out."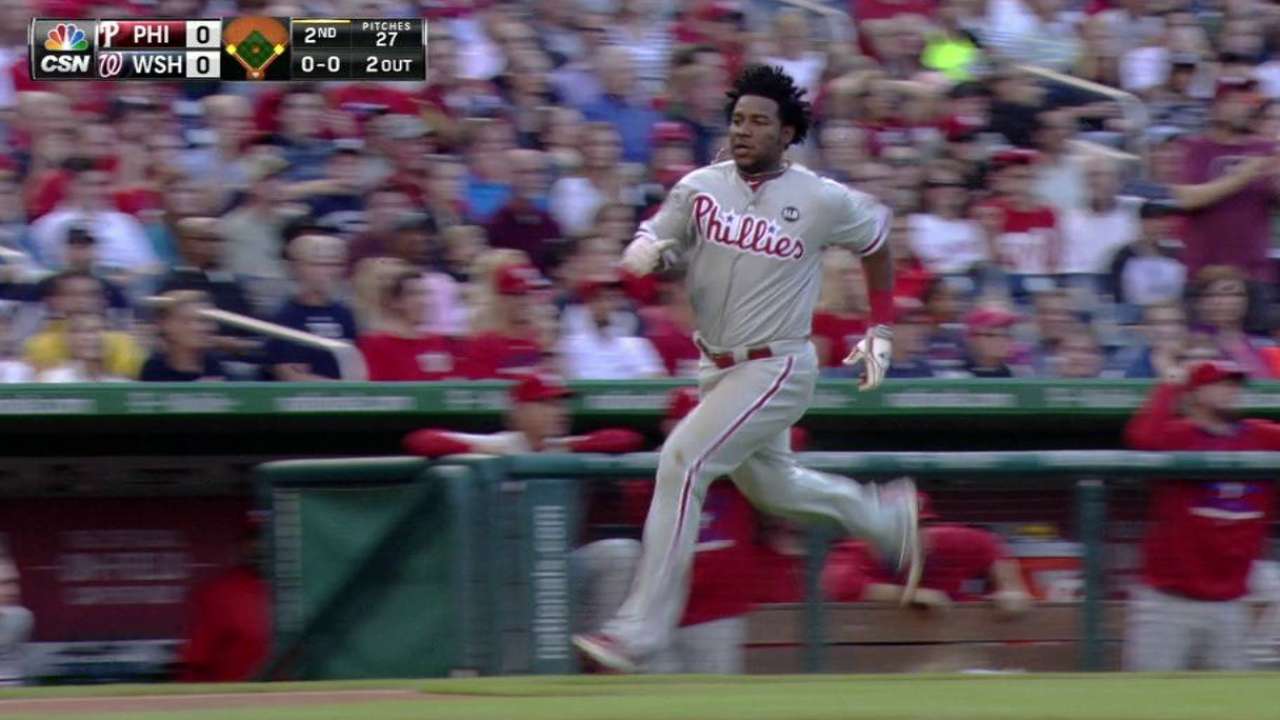 The Phillies had runners on first and second with one out in the ninth inning. Chase Utley actually had a chance to reach third on Franco's infield single, which second baseman Danny Espinosa kicked into left field. But Utley remained at second.
"Our angle from the dugout and his angle were completely different angles," Sandberg said. "We could see the gap there, and he's such a heads-up player that ... I think the player [Espinosa] and the ball were lined up, it was hard to tell if it was 10-15 feet away or 30 feet away. That's my guess."
Grady Sizemore followed with a fly ball to left field for the second out, but as Sandberg pointed out, it is hypothetical to wonder if Utley would have scored from third on the play.
"You don't even know if [Sizemore] gets that pitch," Sandberg said. "Other than that, I mean, solid game, pitchers' duel, solid defense, both sides. Pretty solid game all the way around, right down to having a chance at the end."
Todd Zolecki is a reporter for MLB.com. Read his Phillies blog The Zo Zone, follow him on Twitter and listen to his podcast. This story was not subject to the approval of Major League Baseball or its clubs.