Statcast: Trout shows off all his tools
Defending AL MVP shines with bat, arm, and feet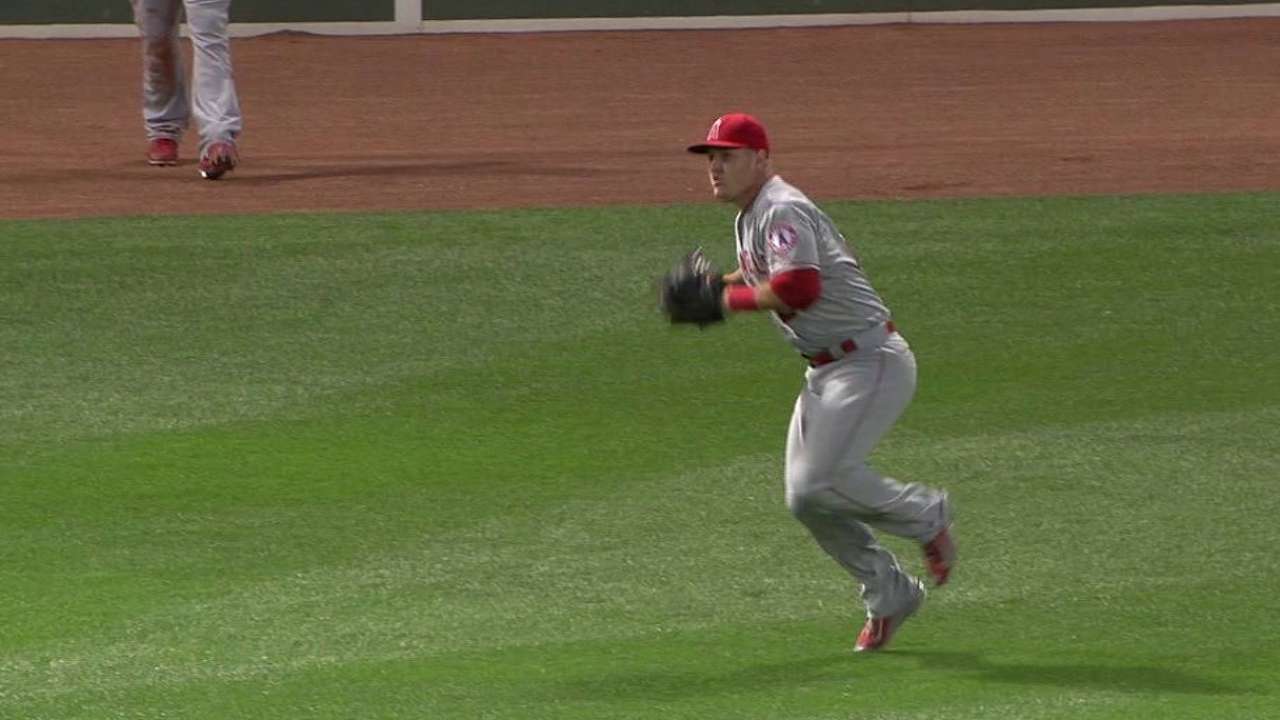 Mike Trout is the best player in baseball, and that shouldn't be a controversial statement. Trout is the defending AL MVP, and there are more than a few people who think he should be on a streak of three in a row. In the entire history of the game, only three players -- inner-circle legends in Ted Williams, Ty Cobb, and Mel Ott -- have compiled more WAR through their age-23 season, and remember that Trout still has more than four months of that season to go. By the end of the year, he could conceivably be No. 1 on that list.
It's difficult to overstate just how impressive Trout is, but it doesn't mean we can't try. In Friday night's 12-5 Angels victory in Boston, we saw all of the tools that make Trout the best player on earth.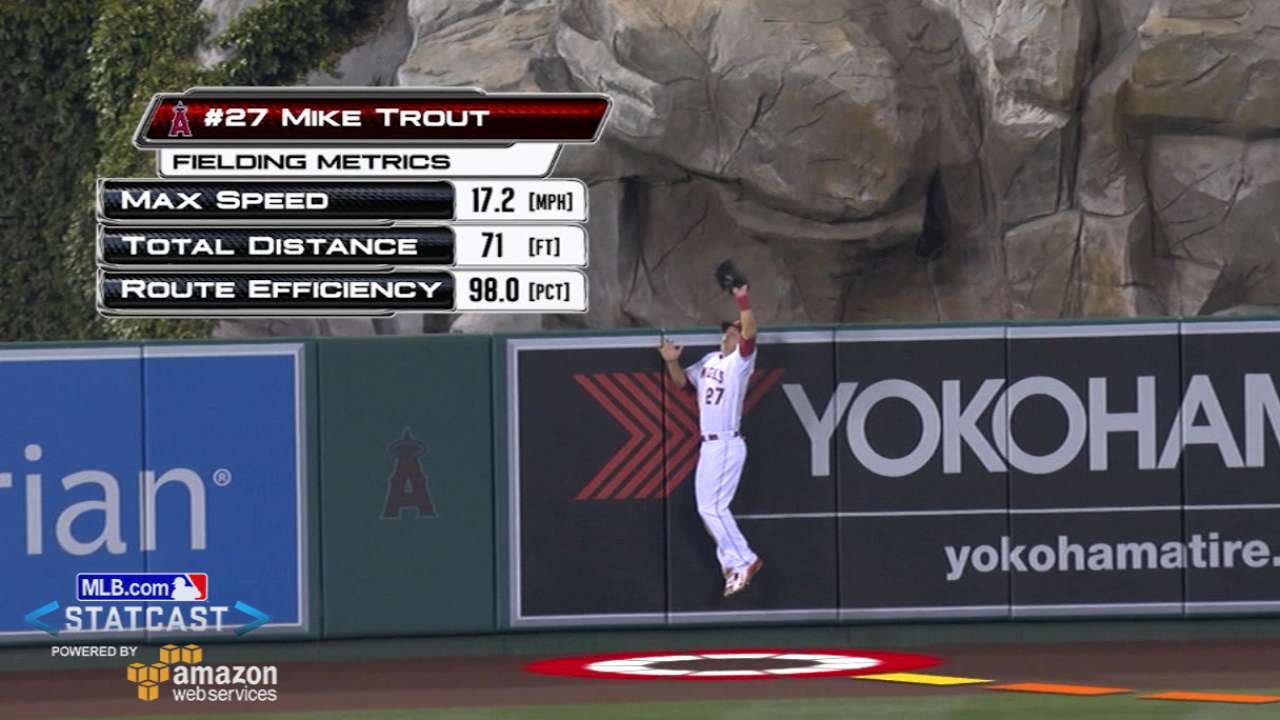 His feet
Though Trout doesn't run as much as he used to -- his stolen base totals have dropped from 49 to 33 to 16 to 8 -- what he does do is steal successfully. No, really; his steal in the fifth inning gave him the third-highest steal percentage in baseball history, at 87.3 percent.
After having driven in a run on a single, he showed part of just what makes him such an elite basestealer. Running on a 1-1 pitch, Blake Swihart's throw beat Trout to the bag. But while it was initially ruled that third baseman Brock Holt got the tag on, an ensuing replay showed that Trout's acrobatic dive had actually brought him safely to the bag: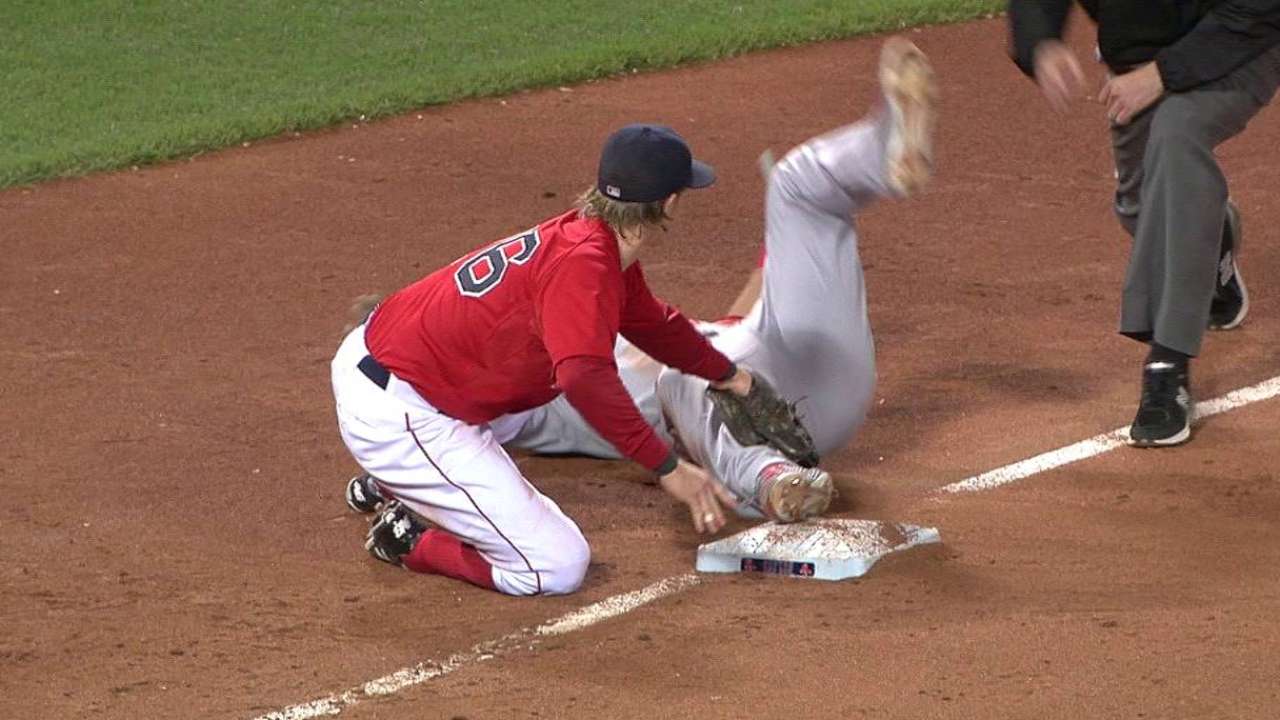 We don't have Statcast™ numbers for "twisting in mid-air and sliding on your back while keeping contact with the bag," but maybe we should. It's probably yet another category Trout would lead in.
His arm
For all his gifts, Trout generally isn't referred to as a "five-tool player" because his throwing arm is considered more "acceptable" than "great." Since 2012, he's got only eight outfield assists, and while that's not necessarily a direct line to arm strength -- plenty of strong-armed outfielders get limited assist totals simply because runners are too afraid to test them -- it's also tied for just 114th in that span. It's just not usually a notable part of his game.
In the bottom of the fourth, with the bases loaded and none out in what was at the time a game the Angels led 2-1, Trout did his best to change that perception. Holt doubled off the base of the Green Monster to plate Xander Bogaerts and Hanley Ramirez, and as the ball caromed back towards the infield, Mike Napoli attempted to score as well.
Now, you can argue that the slow-footed Napoli was too aggressive in trying to score from first, though it's more understandable when you remember that the Red Sox were the lowest-scoring team in the majors in May, putting up only 2.3 runs per game. Trout still had to make the throw, and (per Statcast™) he got it up to 83.274 mph, on a single bounce to Chris Iannetta for the out. At the time, it was a pivotal play, keeping the Angels within one run, and allowing Trout's own run-scoring hit to take back the lead the next inning.
His bat
Of course, it always comes back to the offense. Trout made contact with the ball five times, collecting three hits, and the hardest-hit one actually turned into an out. In the sixth inning, his grounder to short was measured at 102.897 mph, well above his seasonal average velocity of 92.43 mph.
In terms of the game, none of his hits were more important than the fifth-inning single that drove in the first of what would be nine runs in the frame alone for the Angels.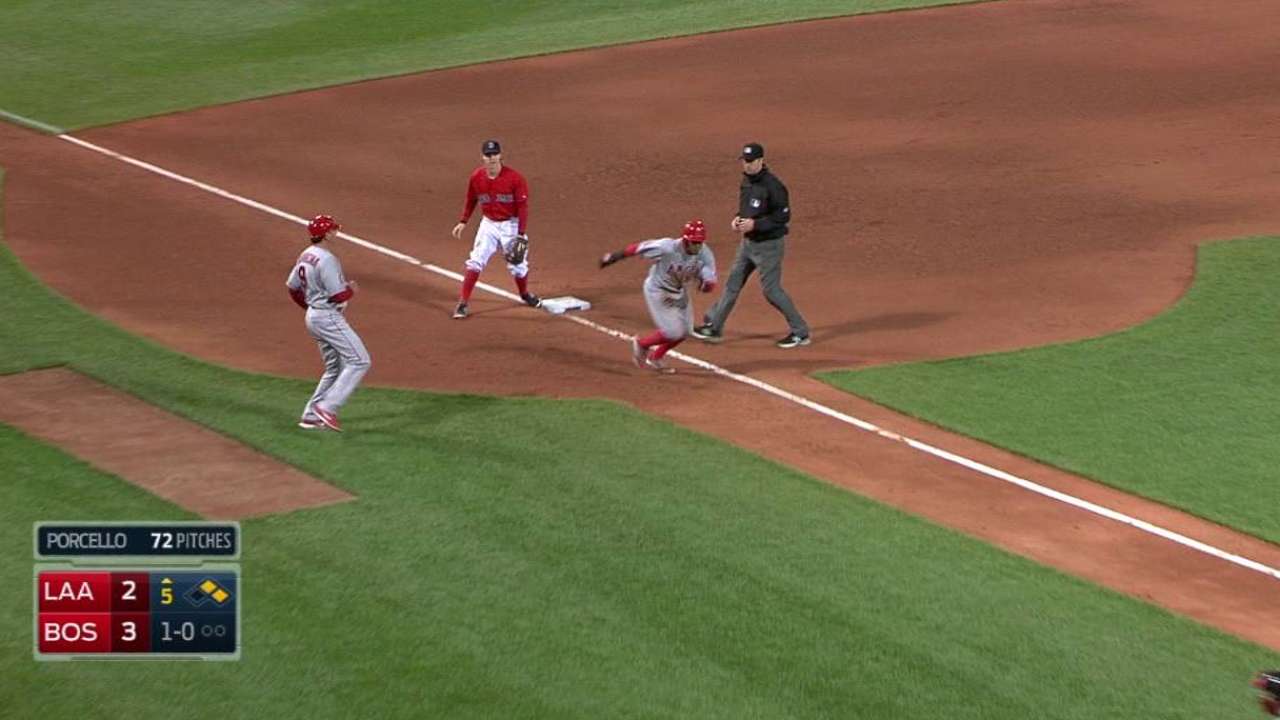 The smash was measured at 93.135 mph. The average batted-ball velocity across baseball this season is 88.389 mph. It should hardly come as a surprise that it's yet another thing that Trout is above average at.
Mike Petriello (@mike_petriello) is an analyst for MLB.com. This story was not subject to the approval of Major League Baseball or its clubs.