King Felix returns to form against Toronto
Ace right-hander allowed just one run and struck out eight in seven innings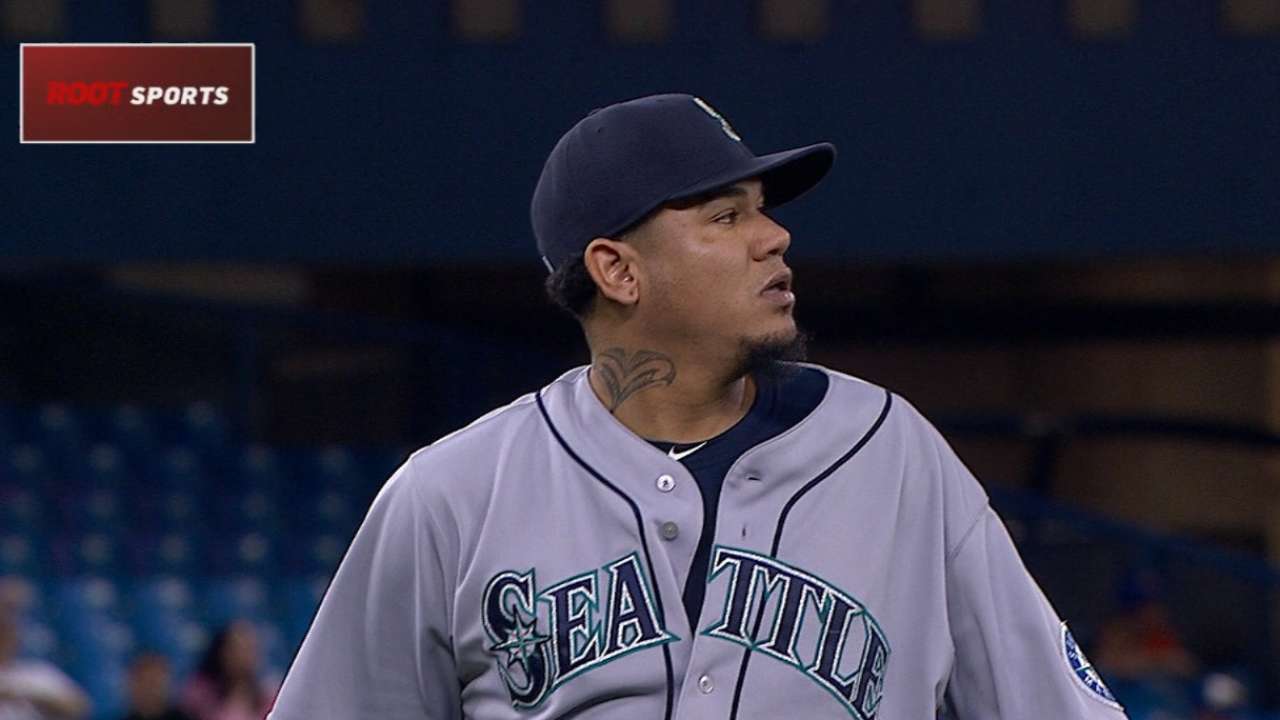 TORONTO -- When last seen at Rogers Centre, Felix Hernandez was getting hit hard in a 10-2 loss to the Blue Jays last September in a game that might have cost him his second American League Cy Young Award and a series that ultimately cost Seattle a shot at an AL Wild Card berth.
But the King was back on his familiar perch on Friday, stifling Toronto on four hits and one run over seven innings in a 4-3 victory that improved his record to 7-1 with a 2.19 ERA.
"I was not thinking about anything that happened last year. I was just trying to go out there and do my job to help the team win," Hernandez insisted. "That was just a bad game. Thirty-four starts, you're not going to be perfect all 34. So it was just one of those things."
Hernandez leads the Majors in wins and his performance -- along with new teammate Nelson Cruz -- is keeping the Mariners at least treading water through the first quarter of the season as they improved to 19-22.
Hernandez bounced back from his first loss of the season, not to mention a sore ankle that hindered him in a 4-2 loss to the Red Sox last Saturday, with a dominant performance marred only by a first-inning homer by Edwin Encarnacion.
"I had a little more command on my fastball and a good breaking ball," Hernandez said. "That was way better."
And while Hernandez said last year's loss wasn't on his mind, those around him knew he came out with that look in his eye.
"I thought tonight he was very determined," manager Lloyd McClendon said. "His sinker was running all over the place. He had a real good changeup and the breaking ball was real sharp tonight."
"You're going to remember it," said catcher Mike Zunino. "Because of when it happened to him, I'm sure he wished he could have it back. But he went out there today and pitched well and improved on that. That's all you can do as a player is stick with that, learn from it and go out there and have another good start."
Hernandez has had a string of good starts to open the season, pitching six-plus innings in eight of his nine outings. Though he's had some troubles with Toronto in the past, he struck out eight in a strong outing that improved his record to 6-6 with a 4.53 ERA in 14 career meetings.
He said the right ankle that bothered him in his last outing wasn't an issue.
"The ankle, I'm used to," he said. "I'm fine."
And when Hernandez is fine, so are the Mariners, as they improved to 8-1 in games he's started this season compared with 11-21 when he's not on the hill.
Greg Johns is a reporter for MLB.com. Follow him on Twitter @GregJohnsMLB, read his Mariners Musings blog, and listen to his podcast. This story was not subject to the approval of Major League Baseball or its clubs.