MLB.com Columnist
Bernie Pleskoff
McCullers has ability to close games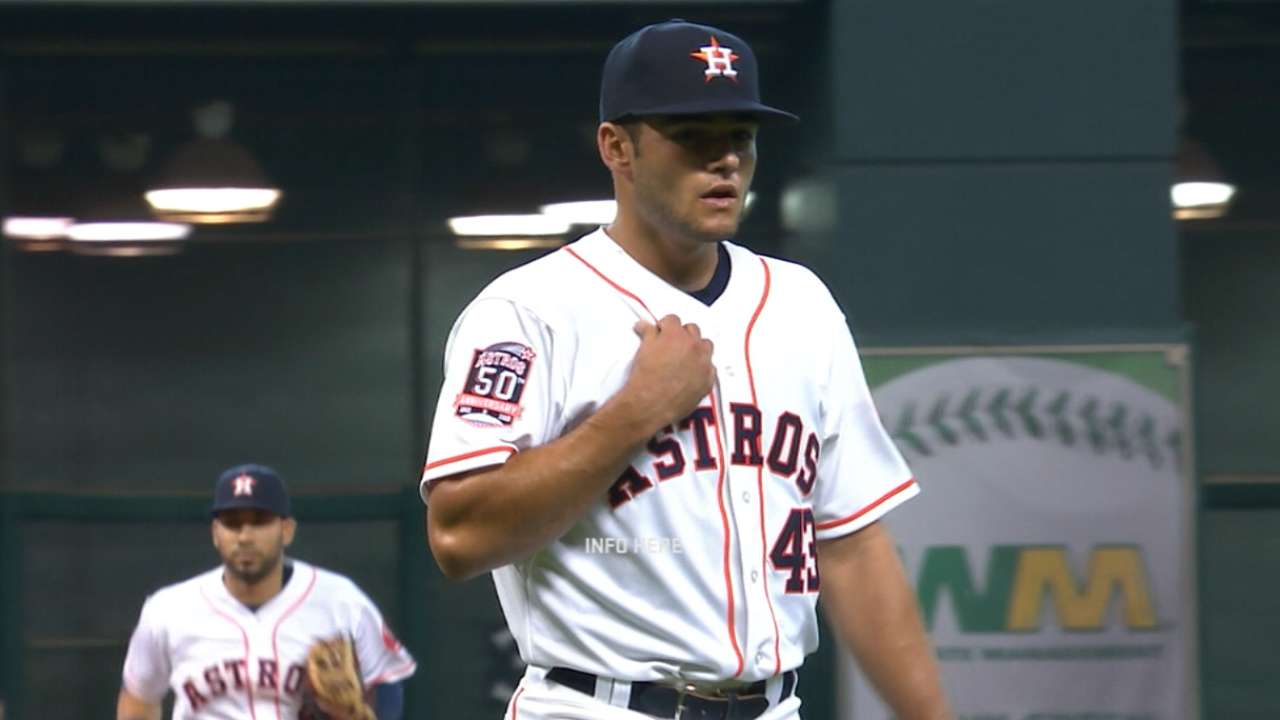 Background
Right-hander Lance McCullers has made a rather quick rise through the Astros' organization. The club's No. 10 prospect was promoted to the big league club Monday after having spent parts of only four seasons in the Minors.
The son of former Major League relief pitcher Lance McCullers, the younger McCullers earned numerous honors and great recognition at Jesuit High School in Tampa, Fla. McCullers won't be 22 until October, and it's quite possible he could add strength to his 6-foot-2, 205-pound, highly athletic frame.
Repertoire
McCullers has a very loose and free power arm. He has a wide velocity range on his fastball, changing speeds from 90-97 mph. He generally sits between 93-95 mph. He also uses a 94-mph cutter, and an occasional slider that sits in the mid-80s. Once McCullers has set up a hitter with his fastball or cutter, he mixes in a very effective curveball that induces swings and misses. His pitch repertoire can be very deceptive due to his loose arm action, late life on his pitches and the wide velocity variance he generates. His offspeed and breaking balls continue to improve with experience. McCullers throws a mid-80s changeup, but it is a pitch he is still developing and one he uses sparingly.
Mechanics
There is some effort to McCullers' approach, and he doesn't always repeat his delivery. In short, he rushes some pitches and loses command and control. When McCullers loses his mechanics, he loses some of the velocity as well. That may be part of the reason his fastball has such a wide variance. On the other side of the spectrum, McCullers can lose command when he tries to get too much velocity on his pitches and overthrows. He has to find a happy medium with his release point to achieve consistency. Repetition and experience will assist with those issues.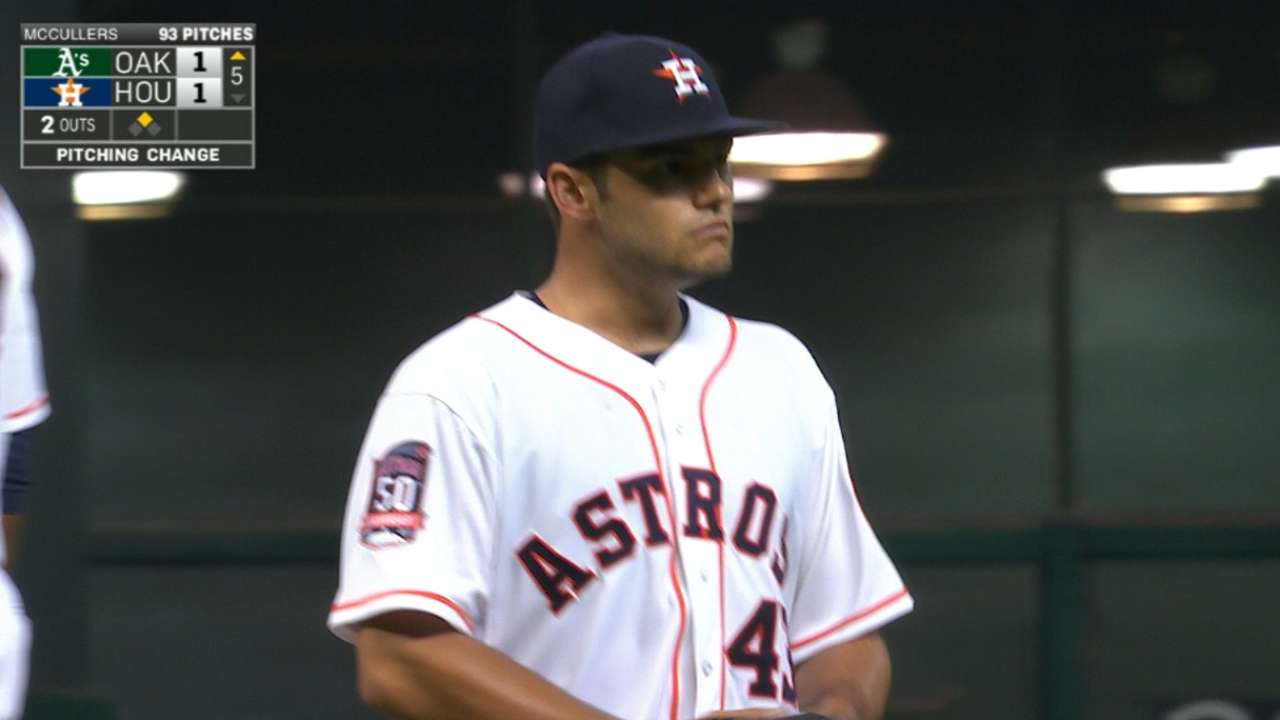 Strengths
McCullers has such a strong and loose arm that many scouts feel he is best suited as a late-inning reliever, and ultimately as a closer. That projection is easy to understand. His breaking balls and offspeed pitches complement his fastball extremely well. If McCullers can command those pitches, he projects to have excellent success. He misses plenty of bats with his wide-ranging repertoire. That projects to improve in time.
Weaknesses
McCullers can lose control quickly, requiring him to regroup and recharge his batteries. If McCullers falls behind in the count, he loses a bit of composure and scuffles. The inning can slip away with walks. Finding consistency in his release point will be his challenge as he continues to grow and develop as a pitcher.
If McCullers remains as a starter, it will be to his benefit to work hard to refine and develop his changeup. The fastball, cutter and curveball can all be effective. However, they can be more effective if he alters the balance of the hitter by throwing the changeup more often.
I find this interesting
In his brief Minor League career, McCullers averaged 10.7 strikeouts per nine innings. This season, the number reached 13.3 strikeouts per nine when he pitched at Double-A Corpus Christi. McCullers has, however, had a high career walk rate, averaging 4.5 walks per nine innings. Even without throwing his changeup as often as his other pitches, in his career to date, he has had greater success pitching against left-handed hitters than right-handers. That may even increase with an improved changeup.
His future
McCullers will go as far as his command and control will allow. He has the arm strength, the athletic ability and the pedigree to remain as a starter. However, I think as he continues to gain experience, his velocity and mound demeanor will be especially useful if he is asked to close games. Whatever his role, McCullers will be successful as the wrinkles in his command smooth out and he gains confidence.
McCullers in one word
Ascending
Bernie Pleskoff has served as a professional scout for the Houston Astros and Seattle Mariners. Follow @BerniePleskoff on Twitter. This story was not subject to the approval of Major League Baseball or its clubs.