MLB.com Columnist
Alyson Footer
Drake makes a hit with charity softball event
Athletes, musicians gather to start Houston Appreciation Weekend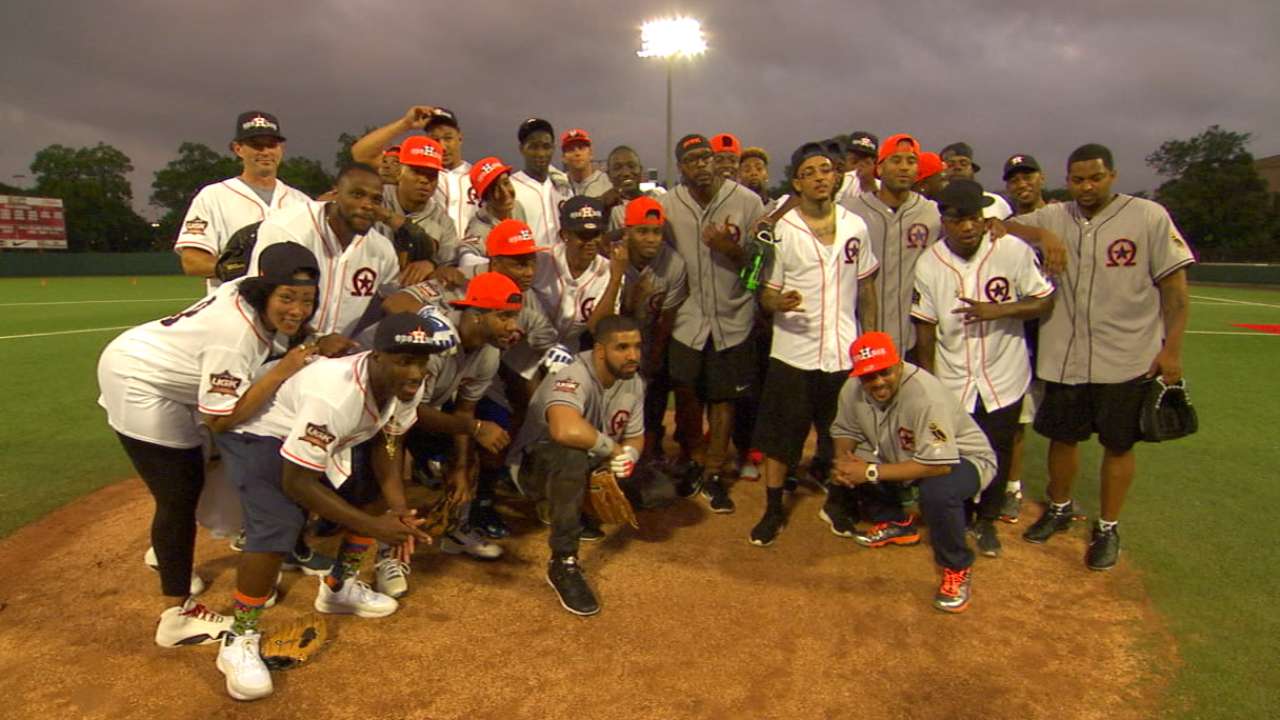 HOUSTON -- Grammy Award-winning musician Drake is from Toronto, but if he had to name an unofficial second home, he may just pick Houston.
The rap star spent Memorial Day weekend in the Bayou City, celebrating his second annual Houston Appreciation Weekend. The jam-packed visit kicked off with him hosting a celebrity softball game at the University of Houston baseball field on Friday, benefiting the Astros Urban Youth Academy.
"Houston is one of the greatest places in the entire world," Drake said while addressing the crowd that gathered at Cougar Field for the event.
Drake was the headliner, of course, but the "rosters" for this event packed plenty of star power as well. Football players, baseball players and rap artists were well-represented at the event, which began with a home run derby, followed by a softball game.
Among those on the guest list were Cleveland Browns wide receiver Dwayne Bowe, Houston Texans offensive tackle Duane Brown, NFL fullback Le'Ron McClain, former Astros pitchers Brandon Backe and Chris Sampson, and Texans running back Alfred Blue, along with rappers P. Reign and Kirko Bangz.
"When my PR [representatives] called me and said I had an opportunity to be here this weekend, I couldn't say anything but yes," McClain said. "To be down here with a great guy like Drake and give back to the community is always awesome. I do it back in my hometown all the time. It's just a blessed moment to be out here."
Drake has deep roots in Houston, a city that was essential to launching his music career. He was boosted early in his pursuits by longtime Astros supporter and community activist Bun B, among others.
Regardless where Drake's travels take him, he always makes his way to Houston, and, as a baseball fan and sports fan in general, lends his support to Houston-based organizations, sports teams and initiatives.
Last year, Drake visited Minute Maid Park and met with kids from the Astros Urban Youth Academy and RBI program. This year, he raised money for the UYA through the celebrity softball game, a well-attended event that filled most of the stands at Cougar Field.
"It's awesome," said Brown, who was named one of the team captains. "To get a chance to meet him and talk to him a little bit, and also, he's very professional in what he does and he means a lot to the city of Houston. For him to come out here and have this kind of event for the youth of Houston, it's a big deal and I'm just happy to be a part of it."
Backe, who lives in nearby League City and is a fan of Drake's music, jumped on board immediately when Astros president Reid Ryan called him to ask him to participate in the softball event.
"For him to go out of his way and hold this event, especially for inner-city children and the game of baseball, it's pretty nice of him," Backe said. "It shows that he cares."
Alyson Footer is a reporter for MLB.com. This story was not subject to the approval of Major League Baseball or its clubs.