Leake, rotation continue to struggle for Reds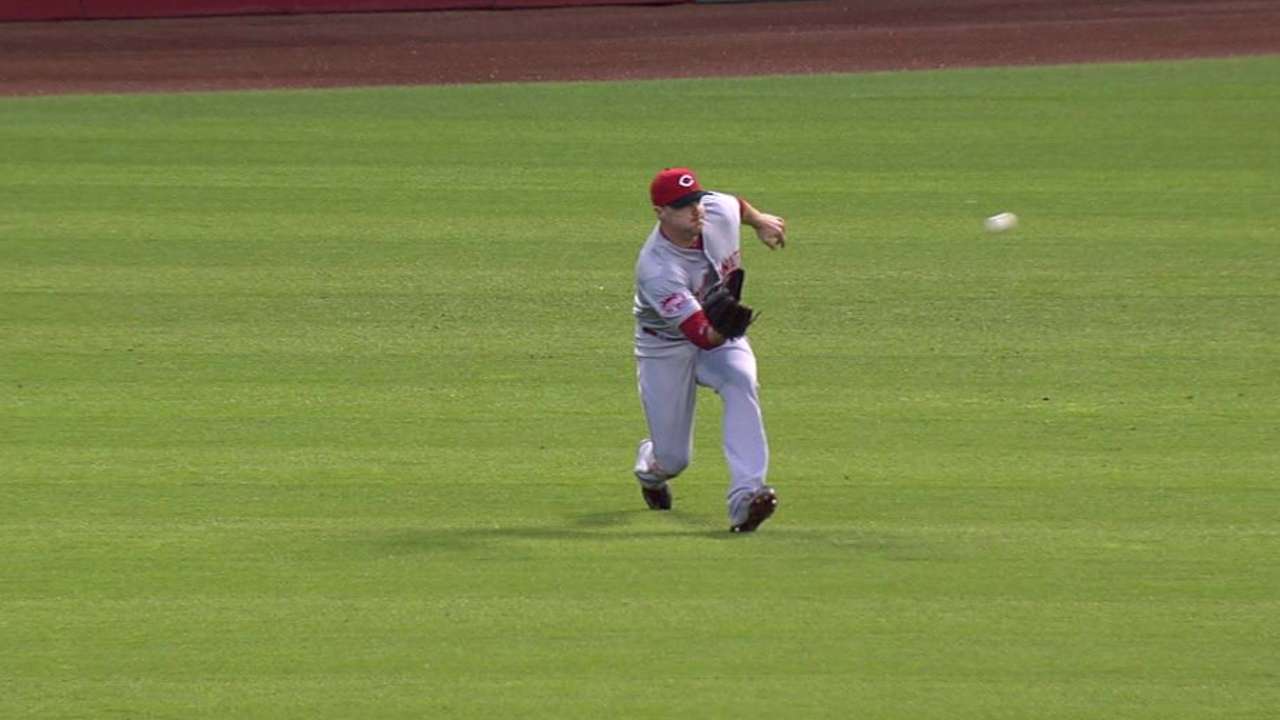 CLEVELAND -- The Reds rotation is in a free fall and none of its members seem to have a working parachute.
The Reds' losing streak extended to a season-high six games with Friday's 7-3 defeat to the Indians. The starting pitcher was on the hook for all six losses, including Mike Leake, who labored with 81 pitches over four innings vs. Cleveland on Friday.
Besides being 0-6, the rotation has an 11.57 ERA during the streak with 33 earned runs allowed over 25 2/3 innings. Only one of the outings has lasted longer than five innings.
"We'll all figure it out. It's a long season," Leake said. "It's just unfortunate that it's all happening at the same time. It kind of makes it more of [an issue] when everybody's doing it and it's all happening at the same time. But hopefully it's something we'll be able to put in the past and we'll all start doing pretty well."
Just how important is a decent start tied to the Reds' chances for a win? They are 15-5 when they get a quality start (at least six innings with three earned runs or fewer allowed) and 3-18 when they don't.
Leake gave up five earned runs in his four innings with seven hits and five walks. That included his walking of three straight batters for the first time in his career that forced home a run in the two-run, 33-pitch second inning. Jason Kipnis added an RBI single to center field with the bases loaded to give Cleveland a 2-1 lead.
"I even came back laughing at that one because for some reason, for a couple of batters, I couldn't throw the ball where I wanted it," Leake said.
Over his last two starts, Leake has given up 14 earned runs over nine innings to raise his ERA from 2.36 to 4.14.
"It just was never rolling," Reds manager Bryan Price said. "He is typically ahead in the count and very aggressive in the zone and making good pitches. He wasn't real sharp tonight."
On his first pitch of the third inning, Leake gave up Brandon Moss' homer to right field. It came just after the Reds tied the score in the top half. Moss added a two-run double in the fourth.
The rotation has been one of the strengths for the Reds in past seasons. Price harkened back several years when the rotation went through a bad stretch while he was the pitching coach, overseeing tough outings from Leake, Edinson Volquez and Travis Wood.
"I'm having to go back to 2011 to say of a time that I can remember when we just really struggled as a rotation as we have this time or two through the rotation," Price said.
"It certainly won't be the last time, if I do this long enough, I'll see this again. It's just really painful when you're in it, because you hate to have that type of separation between ourselves and the opponent that we have to dig ourselves out of those types of holes early in the game."
Mark Sheldon is a reporter for MLB.com. Read his blog, Mark My Word, follow him on Twitter @m_sheldon and Facebook and listen to his podcast. This story was not subject to the approval of Major League Baseball or its clubs.