Brewers pull Peralta early with left side injury
Right-hander replaced after 4 innings with Crew carrying big lead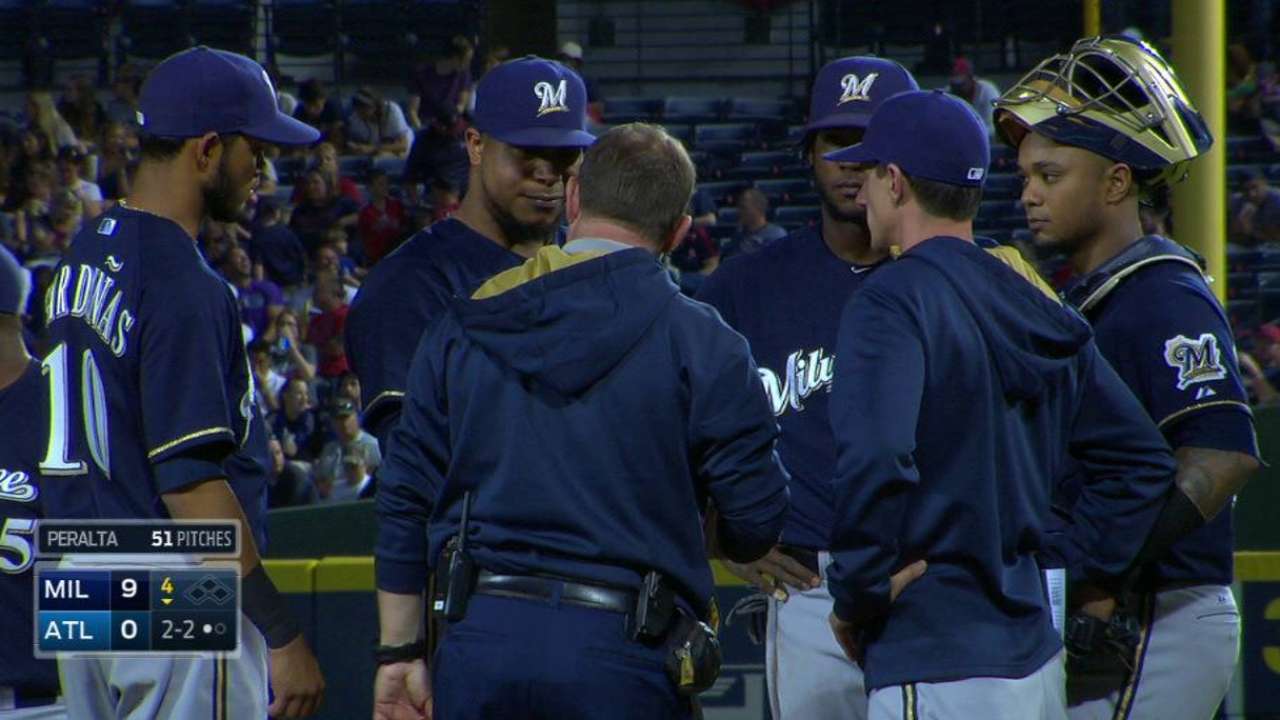 ATLANTA -- Brewers starter Wily Peralta was cruising along in the fourth inning Friday night against the Atlanta Braves -- something he hasn't done much this season -- when he felt tightness in his left side.
So as much as he wanted to stay in a game that was almost a certain win for him, Peralta deferred to the Milwaukee brain trust in deciding that caution was probably the best course of action. He left after four innings in the Brewers' 11-0 win.
"Just trying to push it, it probably would get worse," Peralta said after the game. "I don't want to miss any time."
After a brief injury timeout when he first felt the tightness -- he pulled up after a low 2-2 slider to Atlanta's Alberto Callaspo -- Peralta finished the inning without incident. But with a 9-0 lead after a seven-run fourth inning, the Brewers decided to pull the right-hander for a pinch-hitter in the top of the fifth and go with righty reliever Michael Blazek in the bottom of the inning.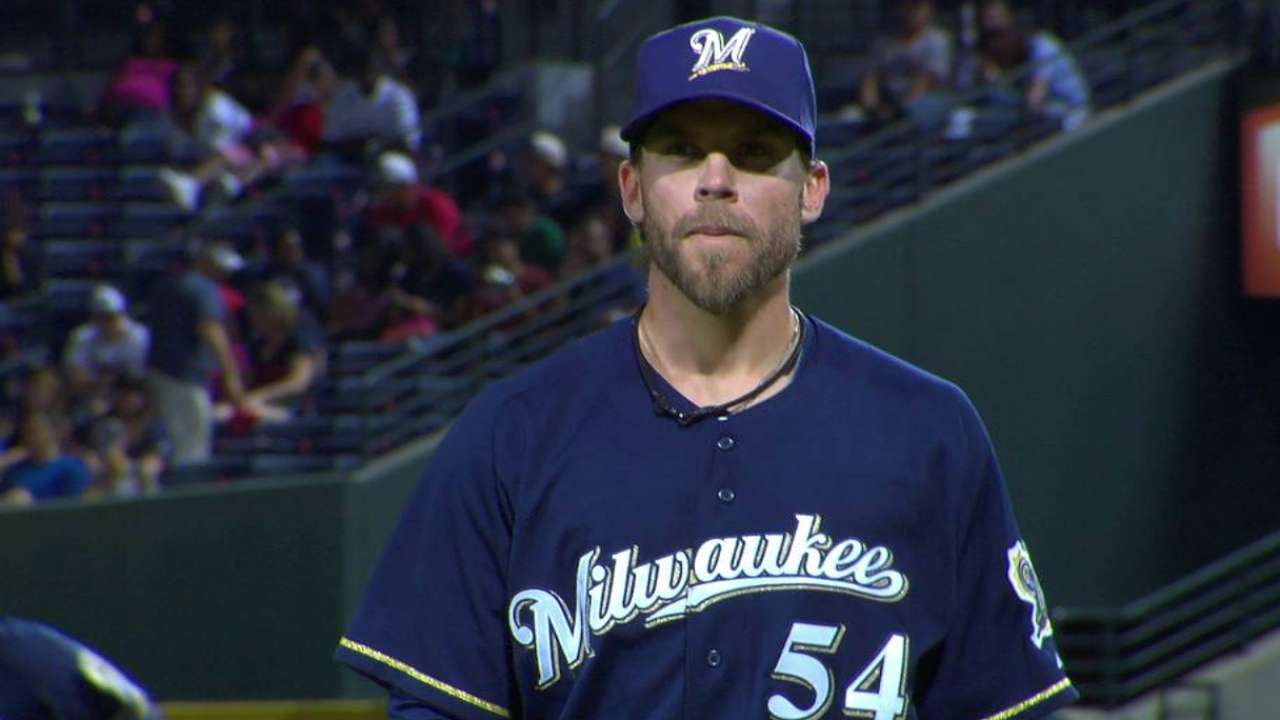 Peralta said he tried to talk his way back, but admitted it wasn't much of a try.
"I haven't gotten a win in a while," said Peralta, who entered the game at Turner Field 1-5 in eight starts with a 4.32 ERA. Opponents were hitting .310 off him. "You get a nine-run lead, you don't want to go out. You want to go at least one more."
Instead, Peralta will have to be content with getting a win for the team, if not one for himself. Blazek (4-1, 1.59 ERA) picked up the "W." Peralta gave up just one hit, struck out two and walked two.
"It was precautionary on my part more than anything," manager Craig Counsell said of his decision to pull Peralta. "I think he's in pretty good shape. We'll know more [Saturday]."
Peralta also had what may have been the at-bat of the game for the Brewers. The Braves elected to intentionally walk Martin Maldonado to load the bases with two outs to face Peralta. But Peralta -- a .084 career hitter -- drew a six-pitch walk to bring in a run, part of a seven-run inning in which Milwaukee scored all the runs with two outs.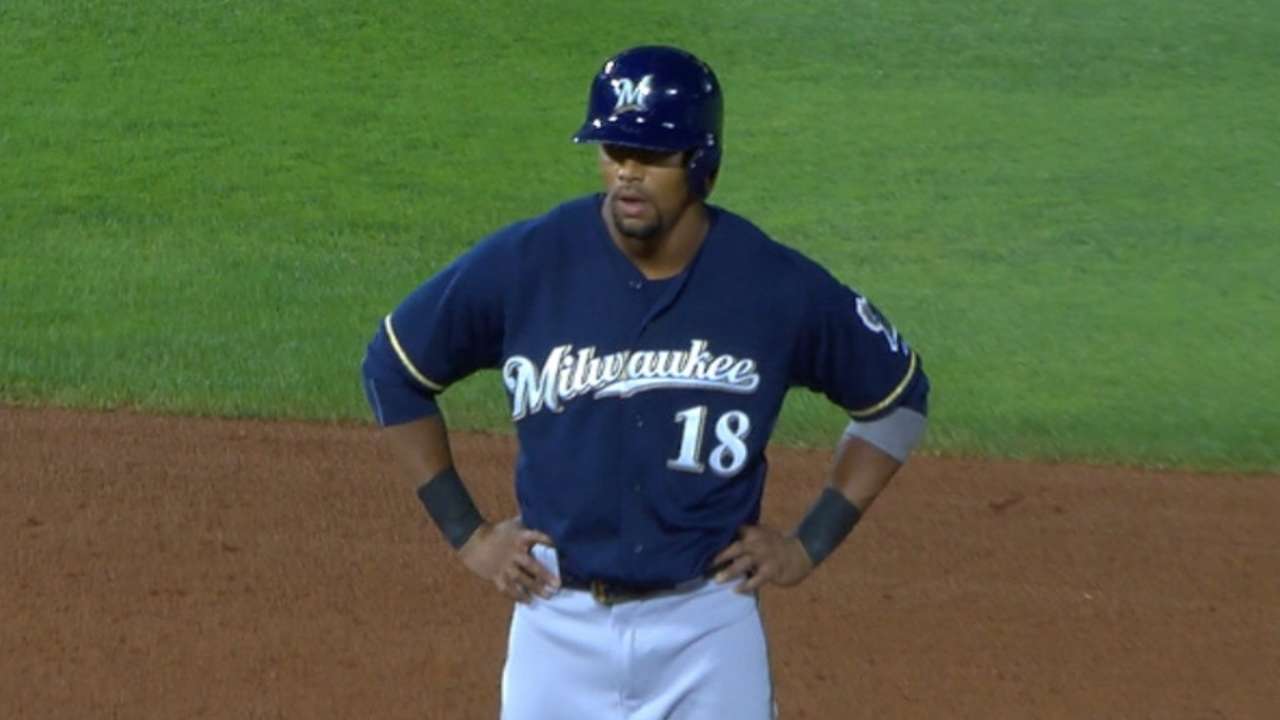 "He threw me a cutter on like 3-2," Peralta said of fill-in starter Eric Stults, who issued the walk and took the loss. "I don't know why. I'll take it."
Peralta's next start is scheduled for Wednesday at Miller Park against the San Francisco Giants. Both he and Counsell were optimistic he wouldn't miss it.
John Donovan is a contributor to MLB.com. This story was not subject to the approval of Major League Baseball or its clubs.