Lamb nears return, but Tomas stands in way
D-backs will have tough decision to make at third base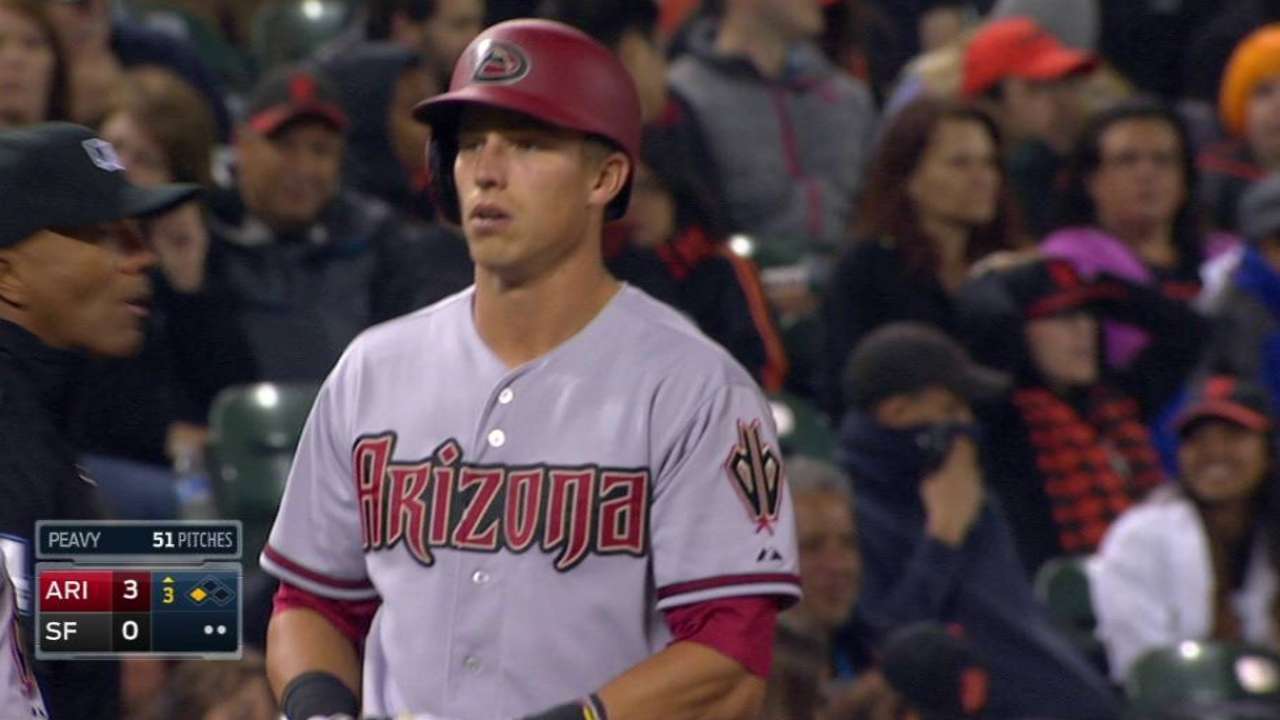 PHOENIX -- D-backs manager Chip Hale knows he's going to have decisions to make when third baseman Jake Lamb comes off the disabled list.
That time is quickly approaching, as Lamb nears his return from a left-foot stress fracture he sustained on April 21. In his absence, Yasmany Tomas has filled in nicely at third, raising his batting average to .349 by collecting multiple hits in the last six games of the D-backs' most recent road trip.
"We keep saying we'll cross that bridge when it comes, but it's coming and Yas just keeps swinging," Hale said. "It's going to be interesting because you want to have both those bats in the lineup."
Lamb played an extended spring training game on Thursday, going 2-for-4 with a homer. He has played in two games, but still hasn't been running full-speed or playing defense.
Lamb said he feels much improved while taking the extra time to make sure the injury isn't a problem later in the season.
"That's the last thing I want to happen is, a few weeks down the line, it's bugging me again," Lamb said. "As of right now, I feel great, 100 percent, I'm just excited that I'm back in games and playing."
Lamb will likely go on a rehab assignment to a Minor League affiliate next week when the D-backs are on the road, aiming to return to the club when it returns for a seven-game homestand June 1.
Worth noting
• Reliever Matt Stites (elbow) threw two-thirds of an inning in an extended spring training game Thursday. The D-backs right-hander, who has yet to pitch this season, expects to have just one more extended spring outing before going on a rehab assignment the middle of next week.
"Some days I would wake up and my arm wouldn't feel too great," Stites said. "But the last three times I've thrown in games, woke up, nothing, during the game, nothing, after the game, nothing, so it's feeling really good."
• Reliever David Hernandez will continue his rehab assignment with Double-A Mobile this weekend.
Hernandez, who is recovering from Tommy John surgery, has pitched in two games for Class A Advanced Visalia and may return to the team as early as next week.
• Starter Patrick Corbin will continue to take some time off after pitching an extended spring training game on Monday as he gets closer to his return from Tommy John surgery.
"Everything was fine, just a little bit tight and sore after, so just going to give him a little more time now and we have until obviously the first week there in June," Hale said.
• Catcher Oscar Hernandez (left hamate bone) will begin to take batting practice in the cage Monday. The Rule 5 pick has yet to play for the D-backs.
Jake Rill is an associate reporter for MLB.com. This story was not subject to the approval of Major League Baseball or its clubs.