Kendrys' homers help deck Cardinals in I-70 clash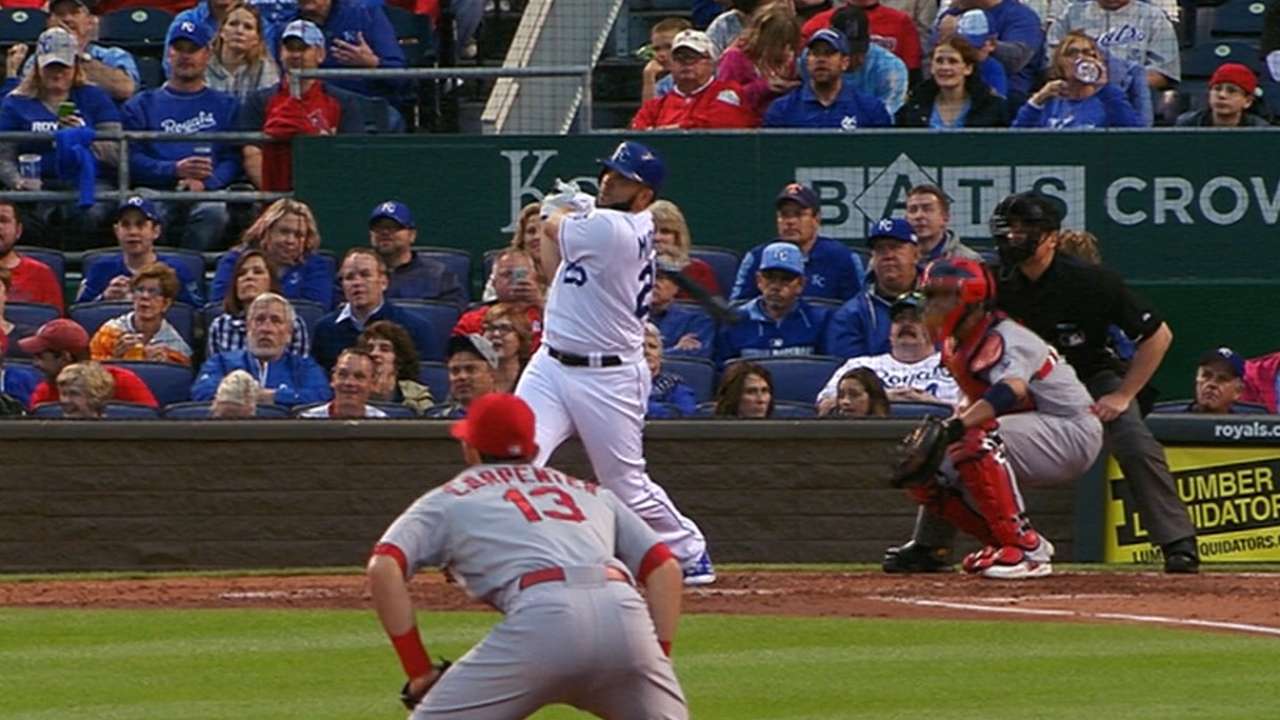 KANSAS CITY -- Right-hander Chris Young continued his amazing stretch as a fill-in starter with six shutout innings, and Kendrys Morales hit two homers and drove in five runs as the Royals cruised to a 5-0 win over the cross-state rival Cardinals in the I-70 Series opener on Friday night at Kauffman Stadium.
The Royals now have won four straight and six of seven, and they also now own the best record in baseball at 27-14.
How does it make manager Ned Yost feel?
"Wonderful," Yost said flatly. "You guys are asking the wrong guy because I'm a day-to-day guy. I don't even know what our record is. I know we're doing good. But I don't sit there and dwell on that. I focus on today."
But Yost had praise for his group.
"We're a very solid defensive team and we can beat you in a lot of ways," he said. "We can beat you defensively, we can beat you with our pitching, we can manufacture runs, we can beat you with our speed and now we can beat you with some power."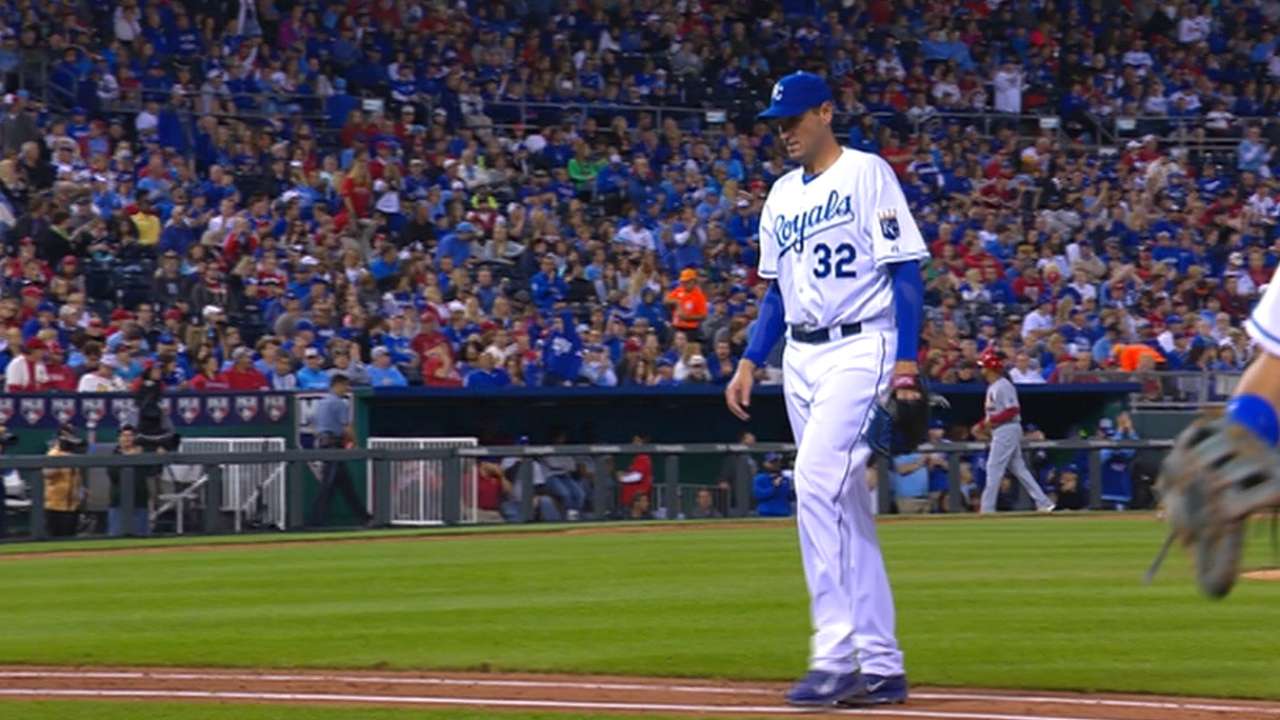 Young lowered his ERA to 0.78, while giving up six hits, walking two and striking out two. In four fill-in starts, Young has given up one earned run over 22 2/3 innings. More >
Morales belted a three-run homer in the first and a two-run homer in the third.
Cardinals starter Lance Lynn lasted six innings, giving up 10 hits and five earned runs. More >
Lynn felt he made a bad pitch to Morales in the third, but not in the first.
"On the first homer, it was right where I wanted it," Lynn said. "He just put a good swing on it. The next one was a backup slider. He's a good hitter, somebody I hadn't seen before. I didn't really know how to attack him. Now I know not to do that."
Matt Carpenter had a 3-for-4 night for the Cards, but the offense couldn't produce the clutch hit and has now been blanked in consecutive games. Young's 6-foot-10 frame and delivery angle proved to be a riddle St. Louis couldn't solve.
"There's some deception there," Carpenter said. "We just couldn't get the big hit."
MOMENTS THAT MATTERED
Kendrys' bomb No. 1: Morales got the series off on the right note for the Royals when he delivered a 404-foot blast to right field with Alcides Escobar and Lorenzo Cain aboard in the first inning.That resulted in a 3-0 lead, which is all Young would really need. More >
"Fortunately, Kendrys came out and got us ahead and I could be aggressive," Young said. "It's just a great win for us tonight and hopefully we can build on it for tomorrow."
Homer No. 2:The second Morales blast was even more impressive -- a 418-foot shot also to right field. Cain again was on board as the Royals jumped to a 5-0 lead in the third. That was the 13th time in his career that Morales has had a multiple-homer game. Erik Kratz was the last Royal to have a two-homer game -- both solo shots at Minnesota on Aug. 18, 2014.
"Morales has been a big, big addition to our ballclub," Yost said.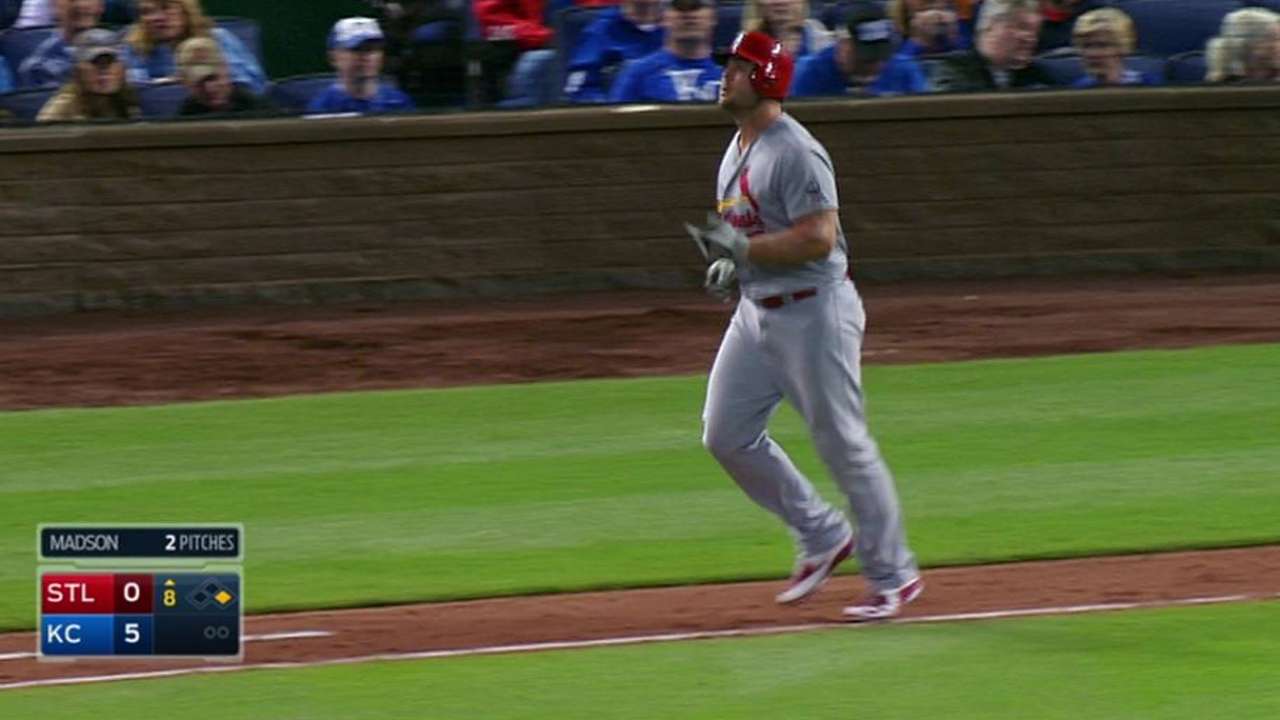 Escaping Holliday: The Cardinals had the right man at the plate when Matt Holliday batted with two on in the third and two on in the fifth. But Holliday, who came into the game second in the Majors with a .500 average (15-for-30) with runners in scoring position, hit into a double play and flied to right in those situations.
Holliday did manage to keep his on-base streak going. He was hit by a Ryan Madson pitch in the eighth inning and has now reached base in 39 consecutive games. Albert Pujols set the club record with 42 in 2008. More >
WHAT'S NEXT
Cardinals: Veteran right-hander John Lackey (2-2, 2.96 ERA) will make his ninth start of the year and try to improve on an 18-12 career Interleague record in Saturday's middle game at 6:15 p.m. CT. Lackey has made 10 career starts vs. Kansas City and is 3-4 with a 3.54 ERA.
Royals: Right-hander Edinson Volquez (3-3, 2.74 ERA) will takes the ball on Saturday against the Cardinals, replacing left-hander Danny Duffy, who was skipped because of shoulder stiffness. Volquez is coming off his best start of the season -- seven innings of shutout ball against the Yankees while giving up just three hits and no walks.
Watch every out-of-market regular season game live on MLB.TV.
Jeffrey Flanagan is a reporter for MLB.com. Follow him on Twitter at @FlannyMLB. Robert Falkoff is a contributor to MLB.com. This story was not subject to the approval of Major League Baseball or its clubs.