White Sox to honor Konerko, retire No. 14 today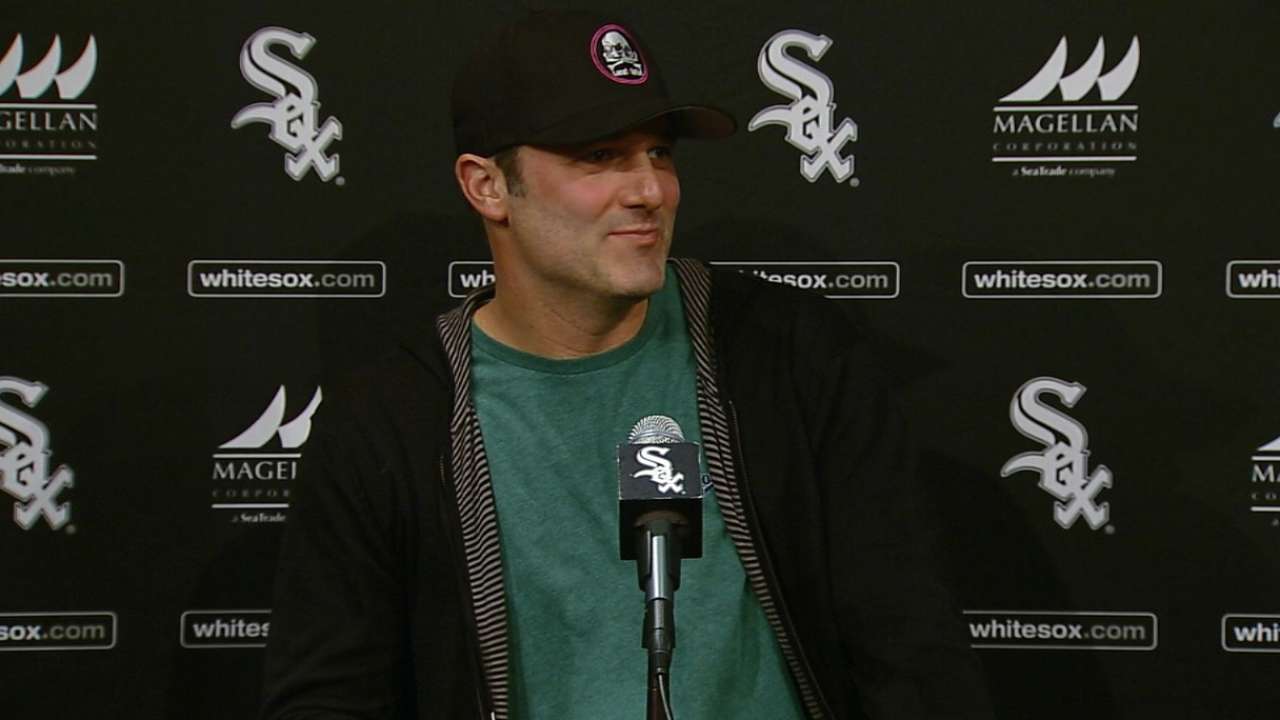 CHICAGO -- The sendoff given to Paul Konerko last September on the night before the end of his 16-year-career with the White Sox and 18-year career overall would have been sufficient closure for the White Sox captain.
Konerko received a concourse statue and the baseball he hit for a grand slam in Game 2 of the 2005 World Series sweep of Houston among the many gifts and honors. But having his jersey No. 14 retired truly brings the consummate White Sox professional full circle.
The team will honor Konerko before today's 3:10 p.m. CT game against the Twins. The ceremony will be streamed live on whitesox.com beginning at approximately 2:30.
"There are two ways to look at it," said Konerko of his number retirement during his 30-minute news conference prior to Friday's game with the Twins. "This is pretty quick after the season, after your career is over, that you are getting your number retired by the standards of normal places and everything else in sports.
"So it's kind of cool, because the people involved, like your friends and your family and all that, you see some of these places where they hold a guy hostage for years and it's not like he's going to play anymore. Either he is or he isn't.
"Those people involved, it kind of tortures them a little bit more," Konerko said. "It's nice that it kind of happens and you see your name up there. It definitely puts a stamp, like, 'There it is. It's done.' But I don't know. I think I was good either way. I felt pretty good leaving here in October that that was it."
White Sox manager Robin Ventura and Konerko's teammates were happy to meet up Friday with the first baseman who hit 432 homers with the White Sox, drove in 1,383, scored 1,142 runs and played in 2,268 games. He stands in the Top 10 of 14 separate franchise offensive categories, leading in total bases (4,010) and 20-homer seasons (13). His value might have been even greater off the field.
"He's arguably, really not arguably, probably the best player to ever come to this franchise, on and off the field," said White Sox starter Chris Sale of his friend and former teammate. "He cared about winning and his teammates and everything involved. When you think of the word professional, he was every bit of that definition."
"Everybody is excited for him to come back," said Ventura of the Konerko ceremony, which also will have Ozzie Guillen, Greg Walker and Mike Gellinger on hand among the dignitaries and make Konerko the 11th player to be recognized in this manner by the White Sox. "He's been a great White sock. He deserves it. He kind of epitomizes a guy who shows up every day and gives you everything he has. He was a true pro, he really was. I feel fortunate to have been one of his managers."
Scott Merkin is a reporter for MLB.com. Read his blog, Merk's Works, follow him on Twitter @scottmerkin and listen to his podcast. This story was not subject to the approval of Major League Baseball or its clubs.