Hale to make first Rockies start vs. Giants
Righty will be added as 26th player for doubleheader, pitch nightcap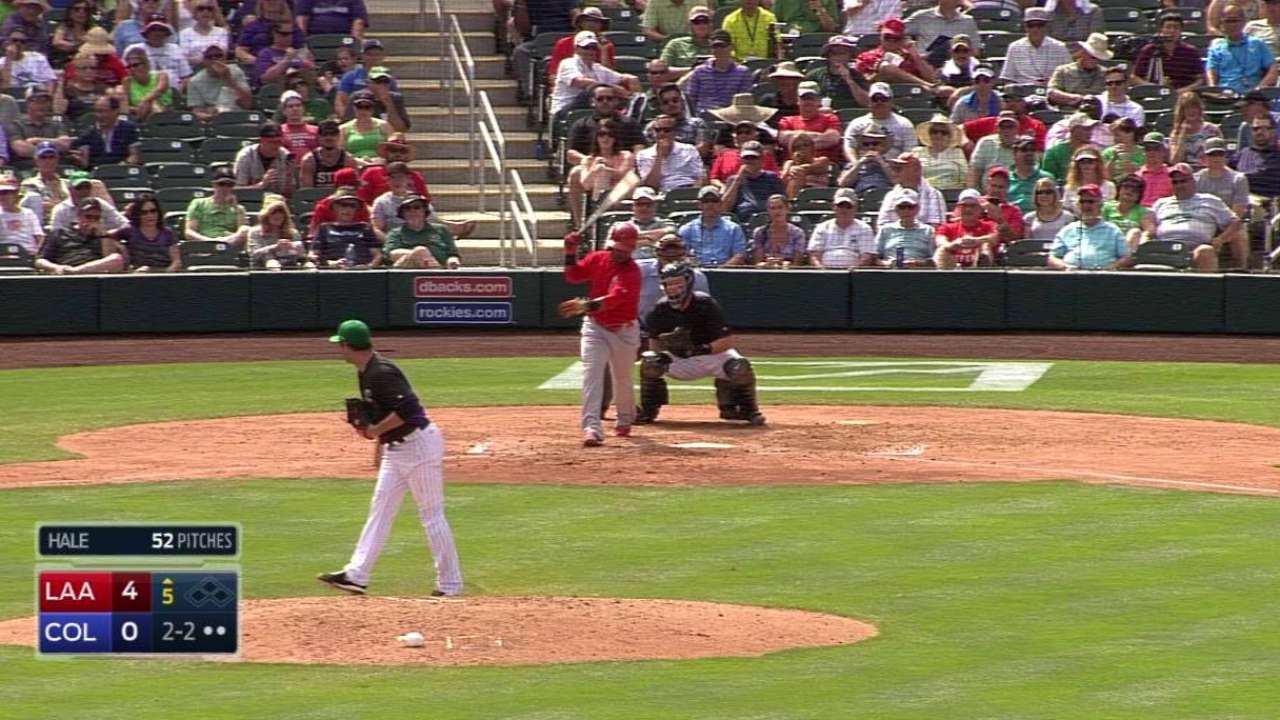 DENVER -- Right-hander David Hale will deal with the requisite nerves that come with making his debut start for a new team Saturday night, when he starts for the Rockies in the second game of a doubleheader against the Giants at Coors Field. But there is enough familiarity to calm some of the nerves.
Hale made 45 Major League appearances, including six starts, with the Braves last season. He faced the Giants four times in relief and totaled 4 1/3 scoreless innings (three hits, two strikeouts, three walks). The Rockies acquired Hale during the winter for Minor League catchers Jose Briceno and Chris O'Dowd.
Hale, who has been pitching at Triple-A Albuquerque (0-2, 6.93 ERA) and will be added as the allotted 26th player on the roster, also is familiar with his new home. He threw 2 1/3 innings and gave up one run on two hits in the Braves' 13-10 victory over the Rockies last June 10.
"All those things help," Hale said. "I threw here. I threw in Albuquerque, which is actually higher elevation than here, which was news to me. As for knowing I can do it at this level, I did it last year. That helps with my confidence."
Hale had a shot to make the Rockies' rotation out of Spring Training, but suffered a left oblique strain late in camp. Hale, 27, Atlanta's third-round pick out of Princeton in 2009, said he was frustrated because the injury affected him hitting and making sudden fielding movements, but not pitching.
The early part of the season in Albuquerque was like Spring Training because of the time he missed, but Hale said he feels sharp. He felt his best outing was two games ago, even though he gave up six runs (five earned) in seven innings against Fresno.
"If you ask me, that was the best game I've thrown down there," Hale said. "There were weird circumstances. I got through seven innings on 88 pitches. Rarely do you do that and give up five earned."
Rockies pitching coach Steve Foster said Hale's strengths are "velocity, movement, a nasty slider and feel for a changeup."
Thomas Harding is a reporter for MLB.com. Follow him on Twitter @harding_at_mlb, and like his Facebook page. This story was not subject to the approval of Major League Baseball or its clubs.