Knee X-rays negative, Fields day to day
Reliever sore after getting hit in right knee by comebacker Thursday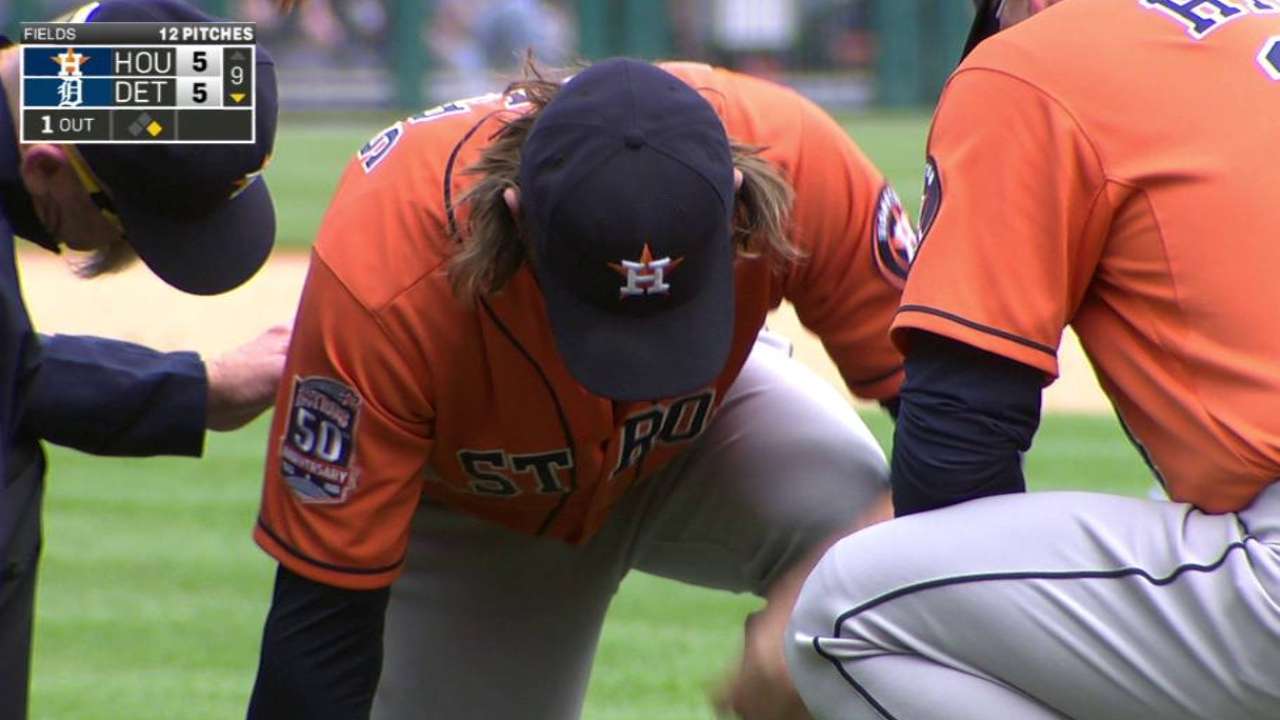 DETROIT -- Josh Fields said Friday that his right knee is sore after taking a line drive off it Thursday, but X-rays were negative, and it doesn't appear he'll have to miss too much time.
Fields exited Thursday's game against the Tigers in the bottom of the ninth inning when a comeback line drive hit the outside of his right knee as he finished his follow-through. He began to run toward first base to make a play on the ball, but he started hobbling.
Fields said Friday he's had a little difficulty with walking, but he was set to play catch before the game.
"It's not comfortable," he said. "It's pretty stiff. I don't know. I guess we'll see what happens."
Fields said the last time he had been hit by a comebacker was in college at the University of Georgia, when he got hit in the side, but he didn't miss any time. This one was certainly worse, and it's another leg issue for Fields, who opened the season on the disabled list with a strained right groin and missed 15 games.
"It's annoying, definitely, because it's one more thing that happens, but it's different, because I was out there playing and got hit," Fields said. "It's different than me straining something. It just comes with the game. Just going to have to keep on pushing through."
Manager A.J. Hinch described Fields as day to day, but he's thankful it wasn't worse. This season, Fields has allowed five hits and one earned run over 9 1/3 innings, with 16 strikeouts and three walks. The Astros' bullpen has been taxed recently, and this makes one fewer arm.
"He's sore, as you would expect, and it may take him a day or two to get back going again, but I'm glad we avoided some of the larger things it could have been had it caught him at a different angle or point of his leg, where he could have been in jeopardy of a fracture," Hinch said. "We've ruled that out, which is nice."
As for when Fields could be available again, Hinch said Fields would probably throw off the mound with pitching coach Brent Strom once the general soreness goes away to determine how his push-off leg feels, but Hinch gave no specific timetable.
Said Hinch, "Moving around, playing catch, being a baseball player will tell us what his availability is."
Chris Vannini is a contributor to MLB.com. This story was not subject to the approval of Major League Baseball or its clubs.