Moore in home stretch of returning to Rays
Jennings, Jaso also among players making progress with injuries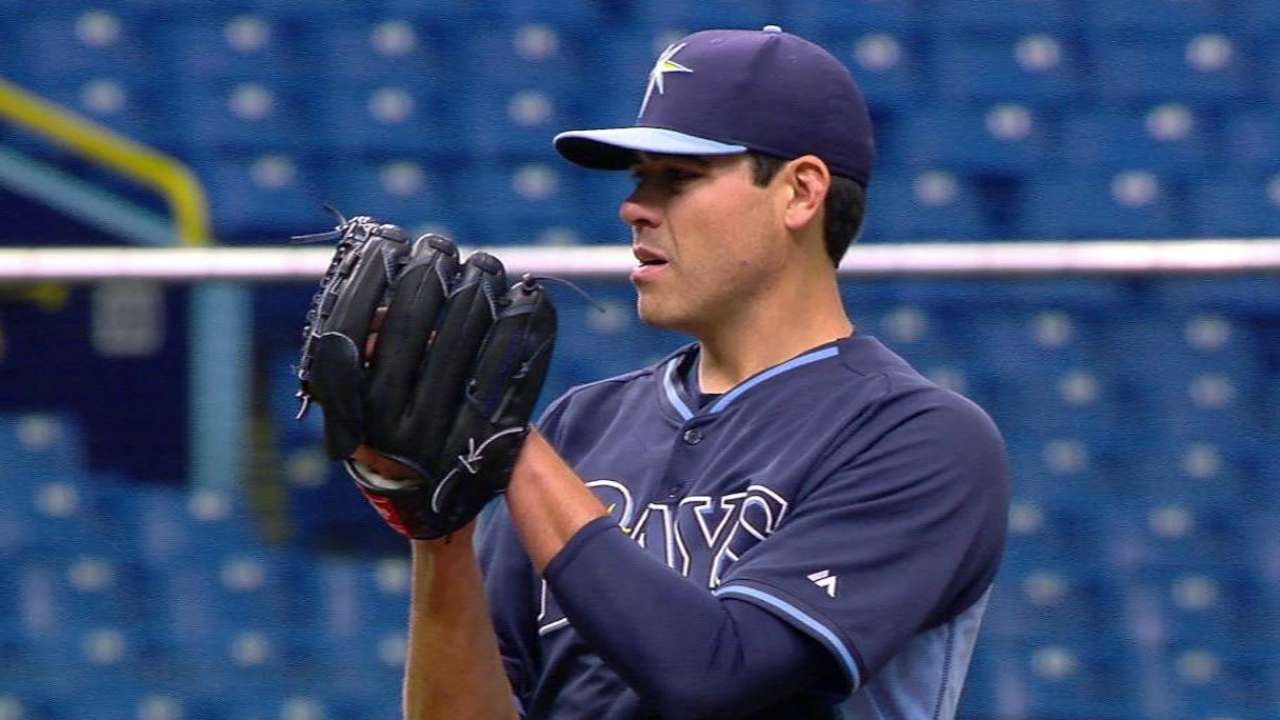 ST. PETERSBURG -- Matt Moore will throw two innings in an extended spring training game Saturday morning at 10 a.m. ET. The outing will be his first live game action of the season.
Moore had Tommy John surgery in April 2014 that ended his season last year, and the left-hander now appears in the home stretch toward returning to the team.
If Moore comes through Saturday's outing with no glitches, there's a chance that he could begin his rehab assignment after that.
"I think so, but don't quote me on that," Rays manager Kevin Cash said. "That could possibly be the next step. There's a chance we could say, 'Let's do [another extended spring training game] and have a three-inning outing.' I don't think there's any point to rushing the assignment to start that date."
Once Moore begins his official rehab assignment in the Rays' farm system, he will be on a 30-day clock. If all goes well and he has no setbacks, he would be put on the Major League active roster on the 31st day.
Meanwhile, Cash had an optimistic outlook on the progress of Desmond Jennings (left knee bursitis) and John Jaso (left wrist contusion).
"Des is doing fine," Cash said. "Still progressing. Ramped up. We had a really good day with Des and Jaso yesterday."
Cash noted that he talked to head athletic trainer Ron Porterfield after Thursday night's game.
"He just likes where they're at after their workouts," Cash said. "And their rehab seems like they're starting to progress in a much better direction. No timetable on playing in rehab games."
C.J. Riefenhauser (left shoulder inflammation) and infielder Ryan Brett (left shoulder subluxation) are "progressing really well," according to Cash, with Kirby Yates (strained right pectoral) also making progress.
"Yates is a little behind him, so I would imagine, I mean everything is going well, but with the arm injury, it's just taken a little more time for Kirby to get back off the mound and start live game action," Cash said. "But both are progressing really well.
"[Brett had] six at-bats yesterday, so he's back in. Still says that he has mild soreness, but that's to be expected. But he's doing well also."
Riefenhauser and Brett are scheduled to play Sunday for Class A Advanced Charlotte.
Bill Chastain is a reporter for MLB.com. This story was not subject to the approval of Major League Baseball or its clubs.