Saunders catches up with old teammates
Blue Jays outfielder one of four former Mariners on Toronto's squad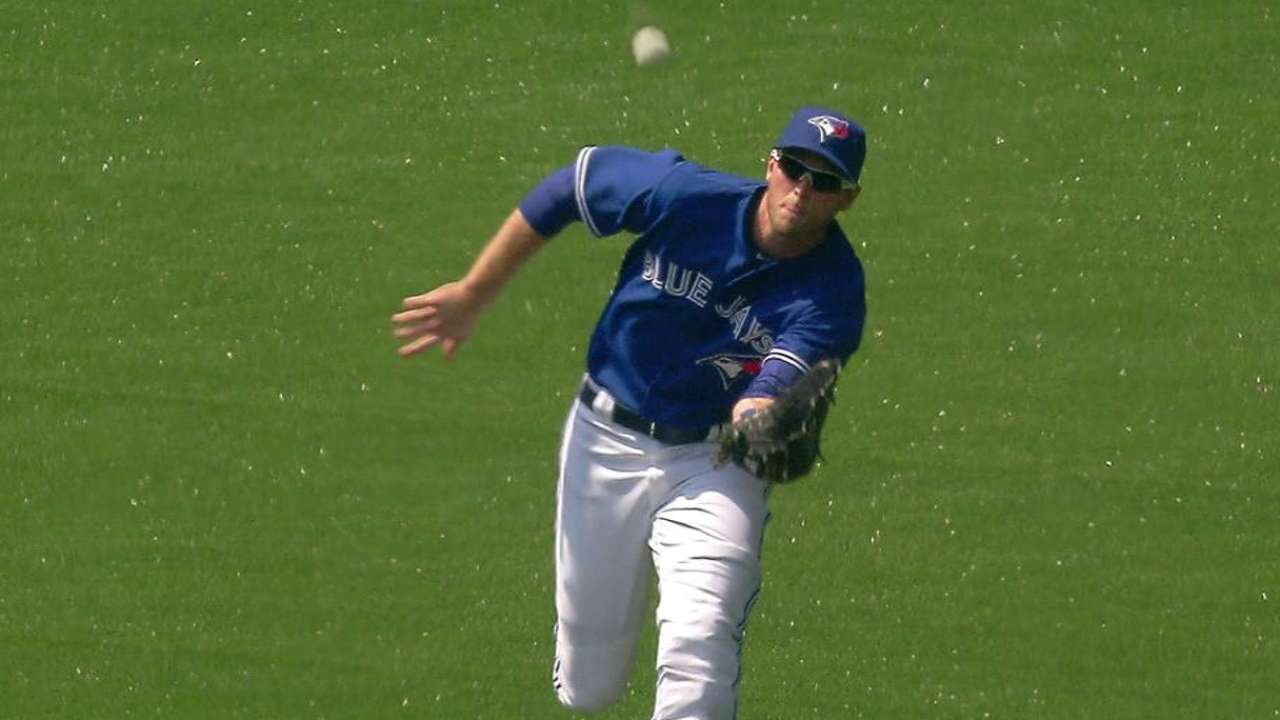 TORONTO -- Michael Saunders is on the disabled list at the moment for the Blue Jays, so the longtime Mariners outfielder had plenty of time to catch up with old acquaintances prior to Friday's series opener with Seattle on Friday at Rogers Centre.
Saunders, traded to Toronto for lefty J.A. Happ in December, spent considerable time chatting with former teammates, trainers, coaches and media members on the field prior to batting practice. The Mariners were the only professional team he'd ever played for prior to this year.
"It wasn't surreal. More like hugging some family members again," said Saunders, who was drafted by the Mariners in 2004 and played in Seattle for six seasons. "I haven't gotten to play against my friends since Little League, so it was great to see the guys and catch up."
Saunders is one of four former Mariners on the current Blue Jays squad. Justin Smoak, who signed a one-year, $1 million deal with Toronto after being released last winter, is filling a backup first base role and being used primarily in late-inning defensive situations while hitting .226 with two homers and seven RBIs in 53 at-bats in his first 32 appearances.
Former Mariners utility infielder Munenori Kawasaki was just recalled from Triple-A by Toronto and started his first game at second base in Friday's series opener, while former Seattle reliever Steve Delabar has put up a 1.69 ERA in six appearances.
Saunders, the longest-running Mariner in that group, said he's enjoying his new situation, despite the frustration of a torn meniscus in his knee that occurred at the start of Spring Training when he stepped on a sprinkler head on a back field at the Blue Jays' training facility in Florida.
Saunders attempted to return in late April, but played just nine games and was hitting .194 when he and the Jays realized his knee was still having issues. Further tests revealed a bruised bone due to the meniscus removal leaving a bone-on-bone situation, but that situation should clear up with another 2-3 weeks off before he heads to Florida to resume working out.
"Whenever I'm ready, I hope to be a part of it here," he said. "I'm really excited to start playing. I was grinding through it and trying to play the tough-guy role, but I wasn't doing myself any favors and it started affecting my play on the field. That's when I knew I needed to take a step back. Luckily it is something I'll come back from and be 100 percent. It's just a matter of a little rest and I'll be in Seattle [with the Blue Jays] in late July."
Greg Johns is a reporter for MLB.com. Follow him on Twitter @GregJohnsMLB, read his Mariners Musings blog, and listen to his podcast. This story was not subject to the approval of Major League Baseball or its clubs.