Rotation to stay in order after Happ's start
Left-hander tossed only 49 pitches on Thursday, but club will stick to schedule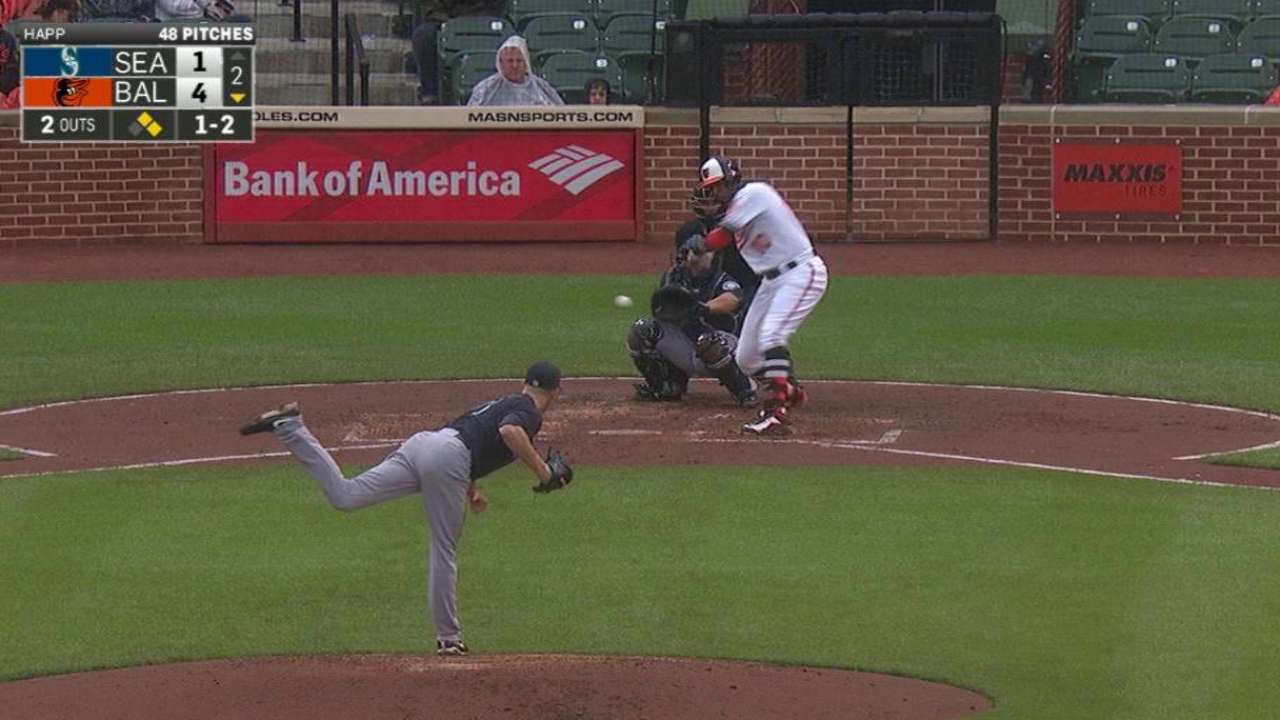 TORONTO -- Even though J.A. Happ threw only two innings and 49 pitches in Seattle's rain-delayed 5-4 loss to the Orioles on Thursday in Baltimore, manager Lloyd McClendon said he'll keep the veteran lefty on his normal four days of rest before his next outing on Tuesday at Tampa Bay.
Happ's start was short-circuited by a two-hour, five-minute rain delay. After Happ gave up four runs in two innings, McClendon went to his bullpen for the remainder of the game due to the long waiting period.
It would be possible to move Happ up a day and give young lefty Roenis Elias an extra day's rest this coming week, but McClendon said that wasn't a consideration after Happ kept throwing during the rain delay to keep his arm ready in the hope of resuming play in a timely fashion.
"He actually threw three innings trying to stay hot to see if he could come back," McClendon said. "So really he threw a total of five innings. I don't want to mess with that."
That means the Mariners will stay in rotation the remainder of the road trip, with James Paxton and Taijuan Walker pitching the final two games of the Blue Jays series on Saturday and Sunday, followed by Elias, Happ and Felix Hernandez in St. Petersburg.
• McClendon had new backup catcher Welington Castillo at designated hitter on Friday, a scenario he said could be used more going forward with Mike Zunino behind the plate. How much Castillo is used at catcher will hinge on whether Zunino starts hitting better or not. "It'll be predicated on Mike's performance," McClendon said.
• After seeing the soft new artificial turf at Rogers Centre, McClendon said he was glad that Austin Jackson wasn't rushed back from the 15-day disabled list as he returns from a sprained right ankle. Jackson went 2-for-6 with a stolen base in Tacoma's 5-3 win in Iowa on Thursday and is batting .263 (3-for-13) in his first five rehab games. McClendon feels the soft turf will be tough on all his players' legs, so will go light on pregame work this weekend before the team heads to Florida on Monday.
If Jackson is deemed ready to rejoin the club on Monday, that will force a decision on what move needs to be made to open a spot for him on the 25-man roster.
• As the Mariners reached the one-quarter mark of their season, Nelson Cruz led the American League through his first 40 games in all three Triple Crown categories -- average (.351), home runs (16) and RBIs (33) -- as well as OPS (1.120). Heading into Friday's action, Cruz was on pace for 219 hits, 65 homers and 134 RBIs.
Greg Johns is a reporter for MLB.com. Follow him on Twitter @GregJohnsMLB, read his Mariners Musings blog, and listen to his podcast. This story was not subject to the approval of Major League Baseball or its clubs.