Indians win 6th in a row, defeat Reds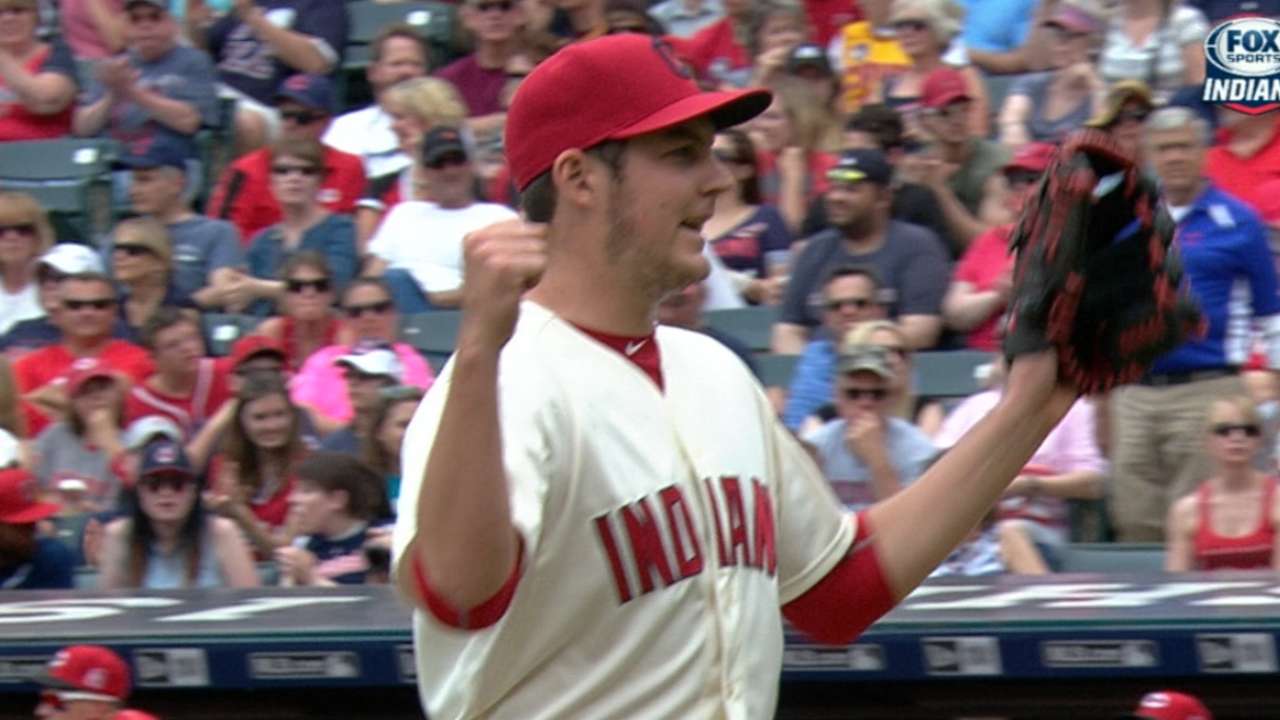 CLEVELAND -- In a season of costly defensive miscues, the Indians were glad to be the beneficiary of some poor glove work by their opponent in Sunday's 5-2 victory over Cincinnati at Progressive Field, which clinched a series sweep. Three errors were made by the Reds infield, all of which led to Indians runs.
Indians pitcher Trevor Bauer didn't have his swing-and-miss stuff working, but held the Reds to one run on five hits in 7 2/3 innings. He struck out four, but perhaps more important, didn't walk a batter. That marks the first time in Bauer's career he went more than six innings without a walk.
"Obviously I'm glad I didn't create more problems for myself," Bauer said. "They were aggressive today, they swung at a lot of pitches early in the count, so that helped. But it's probably a combination of me being able to throw strikes when I needed to and them being aggressive."
On the other hand, Reds starter Raisel Iglesias, pitching in place of Johnny Cueto (elbow stiffness), did have swing-and-miss stuff, but ran up an early pitch count. Iglesias struck out six of the 17 batters he faced, but lasted just three innings thanks to three walks, four hits, and the defense behind him. He allowed two runs, both earned.
"I don't want to make light of ever facing somebody, but I think Cueto is one of the very best pitchers, so if you miss him, that's good," Indians manager Terry Francona said. "I laugh when people say, 'Yeah, we want to beat the best.' No, we don't. We want to win and I don't care who we beat."
The win extends the Indians' season-high winning streak to six games, and gave them their first series sweep of the season. The Reds' season-high losing streak was extended to eight games, making it the first time they've lost eight straight since July 28-Aug. 4, 2009.
"Games like this stand out because this was a hideous game," Reds manager Bryan Price said. "What make it worse is it's an eighth consecutive loss. What makes it worse was that we typically are a very reliable defense. All of those things stand out. There are a lot of things defensively that we did not do terribly well today. We work hard and take pride in our defense. Today was not good. There is no silver lining to it."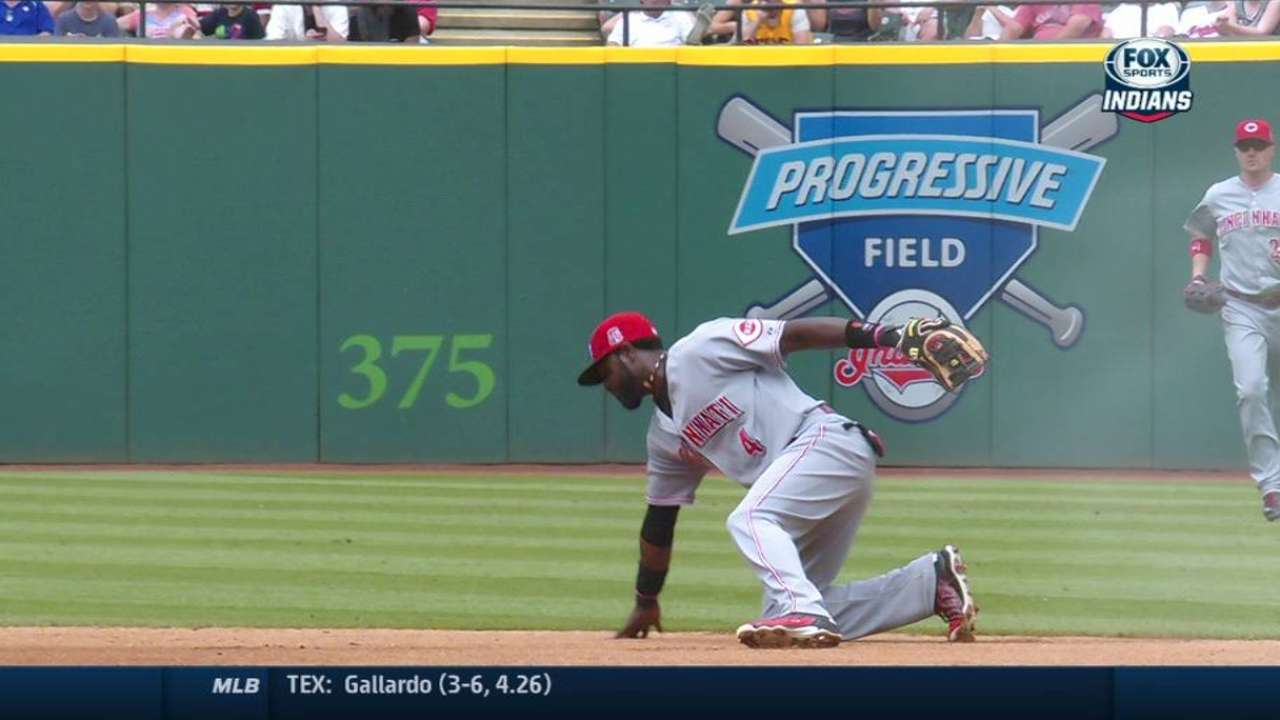 MOMENTS THAT MATTERED
Rough Reds defense: Defensive mistakes seemed to rule the day for Cincinnati. Joey Votto, who made two spectacular plays on Saturday, mishandled a backhanded attempt on David Murphy's sharp grounder for the RBI single in the pivotal third inning. Next, Brandon Phillips let a potential inning-ending double-play grounder from Nick Swisher kick off his foot for an error and a run scored. It fell apart in the sixth with two Reds errors on J.J. Hoover and Votto, plus a botched pickup by Phillips on a potential double-play ball led to two more runs. More >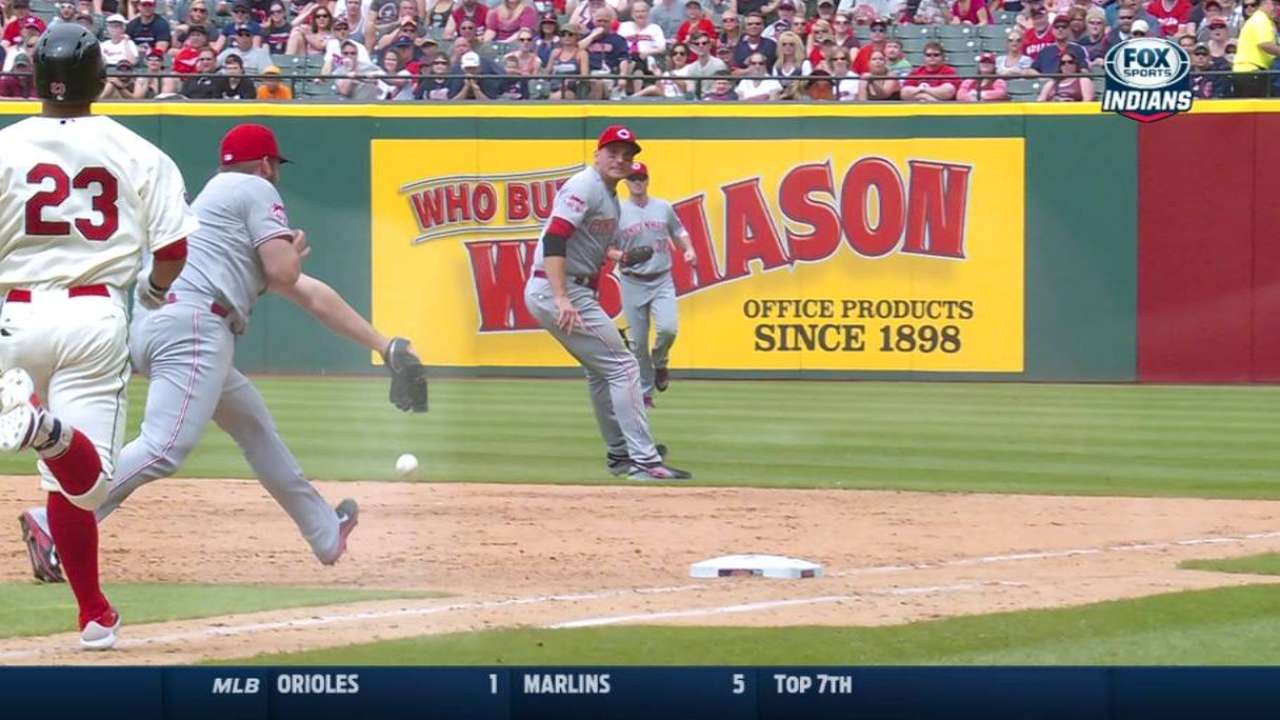 Spark plug: For the second consecutive game, Murphy got the scoring started for the Indians. After the Reds kicked the ball around the infield in the third, Murphy capitalized with an RBI single to right field on a 2-2 sinker from Iglesias. Later, Murphy doubled down the right-field line to lead off the seventh inning. Murphy has quietly been among the Indians' most productive hitters this season, with a .330/.362/.489 slash line after Sunday's game.
"If you have runners in scoring position and you're continually striking out, you're not giving yourself a chance," Murphy said. "But we were able to put the ball in play and put the pressure on their defense. Things are starting to go well for us offensively and we just need to take advantage when we get opportunities like that and the other team makes mistakes."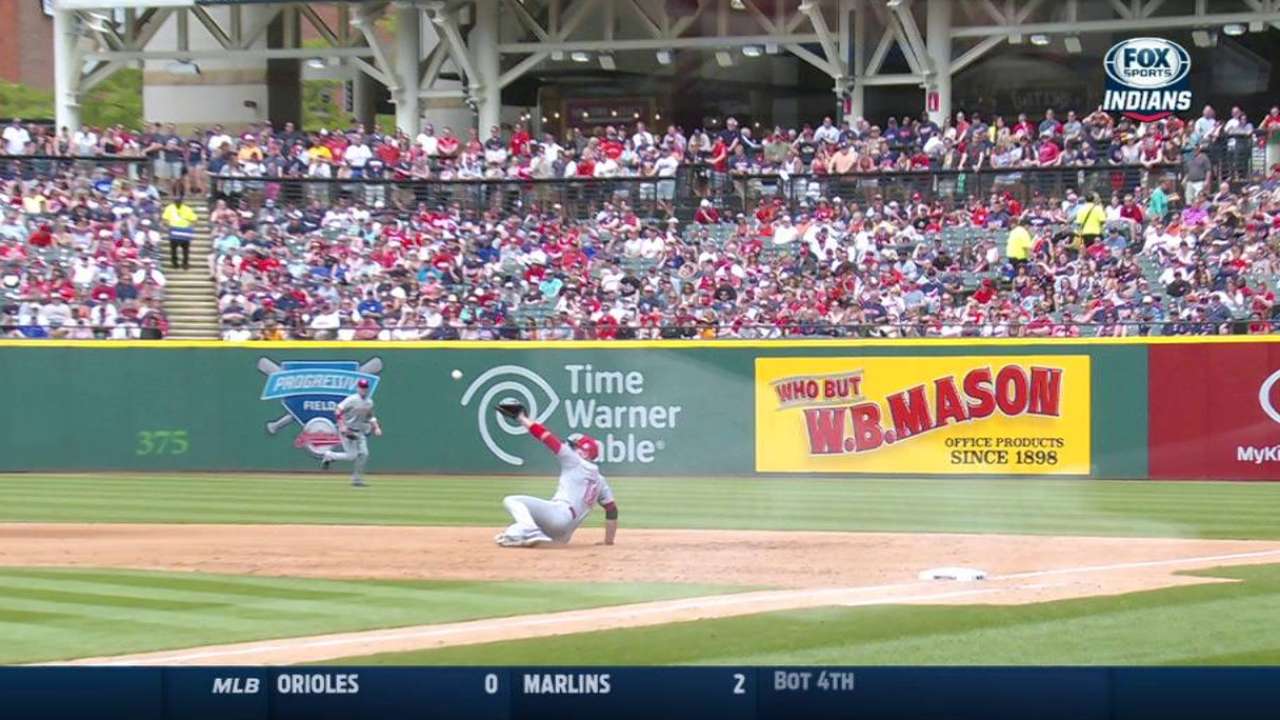 Lots of pitches: Iglesias had five of his first six strikeouts in the first two innings, but ran up his pitch count in the process. He issued a pair of two-out walks in the hitless bottom of the first and struck out the side in a two-hit second inning. Iglesias had 48 pitches through two innings and 84 pitches through the third before he was replaced by Ryan Mattheus.
"I'm not totally happy with my job because I really wanted to give my team a lot of innings today," Iglesias said with teammate Brayan Pena translating. "That way I can give my bullpen some rest. Unfortunately, it didn't work that way. It was one of those days that was a combination of everything. They really battled a lot. My pitch count went higher. Hopefully next time, I will do better."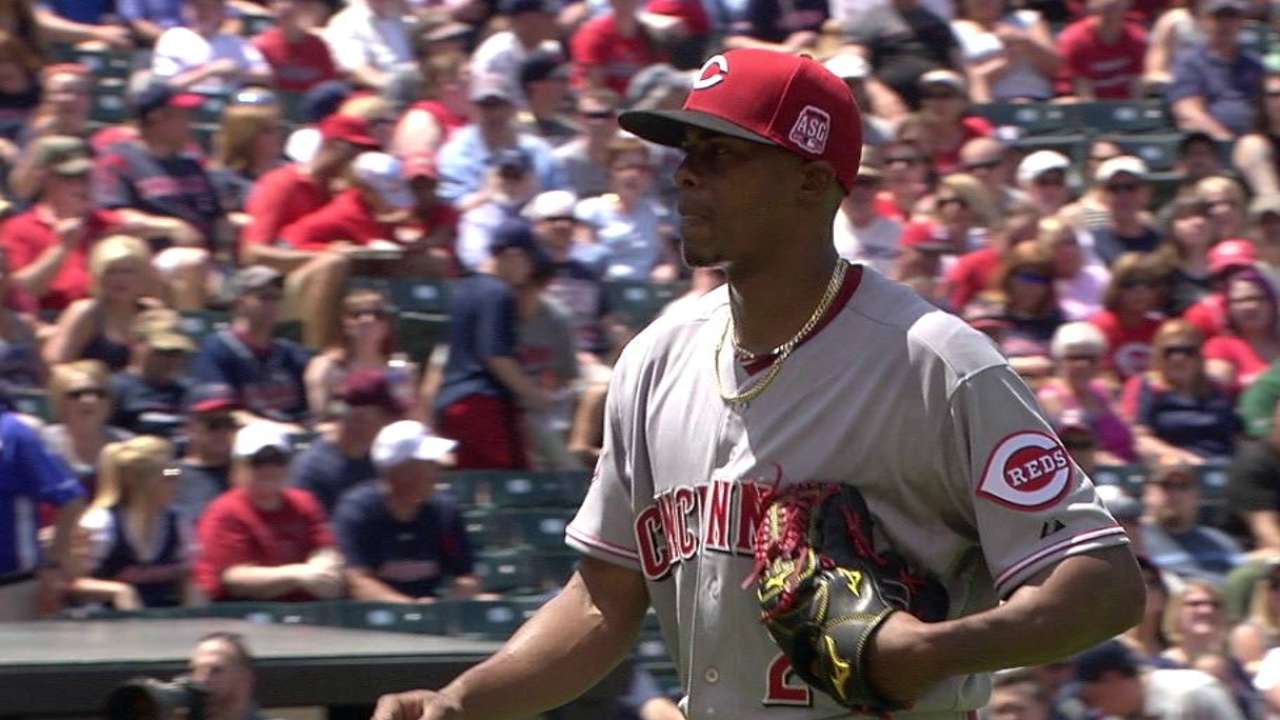 Tacking on: The Indians ended up not needing any more than their two runs in the third inning, but it never hurts to score more. A throwing error by Votto on a ground ball by Brantley allowed the Indians to add two more in the sixth inning, and the Indians made closer Aroldis Chapman look human by scoring another in the eighth. Jason Kipnis doubled off the center-field wall on a 100-mph fastball, and scored when Carlos Santana singled two pitches later. Of Chapman's 18 appearances this season, prior to Sunday, 16 had been scoreless.
"Kip hitting that, that's impressive, because that's no picnic right there," Francona said. "I don't care if you're left or right-handed. He hadn't pitched in a few days and he was firing some balls all over the place, so that's not real comfortable."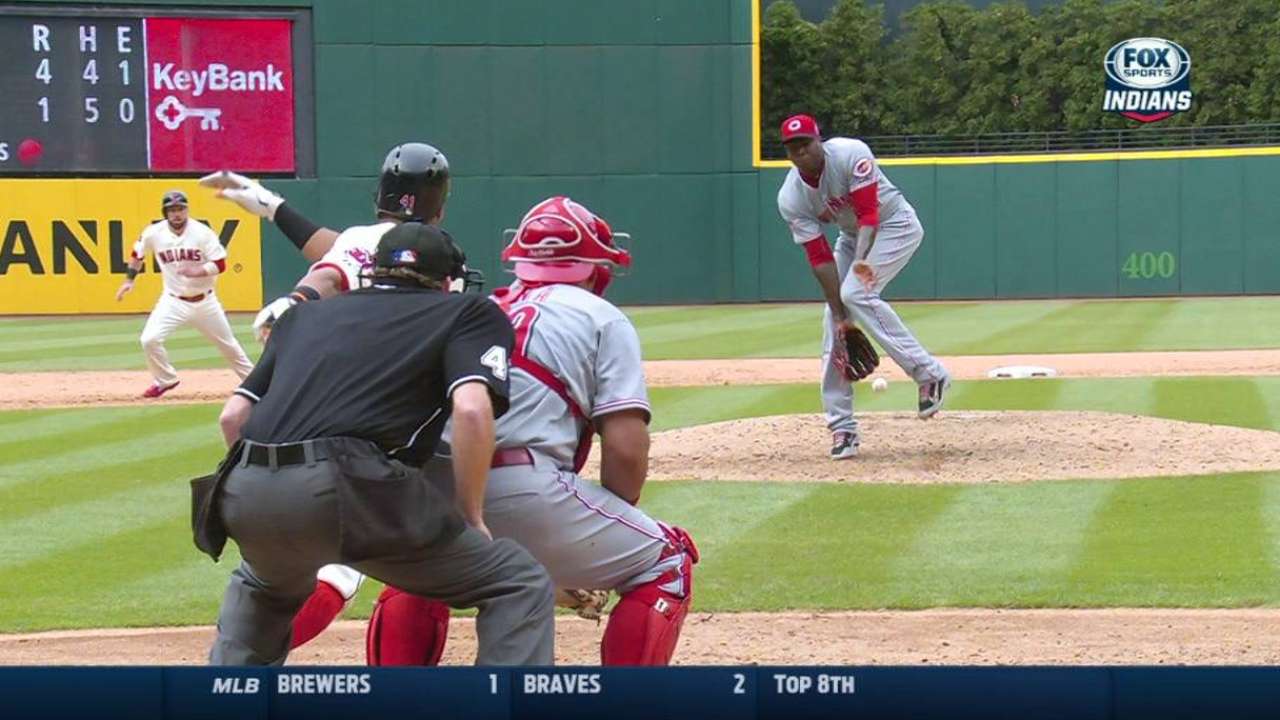 QUOTABLE
"We saved our very worst when we needed our best. It was the worst game of the series, the worst game of the road trip, the worst game of the season. We needed a good game and we didn't show up today. I apologize for anybody that drove up from Cincinnati to come out and watch us play because this was brutal. … We're all brutal right now." -- Price, on his team's performance on Sunday.
"My back hip was pushing so my torso wasn't stacking well and I didn't really have any linear distraction from my hips and my shoulder line. So there wasn't really much room for my elbow to spiral in and everything was coming out early. My curveball was terrible, it was up. My offspeed was either bouncing way in front of the plate or up. My two-seam was flat. I made that adjustment, though. I started stacking better and by the fifth inning I was able to actually get some offspeed pitches down in the zone and locate the ball better." -- Bauer, on his mechanics and the adjustment he made
WHAT'S NEXT
Reds: The Reds open a new homestand with a three-game series against the Rockies, beginning with the 1:10 p.m. ET opener on Memorial Day Monday. Veteran Jason Marquis, who has struggled with a 6.91 ERA this season, will make the start against right-hander Eddie Butler.
Indians: The Indians will play host to the Texas Rangers, a week and a day after taking two games of three in Arlington. Shaun Marcum (1-0, 2.31 ERA) will start on Monday at 4:10 p.m. ET for just the second time since July 6, 2013.
Watch every out-of-market regular season game live on MLB.TV.
Mark Sheldon is a reporter for MLB.com. Read his blog, Mark My Word, follow him on Twitter @m_sheldon and Facebook and listen to his podcast. August Fagerstrom is an associate reporter for MLB.com. This story was not subject to the approval of Major League Baseball or its clubs.