Red Sox add Rusney, option Bradley
Outfielder goes 1-for-4, misplays fly ball during 2015 debut
BOSTON -- The Red Sox, in desperate need of a spark to their struggling offense, summoned Rusney Castillo to Fenway Park for Friday's game against the Angels. The right-handed hitter was recalled from Triple-A Pawtucket and immediately placed in Boston's lineup in the eighth spot and in right field for the opener of a three-game series.
Though Castillo's impact was minimal in a 12-5 loss to the Angels, the Red Sox think he can play an important role in the coming weeks and years.
"Well, he's someone who has got the ability to impact the baseball," said Red Sox manager John Farrell.
Castillo went 1-for-4 and dropped a routine fly ball on Friday.
"Thought he had good swings," said Farrell. "You know, he stays on a couple pitches that he drives deep to right field, gets the base hit up the middle. An uncharacteristic routine play that he doesn't handle. Had to go a long way for the double that dropped in on the line for [Albert] Pujols."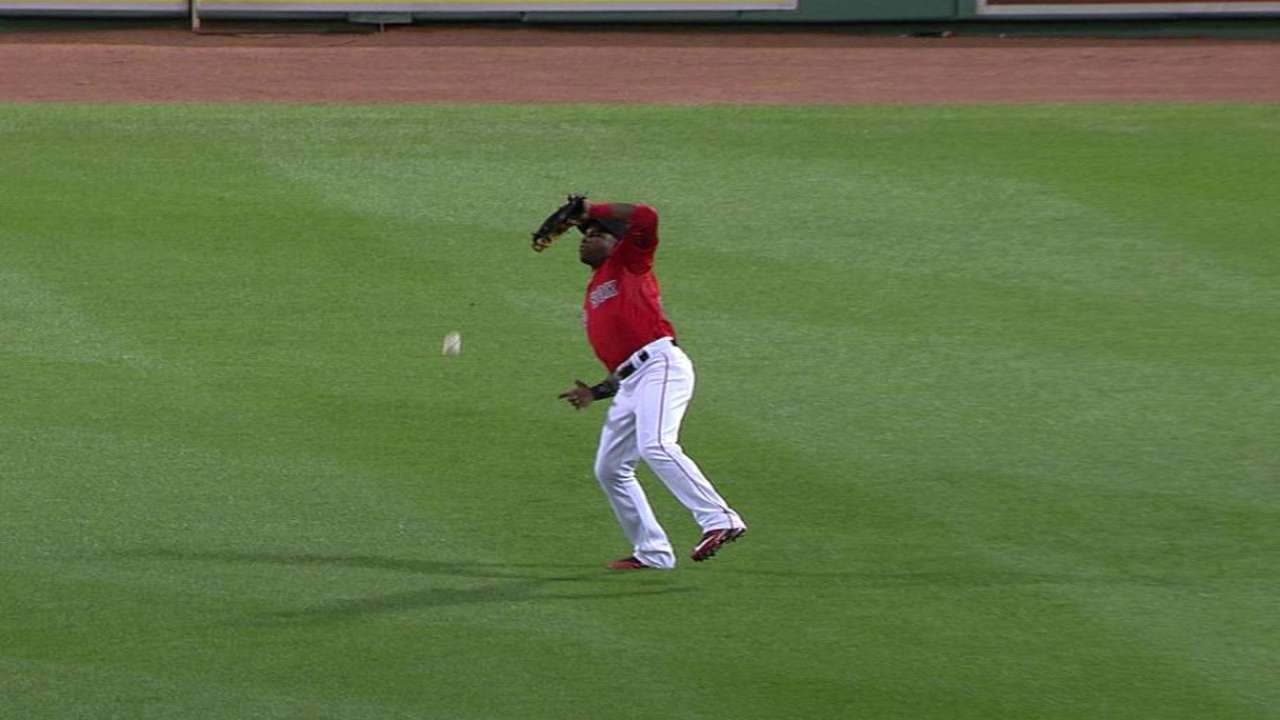 When the Sox signed Castillo to a $72.2 million contract last August, they obviously didn't do so with the intention of keeping him in Pawtucket for a prolonged period. Now over a recent collection of nagging injuries, Castillo feels ready to contribute.
"Obviously I'm very excited, but right now it's just important to keep in mind the job at hand and try to keep the same momentum I had at Triple-A," Castillo said through interpreter Adrian Lorenzo. "Hopefully just to add the same kind of energy I was bringing in Triple-A."
To make room for Castillo on the roster, Jackie Bradley Jr. was optioned back to Triple-A.
Castillo will rotate between right and center, and he will share playing time with Mookie Betts and Shane Victorino.
In last year's 10-game cameo with the Red Sox, Castillo looked like someone who could hit in the Major Leagues, compiling a .333 average with two homers and six RBIs.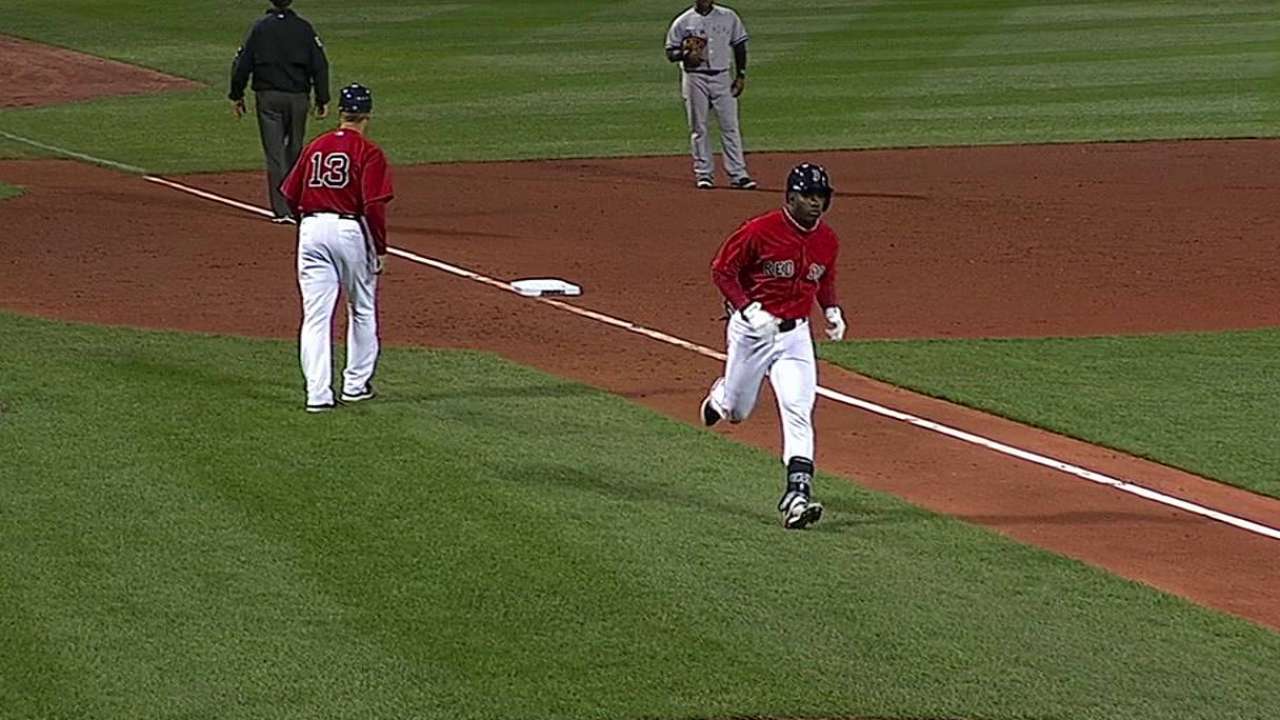 The arrival of Castillo coincides with Victorino being day to day with an ailing left calf. And it comes at the conclusion of a whirlwind week in which Castillo flew to Miami to witness the birth of his daughter Leah.
"Obviously it's been very hectic, but very exciting," said Castillo. "I'm very blessed that my wife gave birth to my daughter the last couple of days. I feel blessed that it's all coming together at the same time, me coming up here, and thankfully everything went all right with her. It's been hectic, but in a very positive way."
Castillo hit .293 with two home runs, 10 RBIs and six stolen bases in 18 games for Pawtucket this season.
"His recall here is unrelated to Vic's current status," said Farrell. "We had plans to bring Rusney up today, after he got back from the paternity situation at home. Someone that we saw in Spring Training. Multi-talented, and looking for an injection of life into the offense here."
Castillo was a late cut in Spring Training, thanks to a logjam in Boston's outfield and the fact he still had Minor League options.
"We wanted to give some other guys the opportunity to play with the side benefit of allowing him to play a lot, something he hadn't really done as a pro yet," said Red Sox general manager Ben Cherington. "So he was able to do that and he started to get on a roll, and then he had the shoulder thing, so that set him back a little bit.
"We wanted to get him back from that and get him back in the mix and get him playing enough so he could get back on a roll again, and it seemed like he started to do that, and then he had a baby, so he missed a couple of days this week. It was coming, and we figured it would come one way or another sometime soon."
Ian Browne is a reporter for MLB.com. Read his blog, Brownie Points, and follow him on Twitter @IanMBrowne. This story was not subject to the approval of Major League Baseball or its clubs.