MLB.com Columnist
Mike Bauman
After slow start, Nats should own division
Washington has rocketed into first place, and talent will keep it there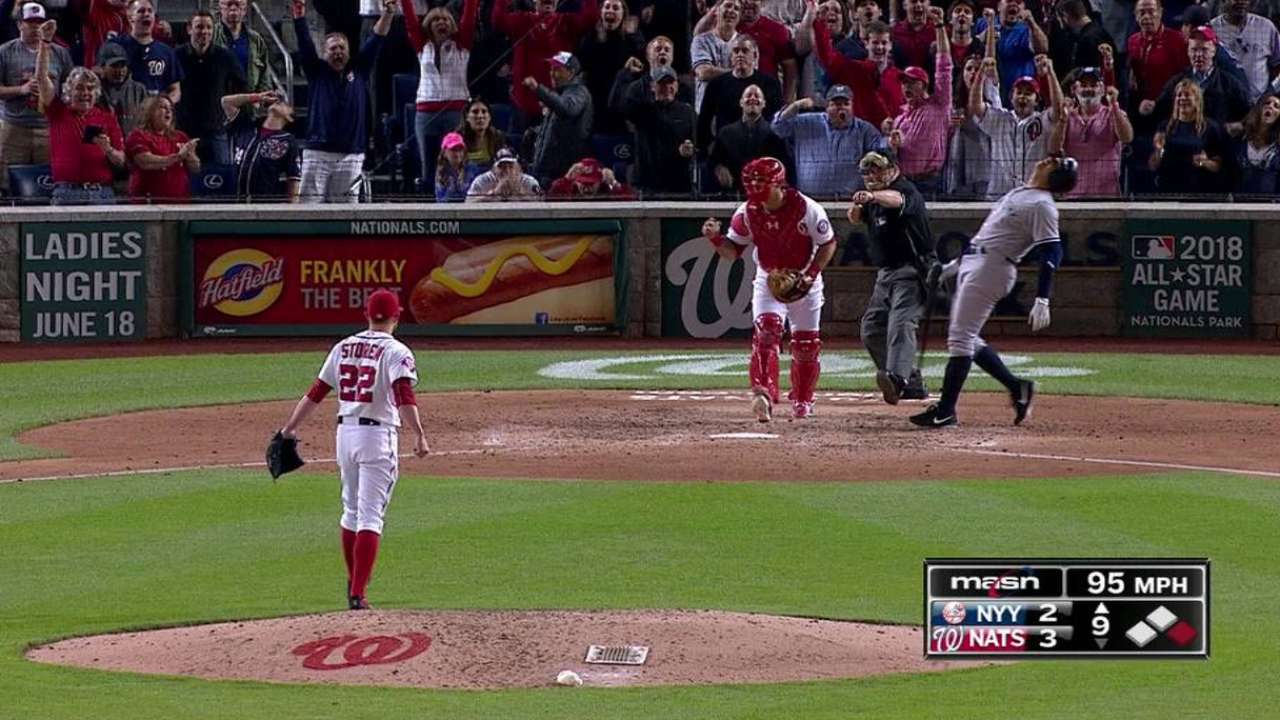 Order has been restored in the National League East. The Washington Nationals are back in gear and back in first place.
They had not been away that long. They had the best record in the National League two of the last three seasons, and then they added the premier free-agent pitcher of the 2014-15 offseason, Max Scherzer.
Objective observers of the game gazed upon the Nationals and decreed them to be unbeatable. After all, what had been the leading pitching staff in baseball in 2014 had just been improved. The regular season would be a virtual lock. The only question would be whether the Nats could extend their success through October. For all their regular-season victories, the Nationals have not yet won a postseason series.
It turned out that there would be some stumbles on the triumphant march to October. These were noticeable stumbles, but it wasn't like they were pratfalls.
The Nationals started slowly, but there were reasons. They opened the season with two-thirds of their projected starting outfield, Denard Span and Jayson Werth, on the disabled list. Werth is back on the DL now with a wrist contusion. Reliever Craig Stammen was lost with a torn flexor tendon in his pitching arm. Another reliever, Casey Janssen, has been out with rotator cuff tendinitis in his right shoulder.
Third baseman Anthony Rendon, a crucial part of the lineup, was out with a sprained ligament in his left knee, and has not yet played this season. He has, however, resumed baseball activities at the Nationals' Spring Training headquarters in Florida.
The Nationals started 7-13, their record a measurement of an unsettled lineup mixed with a dose of underachievement. But this was a truly temporary condition.
Since April 28, the Nats are 17-4. They don't appear to be tapering off, either. They are currently on a five-game winning streak, which they will attempt to extend Friday night at home against the Phillies.
What has changed? Offensively, Bryce Harper has transformed potential into production. He was a one-man gang in the 2014 postseason and here he is again -- .333/.472/.732, with 15 home runs and 38 RBIs in 41 games.
Those who condemned Harper to an eternal second place in the Mike Trout comparisons may have to work on some revised viewpoints. Harper may have been a public figure since his mid-teens, but he is only 22. He is playing his way through the hype all the way into the land of the real deal.
Even at less than full lineup strength, the Nationals lead the NL in runs at an even 5.0 per game. Over the 17-4 run, they are averaging more than six runs per game.
The pitching numbers are not outstanding, which is unusual for the Nationals, but which might even be considered encouraging. The Nats are 12th in the Majors in team ERA (3.75). They are 14th in starters ERA (4.05), a position that can reasonably be expected to markedly improve. But the Nationals have been able to put together a very impressive stretch without top-notch performances from their starting pitchers.
Over time, the rotation will still prove to be a major strength. Even now, with starter Doug Fister on the DL with forearm tightness, the rotation still contains Scherzer, Jordan Zimmermann, Stephen Strasburg and Gio Gonzalez.
So the Nationals have risen above early shortcomings and have valid reasons to expect that the good times will not be disappearing any time soon.
What kind of competition will the rest of the NL East offer? The Mets should be able to stick around. The Marlins should be better than they have been. But even after the 7-13 start, the Nationals still look like the eventual owners of the NL East. The last three weeks they've been closer to scary good than good. They won't score five runs per game all season, but they can pitch better than they have. One way or another, they leave you with a distinctly first-place impression.
Mike Bauman is a national columnist for MLB.com. This story was not subject to the approval of Major League Baseball or its clubs.