Harris' journey from Navy to Majors captivates
Cardinals reliever wears military boots before Memorial Day game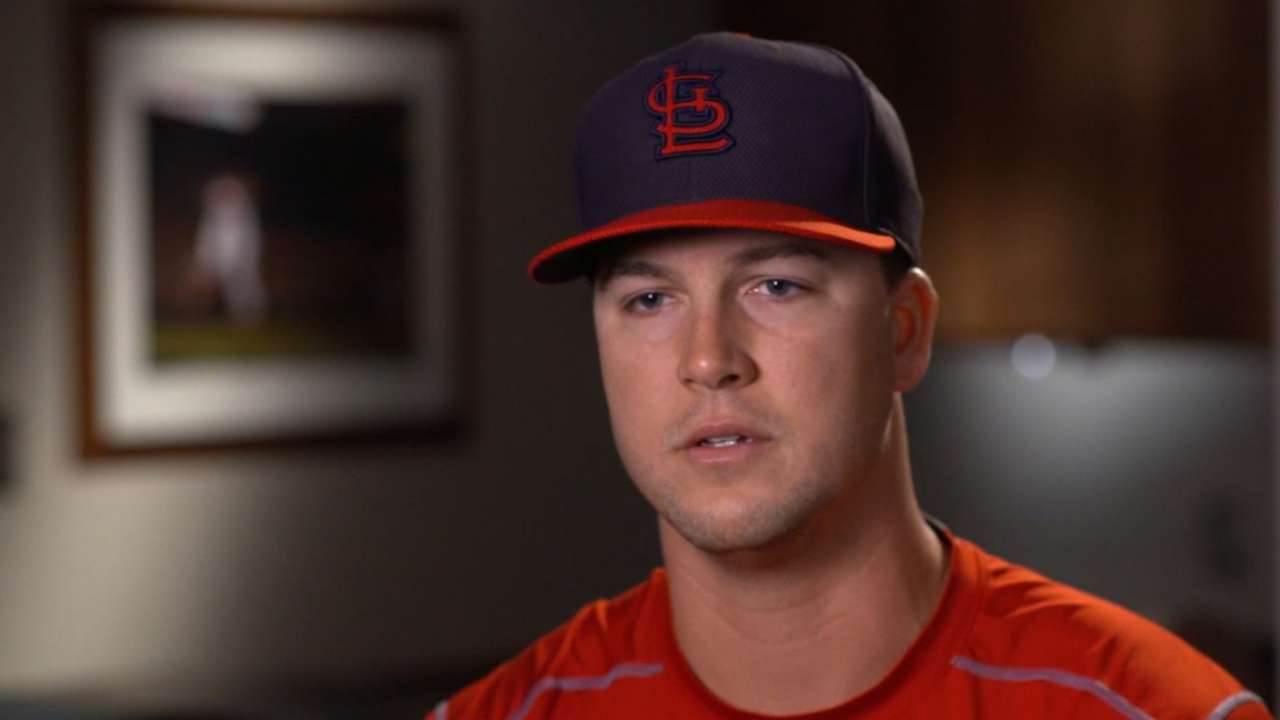 NEW YORK -- Mitch Harris expected the attention. He welcomed it really, since it would shine attention on the men and women serving in the United States Armed Forces. What he didn't anticipate, however, was how much his story would resonate.
Since joining the Cardinals one month ago, the 29-year-old rookie reliever has been the most sought-after interview in the clubhouse. His unprecedented journey from US Naval Academy graduate to Navy Lieutenant to Major League pitcher has captivated more than just fans of his team.
Strangers thank him for his service. His teammates look to follow his lead before filing off the field following the national anthem. Notes from fellow Navy men have trickled in commending him on achieving the dream he once shared with them while sailing in the Persian Gulf, near Russia and around South America during his close to five years of service time.
"I knew it was going to be hyped up and a big deal, but I didn't realize how big, I guess," said Harris, who rejoined the organization in 2013 after completing his service requirements and became the first graduate of the Naval Academy in 94 years to appear in a Major League game. "Again, I love the story. It's a part of who I am. But that's not the goal. The goal is to go out and perform well."
Accommodating as he might be to those who ask about his circuitous route to the Majors, Harris looks forward to the day when the story is simply baseball. As any rookie does, Harris has spent his first month in a big league uniform trying to fit in and proving that he should stay.
The Cardinals' need to carry an extra reliever ensured Harris' callup lasted beyond Peter Bourjos' paternity leave, and Harris has not pitched himself out of a job. He opened his Major League career with seven scoreless outings, collecting the first Major League win by a Naval Academy graduate along the way. Three of the six runs he's allowed over 11 outings came in one troublesome inning against the Tigers last weekend.
"Obviously at this level your smallest weaknesses are highlighted," Harris said. "It's allowed me to hone in on a few things that I know I need to get better at. That's exciting. I feel like if I can just repeat, I'll be fine."
"There is nothing wrong with honoring somebody who has accomplished what he has accomplished and the service that he's given our country," manager Mike Matheny said. "But when he got here, just as we talked about everybody else, he has a purpose of helping us and getting outs."
Matheny had hoped to find an opportunity to pitch Harris in Washington D.C., last month, given the significance of the location. Perhaps he felt the same pull to find a spot for Harris against the D-backs at home on Monday, but the situation never arose in the Cardinals' 3-2 victory in 10 innings on Memorial Day -- a day set aside to remember those who sacrificed their lives while serving in the country's armed forces.
Lt. Mitch Harris wearing military boots on Memorial Day during batting practice. pic.twitter.com/mj8TXyzkke

— St. Louis Cardinals (@Cardinals) May 25, 2015
Harris, who wore military boots during pregame workouts Monday, said it would be the one day he would accept the attention gravitating away from his pitching and back to the heart of his story.
"It's a good day to remember what other people are doing while we're here in a free country," Harris said. "You have a lot of people who are serving overseas and defending us everywhere. It's definitely a day that is special, hopefully to everybody."
Jenifer Langosch is a reporter for MLB.com. Read her blog, By Gosh, It's Langosch, follow her on Twitter @LangoschMLB, like her Facebook page Jenifer Langosch for Cardinals.com and listen to her podcast. This story was not subject to the approval of Major League Baseball or its clubs.