Indians starting to gel with another series win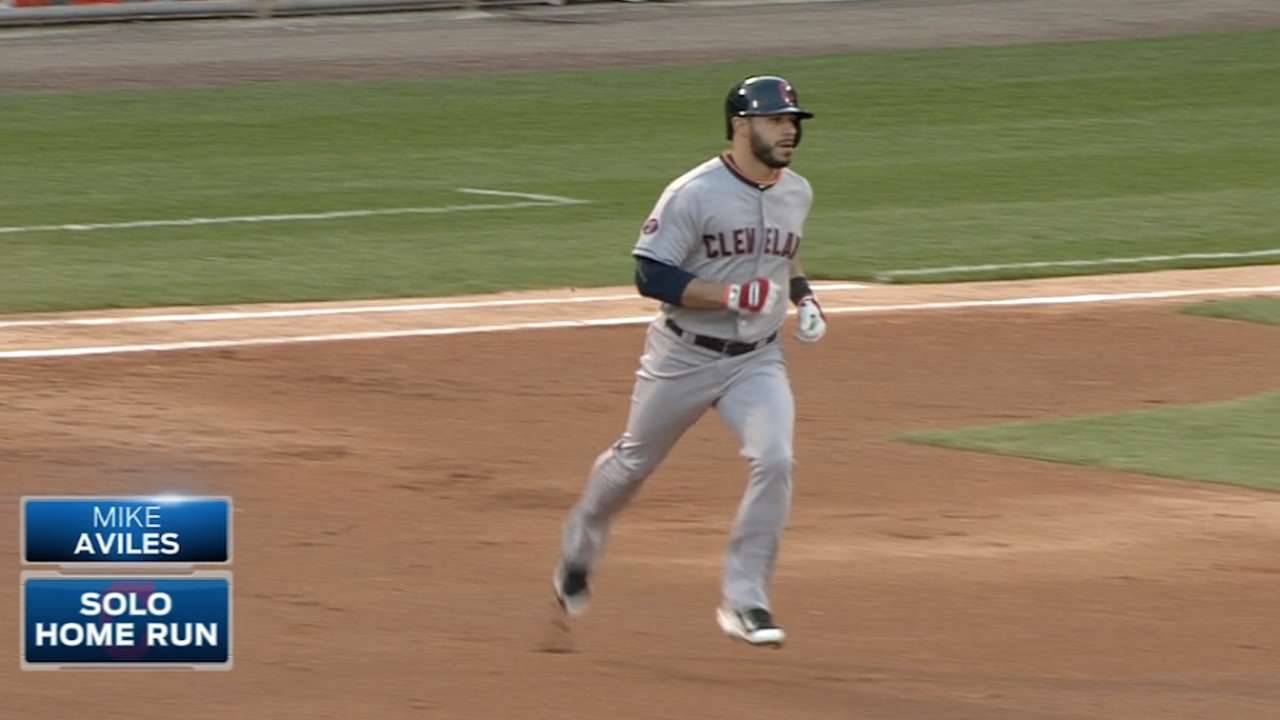 CHICAGO -- Following a nightmarish start to the season, the Indians are starting to see a light at the end of the tunnel.
With a 5-2 victory over the White Sox on Thursday night, the Indians have won three straight games for the first time this season. They took three of four against previously red-hot Chicago and also have won back-to-back series for the first time.
They're still in last place in the AL Central, but things -- finally -- are looking up.
"You've gotta start somewhere," manager Terry Francona said. "We have a long way to go, but we're playing better baseball. Hopefully that will continue for the rest of the season."
Right-hander Danny Salazar (5-1) continued the Indians' run of great starting pitching in the series. He allowed five hits in six shutout innings and struck out eight.
"Better than last time," said Salazar, who lasted just 4 2/3 innings in his previous start against the Rangers. "I was being aggressive the whole game."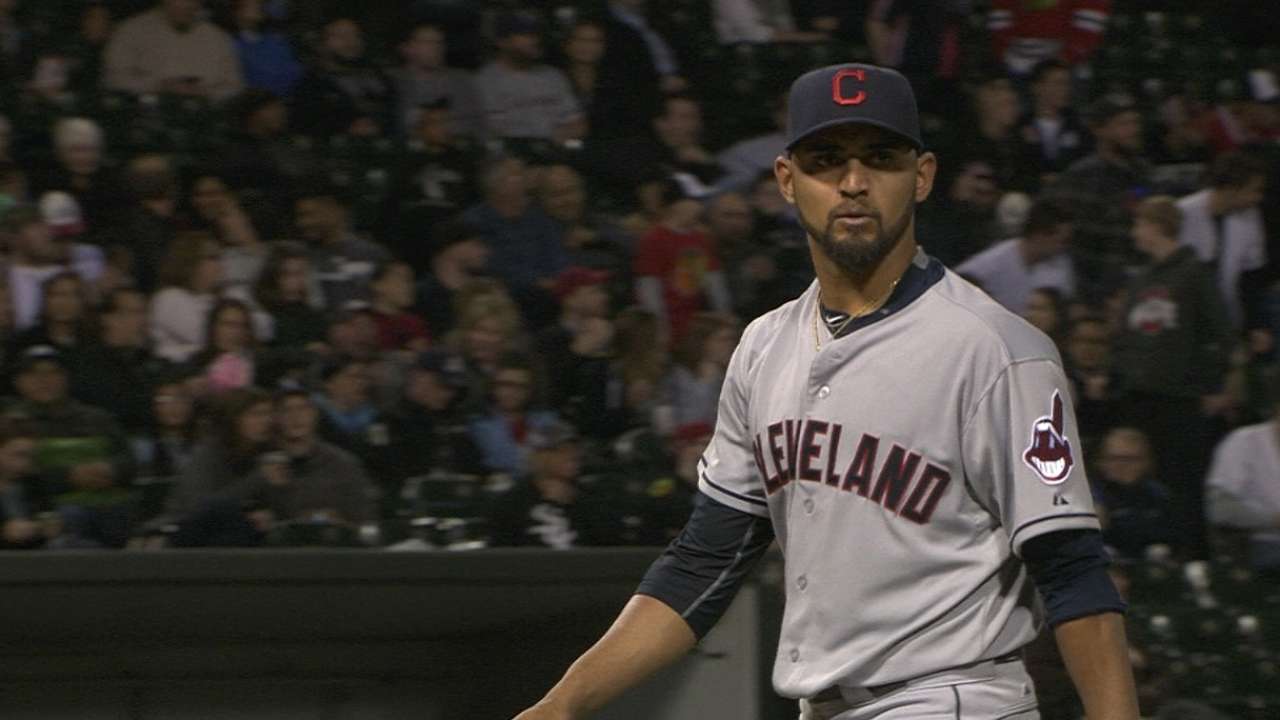 It didn't hurt matters that the Tribe jumped out to a 4-0 lead before Salazar even had to take the mound. He worked just one 1-2-3 inning, but did a good job of working out of trouble. One key moment was in the third inning when he struck out Avisail Garcia to leave the bases loaded.
"He had such a good fastball that when he needed it, he went to it, and he didn't nurse it in there," Francona said. "He attacked when he needed to and he ended up giving us six.
"Last year and earlier this season, he maybe would … I don't want to say nurse one in there, but throw the wrong get-me-over fastball or breaking ball to the wrong guy. I think now he's starting to understand -- because he's paid for it enough -- that, 'Hey, I have to stay in attack mode.' With a fastball like that, even in fastball counts, it's hard to hit."
Salazar was most proud of going six innings. In two previous starts at U.S. Cellular Field, the 25-year-old never lasted longer than 3 2/3 innings.
"It was important for me and it was important for the team, the bullpen," he said.
Besides the quality starting pitching and huge first-inning offensive production, the Indians also played stellar defense. They turned two double plays, the second of which was started by a sensational running catch by center-fielder Michael Bourn.
With one out and a runner on first, White Sox slugger Jose Abreu drove a ball into the right-center gap that appeared to be a certain double. But Bourn got a great jump and made a running catch while stretching his left arm up to snag the ball.
The runner on first, Melky Cabrera, thought the drive was a certain hit. When Bourn made the catch, he had rounded second and was on his way to third. He quickly had to retrace his steps.
Bourn, meanwhile, gathered himself and hit the cutoff man, second baseman Jason Kipnis, who fired a strike to first baseman Carlos Santana to double off Cabrera and end the inning.
"That was a big play of the game," Francona said. "It's earlier in the game. Not only is it maybe second and third, or third and a run in, but we get a double play out of it. That really saved Danny a bunch of pitches at the time. That was big."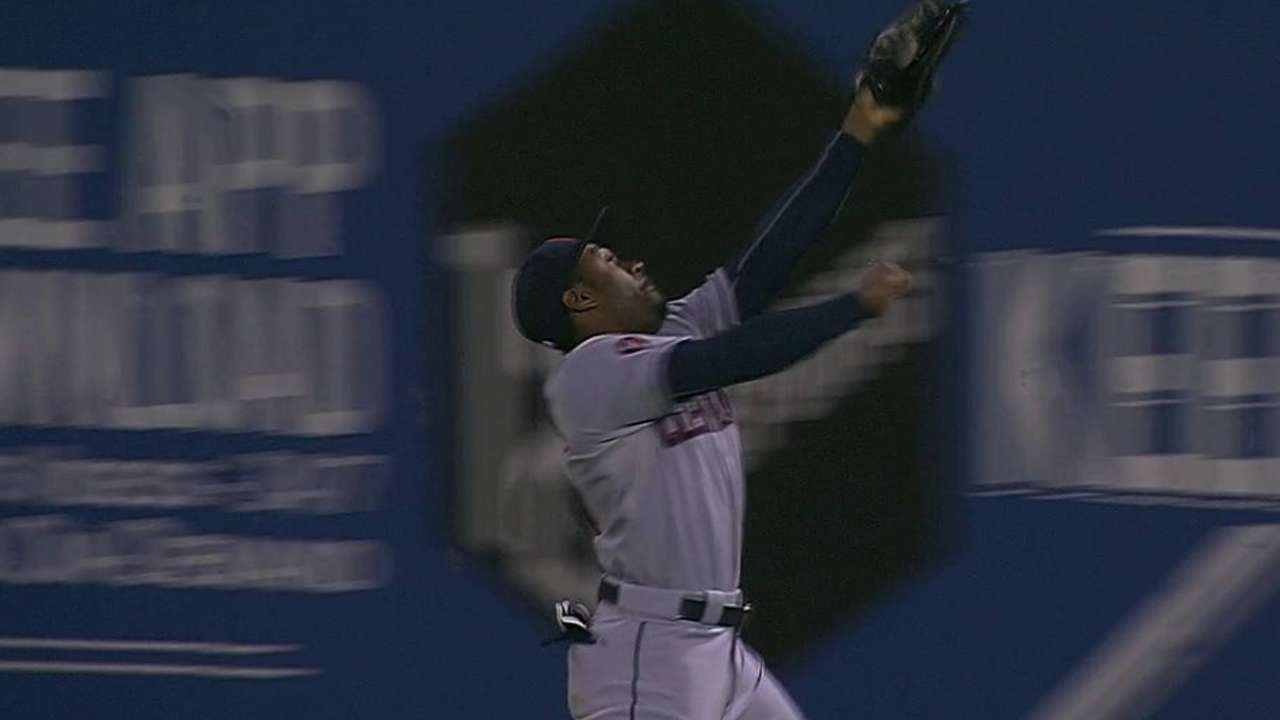 There were other big performances as well. Mike Aviles, who rejoined the team Monday after missing nearly two weeks because of his daughter's illness, had four hits, including a first-inning solo homer.
Nick Swisher also hit his first homer of the season as the Indians wrapped up a 5-2 road trip.
"No one really remembers how you start," Swisher said. "Everyone really remembers how you finish. So I think for us, we're starting to get those competitions in the locker room. Starting pitchers, it just seems like one guy is trying to outdo the next.
"[The White Sox] have been playing well and to come in here and take three out of four, it really feels like we're really starting to gel together. Guys are starting to understand what their roles are and we're just going out there and rocking it."
John Jackson is a contributor to MLB.com This story was not subject to the approval of Major League Baseball or its clubs.