Judge, Severino among top performers in Minors Thursday
Yankees' No. 2 prospect delivers walk-off sac fly; No. 1 allows no hits in return from DL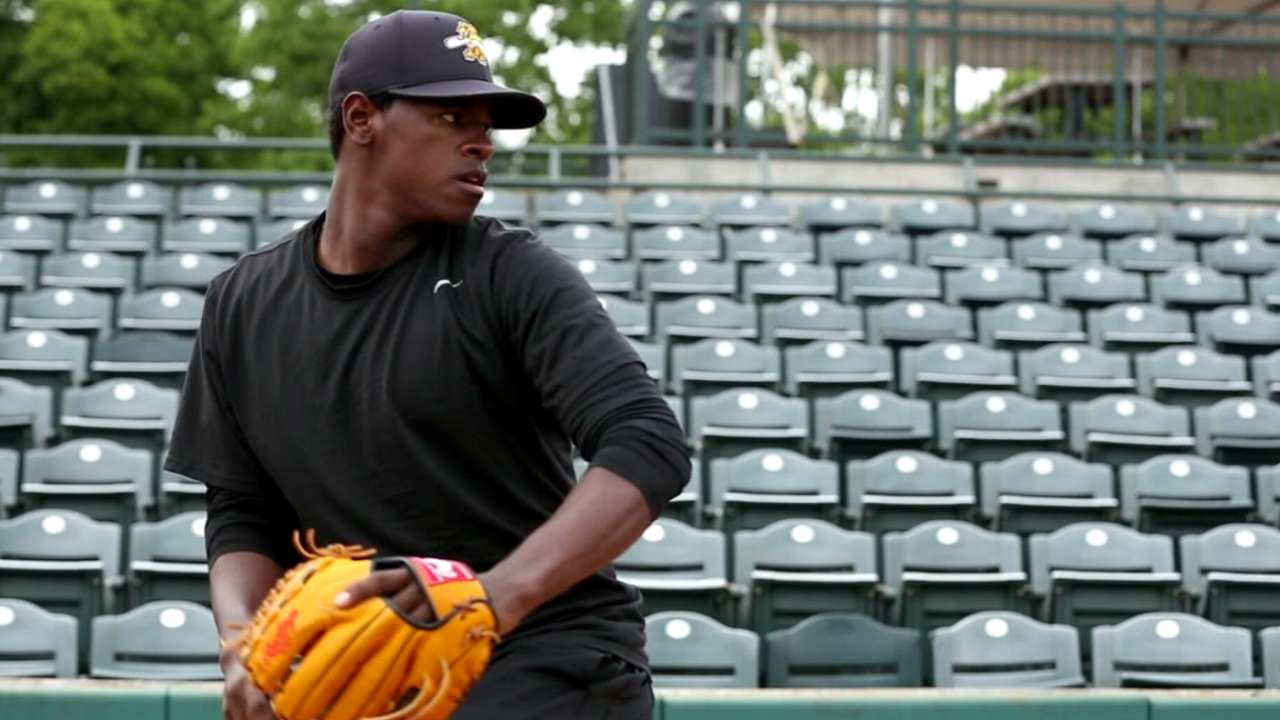 Two elite pitching prospects engaged in a pitchers' duel on Thursday, as Yankees No. 1 prospect (No. 22 overall) Luis Severino narrowly outperformed Orioles No. 1 prospect (No. 20 overall) Dylan Bundy in Double-A Trenton's extra-innings victory over Bowie.
Coming off a short disabled list stint due to a right middle finger injury, Severino was nearly perfect through five innings, with Bowie's only baserunner resulting from a catcher interference call in the fifth inning. The right-hander was pulled with a no-hitter intact, but Bowie's Ronarsy Ledesma singled in the sixth inning off of Kyle Haynes to end the no-no bid.
Bundy, meanwhile, gave up just two hits in four shutout innings. Both he and Severino received no-decisions as the game remained 0-0 until the 13th inning.
That's when Yankees No. 2 prospect (No. 64 overall) Aaron Judge hit a sacrifice fly to end the game. Judge, who went 2-for-5 on the night, is now hitting .307/.358/.500 with six homers and 22 RBIs this season.
His clutch sac fly marked the fifth time in 21 home games Trenton has had a walk-off win this season. The Thunder only accomplished that feat once in 71 home games last year.
More standout performances from Top 100 prospects on Thursday
• Astros No. 1 prospect (No. 3 overall) Carlos Correa hit his second Triple-A home run and notched his third straight multi-hit game for Fresno. He finished the night 2-for-5 with three RBIs, making him 6-for-15 with two homers and six RBIs over the past three contests.
• Rockies No. 1 prospect (No. 16 overall) Jon Gray delivered his longest performance of the season for Triple-A Albuquerque. The 6-foot-4 right-hander gave up six hits and one unearned run in 6 2/3 innings of work, winning for the first time in three starts. On the year, he's now 2-4 with a 6.47 ERA.
• Braves No. 1 prospect (No. 36 overall) Jose Peraza clubbed his first homer of the season for Triple-A Gwinnett. The Venezuelan has been clutch lately, racking up six of his 13 RBIs this season in the past six games. He's now hitting .314/.353/.393 this year.
• Royals No. 1 prospect (No. 38 overall) Raul A. Mondesi continues to rake for Double-A Northwest Arkansas. The shortstop hit his first homer of the season on Tuesday, and then followed that with a solo shot on Thursday night. In six games this year, he's hitting .296/.296/.556 with two dingers and six RBIs.
• Angels No. 2 prospect (No. 63 overall) Sean Newcomb kept the opposing team off the the scoreboard for the first time this season. The 6-foot-5 southpaw has been excellent this year, but Thursday marked his first truly dominant outing. Newcomb tossed 5 1/3 scoreless innings while scattering four hits and striking out three. He still hasn't earned a victory since his first start on April 9, but he has not lost since then either, and sports a 1.83 ERA.
Other notable performances from around the Minor Leagues
• Rangers No. 12 prospect Ryan Cordell and Astros No. 12 prospect A.J. Reed turned in stellar performances in the same game on Thursday. Both players homered and had multi-hit nights, with Class A Advanced High Desert's Cordell going 2-for-4 and Lancaster's Reed going 3-for-6. Reed's four RBIs helped the JetHawks to a 22-5 blowout victory. Reed and Cordell both have 35 RBIs this year after Thursday night's game.
• White Sox No. 4 prospect Spencer Adams rebounded well from a rough start on May 16, tossing five shutout innings for Class A Kannapolis. The righty picked up his first win of the season Thursday after giving up 10 hits and five runs in his previous outing. On the year, he's 1-3 with a 4.60 ERA.
• White Sox No. 9 prospect Courtney Hawkins blasted a two-out, three-run home run in the ninth inning to send Double-A Birmingham to extras, where the Barons fell to Biloxi, 5-4, in 12. The shot was Hawkins' only hit of the day, but it extended a six-game hitting streak, during which he's bumped his average from .236 to .258. The left fielder now has six homers and 27 RBIs this season.
• Indians No. 20 prospect Ryan Merritt was nearly unhittable for Double-A Akron, surrendering just two knocks and one run in six innings for Double-A Akron. The southpaw's impressive performance helped halt a four-game streak of giving up at least three earned runs, and his seven strikeouts were a season-high. On the year, he's sitting at 3-3 with a 4.06 ERA.
• Rays No. 27 prospect Dylan Floro couldn't get the win for Triple-A Durham on Thursday, but it wasn't due to his strong performance. The right-hander gave up just two hits in 6 2/3 innings of shutout work, tossing five strikouts in the process. Floro has been up and down this year, but his highs have been encouraging; Thursday's start mirrored his season opener on April 9, when he gave up just one hit in six shutout innings.
• Brewers No. 12 prospect Jorge Lopez gave up two hits Thursday, and neither of them left the infield. The Double-A Biloxi pitcher blanked Birmingham through 5 2/3 frames, striking out five while allowing four walks. He didn't pick up the win, but Lopez still has not lost since April 19. He's 3-2 with a 2.95 ERA in eight starts.
• Brewers No. 30 prospect Brandon Woodruff tossed seven shutout innings for Class A Advanced Brevard County. The outing, his finest of the season, involved just four hits and one walk against two strikeouts. Woodruff got a no-decision, and remains at 1-1 with a 4.38 ERA.
• Phillies No. 13 prospect Andrew Knapp slugged a three-run homer -- his first of the season -- as part of a 2-for-5 night that included four RBIs. The catcher has now hit in six straight games, and owns a .279/.345/.383 line with 19 RBIs on the year.
• Phillies No. 25 prospect Joely Rodriguez turned in his best game of the year for Triple-A Lehigh Valley. The lefty gave up just four hits in seven shutout innings, the first time he's blanked an opponent this season. The win was his second in a row, and he's now 2-3 with a 5.18 ERA in 2015.
• Mets No. 18 prospect Casey Meisner struck out a season-high 10 batters on Thursday while throwing seven innings of shutout ball. The 6-foot-7 hurler gave up just one hit for Class A Savannah while picking up his third win of the season and cutting his ERA below 2.00. His K/BB ratio now stands at 41/12, and his season line is now 3-1 with a 1.93 ERA.
Alex M. Smith is a reporter for MLB.com. This story was not subject to the approval of Major League Baseball or its clubs.