A's offense stalls after Burns' leadoff triple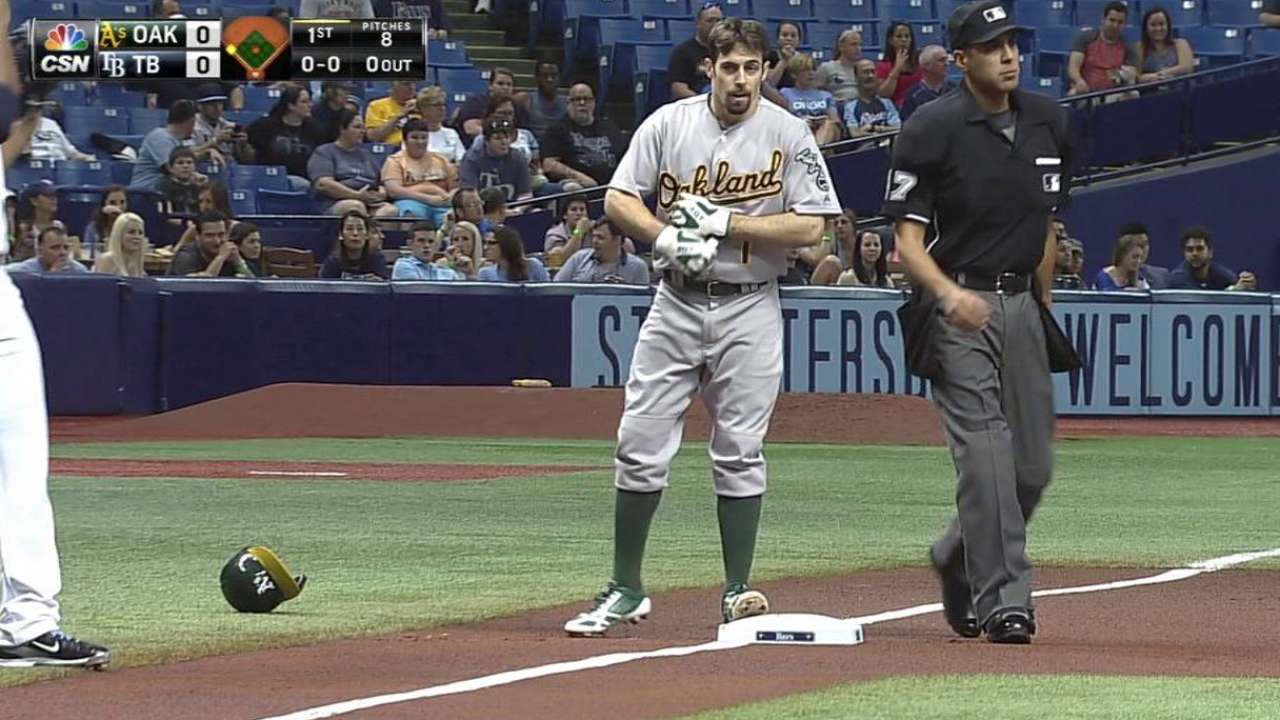 ST. PETERSBURG -- The Athletics' recent hitting woes continued Thursday night at Tropicana Field, as Oakland struggled to deliver with runners in scoring position in a 3-0 loss to the Rays.
After Billy Burns led off the game with a booming triple to right-center field, he was unable to tag up properly on an ensuing fly ball to center by Marcus Semien.
Burns left early, then retreated to the bag too late to score on the play. Josh Reddick followed with a roller to first, and Billy Butler ended the inning by grounding out to third.
In the fourth inning, the A's loaded the bases with two outs, only to have Sam Fuld hit a first-pitch grounder to first to end the threat.
"Continue to work, get a few hits and hopefully get some momentum from it," said A's manager Bob Melvin, visibly frustrated moments after seeing his team lose the 13th of its past 15 games.
The A's have batted .191 with runners in scoring position during that stretch, after compiling a .310 average in their first 28 games of the season.
"We were really good about runners in scoring position earlier in the season, but we're going into a little bit of a drought at the wrong time," Melvin said. "The pitching is starting to get a little bit better, but the offense is not. We haven't timed things very well this year, as is indicative of our record [14-29]."
One of the bright spots on offense for the A's this year has been catcher Stephen Vogt, who believes that the talent is there, and that it's simply a matter of trying to do too much.
"We just need to relax," said Vogt, who is hitting .305 with nine home runs and 30 RBIs with a 1.002 OPS. "The other thing you realize is that pitchers get nervous too with runners in scoring position, but that's not something you're thinking about when you're struggling as a team in that situation. So we have to get back to the drawing board and just play the game that we know how to play.
"This is a good team that's going through a really rough patch right now."
Michael Kolligian is a contributor to MLB.com. This story was not subject to the approval of Major League Baseball or its clubs.