Rough 7th inning too much to overcome
Smith tossed, four pitchers used during Atlanta's wild seven-run surge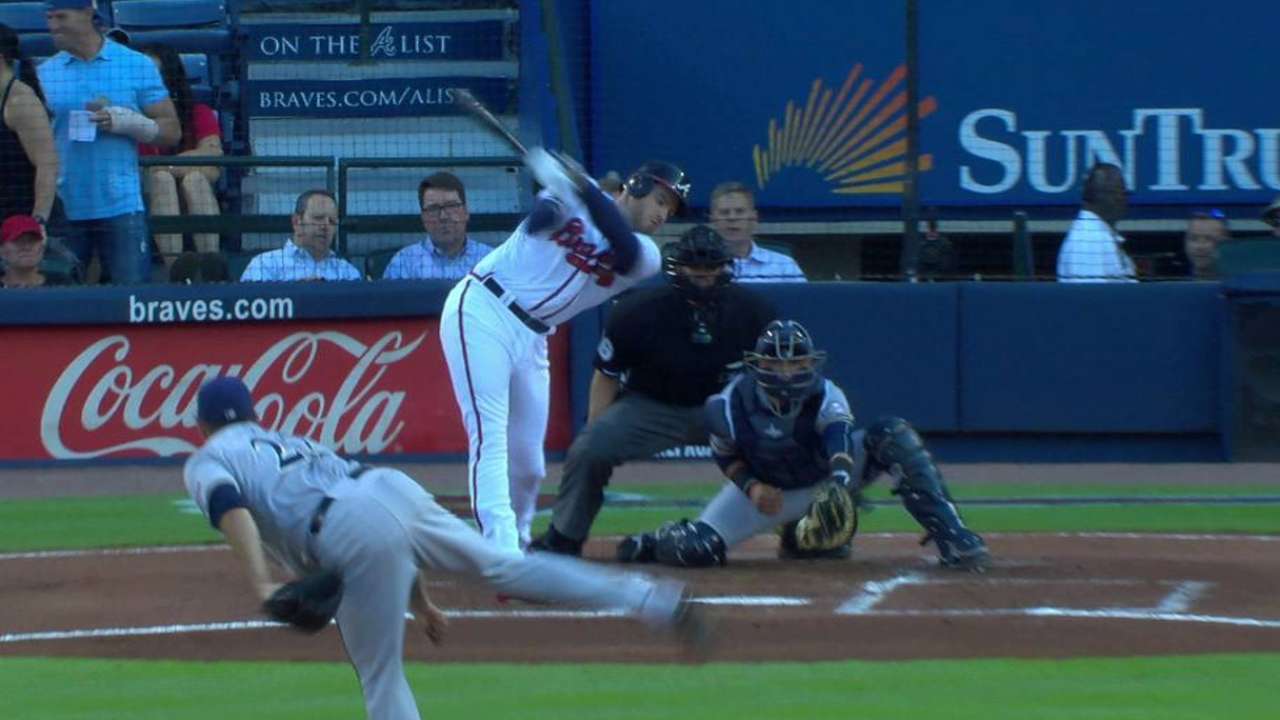 ATLANTA -- Everything was going so well for the Milwaukee Brewers on Thursday night at Turner Field. Or as right as things seem to go in a season where so much has gone wrong already.
And then came the seventh inning.
A couple of seeing-eye ground balls. A popped-up bunt that, incredulously, fell in just the wrong place. Another grounder that ticked off the glove of Milwaukee second baseman Elian Herrera.
And then, well, it got even stranger, and uglier, for the Brewers in a disheartening, aggravating 10-1 loss to the Atlanta Braves.
"We had a bunch of plays that were kind of 'woulda coulda shoulda' plays," Brewers manager Craig Counsell said. "Just plays that you'd like to make, but didn't quite get it done."
The sputtering seventh ruined a strong performance from Milwaukee right-hander Matt Garza, who bounced back from a 3 1/3-inning disaster Saturday against the New York Mets (10 hits, 10 earned runs) with a start that was worthy of something much better. Garza cruised into the seventh on Thursday with the game tied, 1-1. He gave up a first-inning run on a walk, a stolen base and and a ground-ball single through the middle.
Between the first and the seventh, though, Garza gave up one walk and one bloop opposite-field double. That was it.
"I felt good," he said.
The seventh inning, though, was unfriendly in a lot of ways. After Garza was chased, it got even meaner.
Jonny Gomes led off the Braves' half of the inning with a first-pitch grounder through the left side of the infield, and third baseman Alberto Callaspo followed with a grounder through the other side. Garza hadn't even thrown 70 pitches yet, so he still looked strong.
Shortstop Andrelton Simmons followed, and that's where things really started to disintegrate. Simmons squared around on the first pitch and popped a bunt to the left side of the diamond. But it fell between Garza and third baseman Aramis Ramirez, who fielded it and was able only to get Callaspo at second base for the force.
That still left two runners on, at first and third, with one out. The next batter, catcher Christian Bethancourt, then hit another grounder off Herrera's glove, plating Gomes from third. The run gave Atlanta a 2-1 lead.
"I thought I had it under control, and I got three ground balls. Two of them got through, and one of them gets under a glove," Garza said. "A little frustrating. And the stuff afterward was just insane. Just leave it at that."
The stuff afterward started when Counsell pulled Garza and brought in lefty Will Smith. After four pitches, Smith was ejected when Atlanta manager Fredi Gonzalez alerted umpires to an illegal substance on the pitcher's arm. Gonzalez's decision to point out the substance -- which Smith said was sunscreen and rosin that he simply forgot to wipe off -- outraged many in the Milwaukee clubhouse.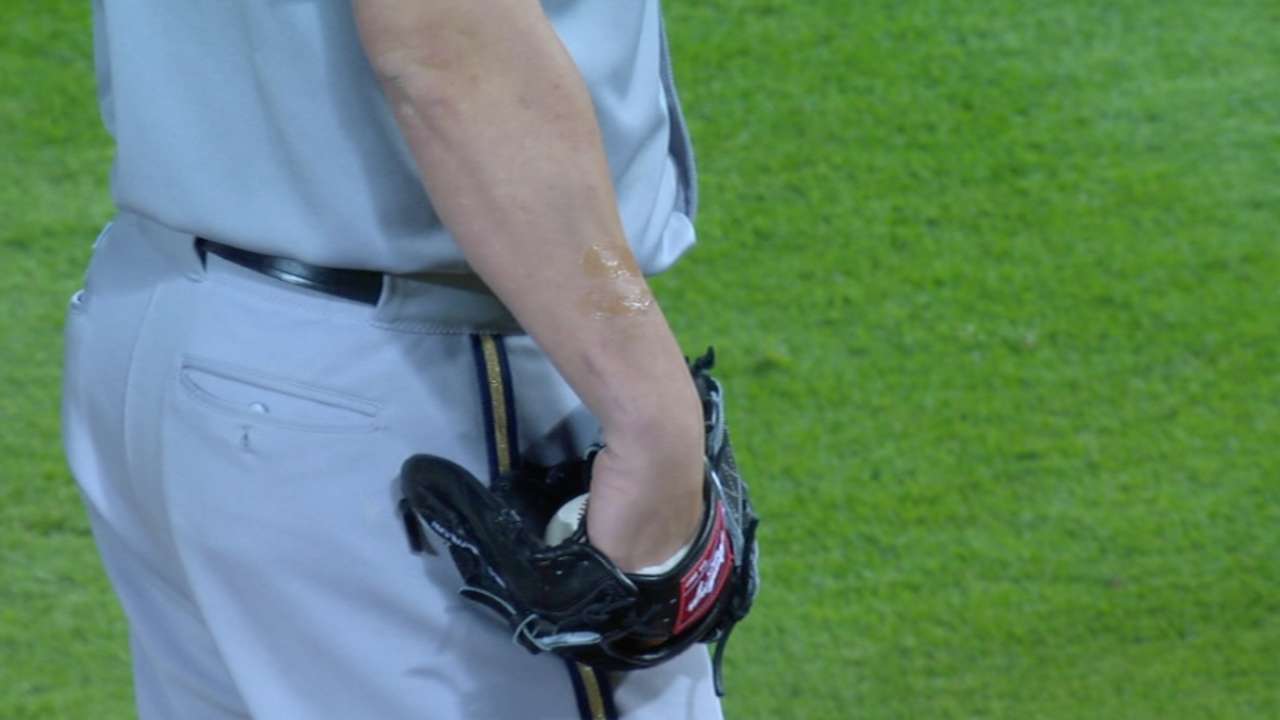 "I have a lot of thoughts on it. But I've learned over the years to keep that to myself," Garza said. "It was insane. I don't know."
The Brewers had to scramble to get lefty Neal Cotts ready, and he lasted just three pitches. Atlanta second baseman Jace Peterson lifted a soft single to left off Cotts to score a run. Atlanta ended up hitting Cotts and righty Michael Blazek with four straight hits, and the Brewers committed an error, in a seven-run seventh for the Braves.
Garza went 6 1/3 innings, giving up five hits and four runs. He took the loss, and is now 2-6 with a 5.71 ERA.
John Donovan is a contributor to MLB.com. This story was not subject to the approval of Major League Baseball or its clubs.