Rotation a bright spot during rough patch
Red Sox starter Buchholz logs sixth quality start in loss to Texas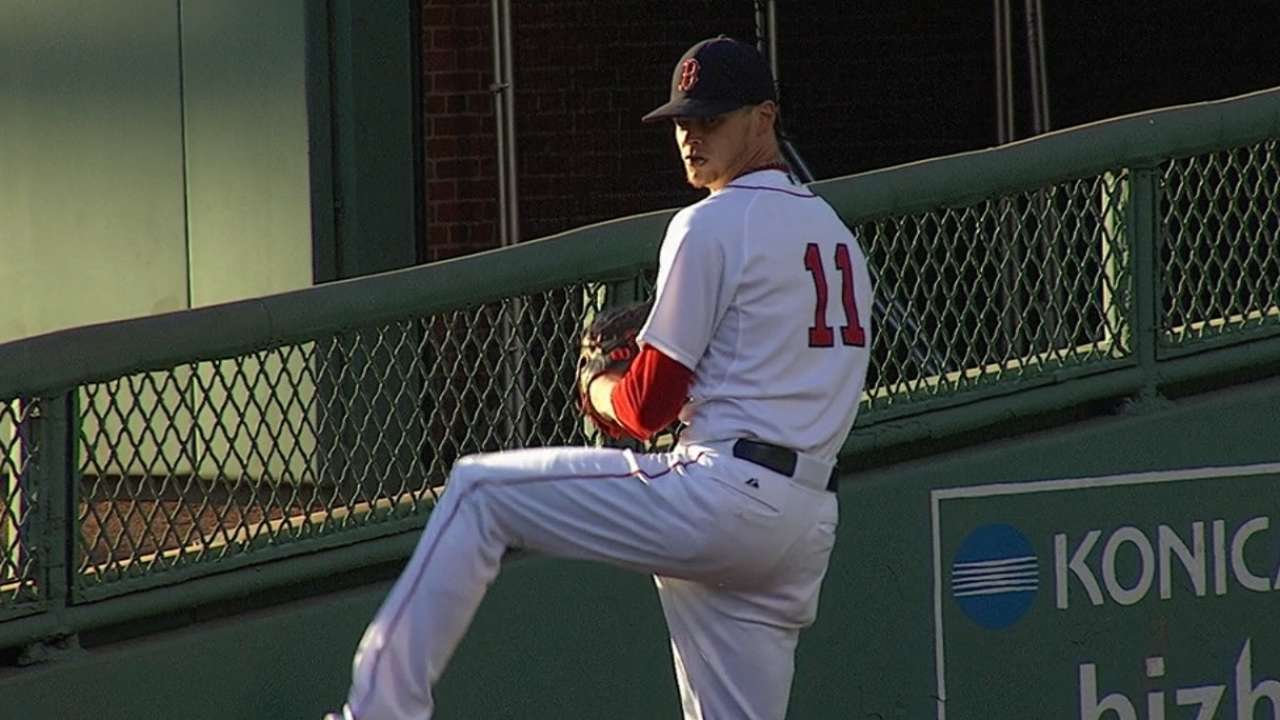 BOSTON -- Once thought to be the weak link on an otherwise talented team, the Red Sox's rotation continued its resurgence at Fenway Park on Thursday. And for Clay Buchholz, the de facto steward of the retooled pitching staff, thrust into a leadership role this season, the rebound could not have come soon enough.
"It was a work in progress the first couple times through. We knew what we had to do," Buchholz said following a 3-1 loss to the Rangers. "We're more focused to pitch with intent. Instead of being afraid to throw a pitch, just throw it. It's hard to [have conviction] in a pitch whenever you're getting hit around, though, so that's the difference."
While the still-sleepy offense left Buchholz with his fifth loss, the right-hander worked 7 1/3 crisp innings and allowed three runs (two earned) on five hits en route to his team-leading sixth quality start. He fanned four batters and walked two.
Buchholz's ERA has now fallen from 6.03 to 4.58 over his last three outings. As a rotation, the Red Sox have posted a 2.00 ERA in the past eight games, with starters pitching six or more innings in seven of those contests. The team has only gone 4-4 during that span, but the recent improvements remain promising, nonetheless.
"I thought Clay certainly gave us a chance to win this ballgame," Boston manager John Farrell said. "Going into the eighth inning, kept his pitch count well in check, and through the middle innings I thought he did an outstanding job for us to get that deep."
The only damage of the night for Buchholz came on a pair of miscues -- one his own, and one credited to his defense. With bases loaded in the first inning, Mitch Moreland hit a ball sharply up the middle to second baseman Dustin Pedroia, who threw to shortstop Xander Bogaerts. But Bogaerts committed an error while trying throw to first for a double play and allowed a second, unearned run to score.
Moreland struck again three innings later when he muscled an 0-1 cutter into the Green Monster seats for a home run that gave Texas its third and final run.
"Surprised me the ball got out," Buchholz said. "Right when he hit it, I thought it was going to be off the wall for sure and it just kept going. Strong man."
Buchholz's performance can be viewed with optimism, in that he was able to pitch a solid game despite not possessing top-notch command of his fastball. What allowed him to overcome the shaky outset and pitch into the eighth inning, he said, was effectively mixing his pitches to keep the Rangers off-balance.
And for a pitcher whose inconsistencies have often stemmed from early mistakes spiraling into meltdowns, the outing provides further evidence that the struggles of last season may be fading away.
"It's a little bit easier whenever you have your pitches working," Buchholz said. "It's the times that you go through whenever you've got one or two pitches working and you've got to filter out the other ones to try and get back."
Alec Shirkey is an associate reporter for MLB.com. This story was not subject to the approval of Major League Baseball or its clubs.