Sputtering offense falls victim to hard-luck play
Boston's hit-and-run play thwarted when Bogaerts is hit by batted ball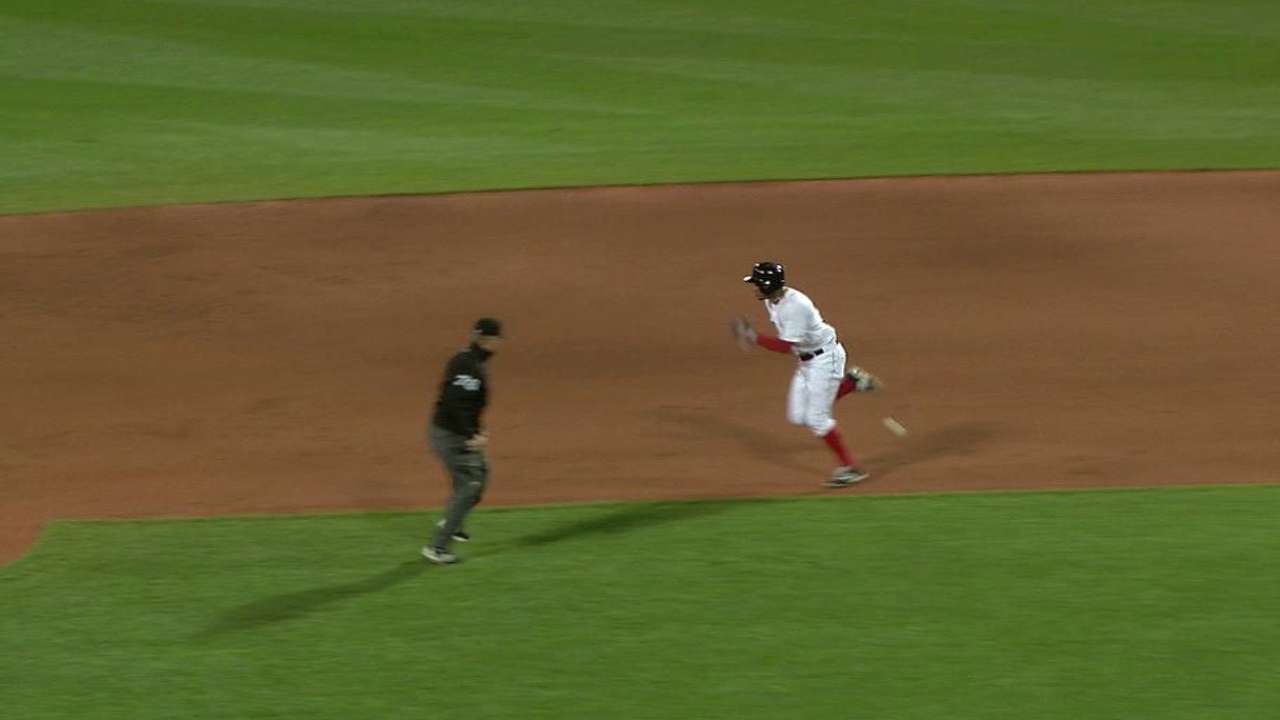 BOSTON -- The home clubhouse at Fenway Park was eerily quiet following Thursday's game, kind of like the offense was again during a 3-1 loss to the Rangers.
As hitters try to find that elusive groove -- be it individually or collectively -- bad luck becomes more of an annoyance than usual.
Take, for example, a sequence in the bottom of the fifth inning.
Xander Bogaerts drew a walk and thought he had the perfect pitch to steal on. Daniel Nava wound up swinging, and belted a single to right. Only, it was a single with a consequence.
The baseball ticked off of the right leg of Bogaerts, meaning he was automatically out instead of at third base.
"Probably the play there when I tried to steal and the ball hit me, that was probably the game-changer," said Bogaerts. "I never knew, I was never aware the ball touched me until I came back down and I saw the video, it might've just scratched the bottom of my heel or something like that, but I never know it hit me at all."
But the Red Sox know they are in the midst of a stretch where this type of thing is bound to happen.
"We're in the middle of one of those stretches where, if there's an oddity that's going to go against us, it's happening right now," said Red Sox manager John Farrell. "Even in that moment, where he's got a read on Rodriguez's delivery, he gets a good jump, doesn't even feel the ball clip him, which was basically on the bottom of the foot. But it was clear that the ball was misdirected and it does go against us."
The Red Sox are 7-12 in May, and have scored 44 runs over 19 games.
"We've got to start hitting at some point, right?" said David Ortiz, who tried to jump-start a ninth-inning rally with a double, but never moved off second base.
Farrell is the one left to write out the lineup on a daily basis, but that's hard to do when so many different players are struggling.
There continue to be hints that Rusney Castillo will be recalled from Triple-A Pawtucket, perhaps as early as Friday. But the way things are going, one player can't revive a whole offense.
"We've got to get the players that we're counting on; we've got to get them going," said Farrell. "Whether or not there's roster changes, nothing is here to be announced in this moment. We'll take a look at every opportunity to see if there's an adjustment to be made, but it's not like we're looking at one spot in the lineup that's a glaring hole.
"Collectively, we have to continue to trust one another. I've said it many times over. When we use the whole field with an offensive approach, we're pulling off less pitches than we otherwise would be."
Boston is hitting .199 with runners in scoring position for the season. In Thursday's loss, the Sox were 0-for-6 in that department.
"We were getting some pitches and just missing them. Even in the ninth inning, David leads off with a double, Hanley [Ramirez] gets a breaking ball that stays up in the middle of the plate and pops it up," said Farrell. "We get a good opportunity in the fourth inning, where we've got second and third with nobody out and the middle of the order coming, and we were only able to cash in one. We've just got to keep grinding."
Ian Browne is a reporter for MLB.com. This story was not subject to the approval of Major League Baseball or its clubs.