Change in mechanics helps Dickey excel
Knuckleballer allows four runs and strikes out seven in complete game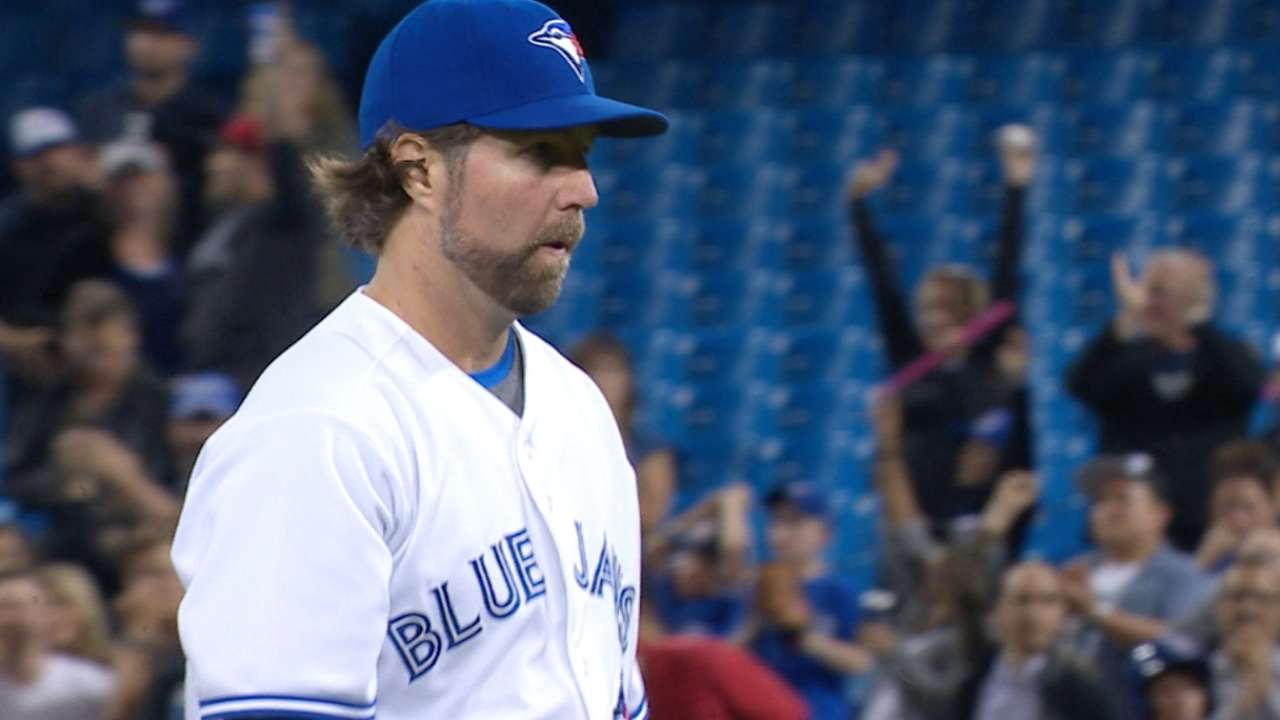 TORONTO -- R.A. Dickey didn't want to get into specifics, but he said that a recent change to his mechanics was one of the main reasons behind his solid outing against the Angels on Thursday night.
Dickey picked up his first complete game of the year with an 8-4 victory over Los Angeles. He allowed five hits and two walks while striking out a season-high seven batters in one of his best outings of the year.
Earlier this week, the veteran knuckleballer hinted that he was in the process of making some adjustments and after his victory, Dickey was quick to share credit with pitching coach Pete Walker.
"I really can't say enough about Pete, Pete's been integral," said Dickey, who picked up his first nine-inning complete game since June 26, 2013. "The difference in my last month and tonight, catch some stuff on video and worked really hard between outings. I can't say enough about him, if he were not around, I would not have caught it on my own.
"A lot of it is about tempo and a lot of it is about stuff I don't want to talk about. Take from that what you want."
Whatever those changes were, it's clear they went a long way in helping to get Dickey back on track. Dickey allowed a first-inning homer to Marc Krauss and then essentially held the Angels in check until a late two-run shot by David Freese, which came after the game was all but officially over.
The results were a stark contrast from his previous two outings when Dickey seemed almost helpless on the mound. In those starts, the former Cy Young Award winner allowed 13 runs over 11 innings.
Even more alarming was that Dickey struck out a total of seven batters during his previous five starts. The lack of a swing-and-miss knuckleball was extremely troubling for a guy who struck out more than seven batters per nine innings in each of the previous three years.
The fact that Dickey wasn't missing very many bats showed just how little movement he was getting on the knuckleball and explained why he entered play on Thursday with an ugly 5.87 ERA. The late movement was back against the Angels and while there were still a few lapses throughout the game it was a big step in the right direction.
"Tonight you saw big swings and movement, you saw change in speeds, I saw less and less rotation throughout the night on the knuckleball, which is key," Dickey said. "The ones that got hit tonight were balls that were similar to ones I had been throwing in the last month, where they kind of rolled up there because I had a mechanical breakdown.
"I'm going to continue to build in the proper mechanic and return to some of the basics that I came into this knuckleball journey with and we'll see what happens."
Gregor Chisholm is a reporter for MLB.com. Read his blog, North of the Border, follow him on Twitter @gregorMLB and Facebook, and listen to his podcast. This story was not subject to the approval of Major League Baseball or its clubs.