A's place Mujica on DL, promote Parrino
A's reliever receives stitches; will be out weeks with minor fracture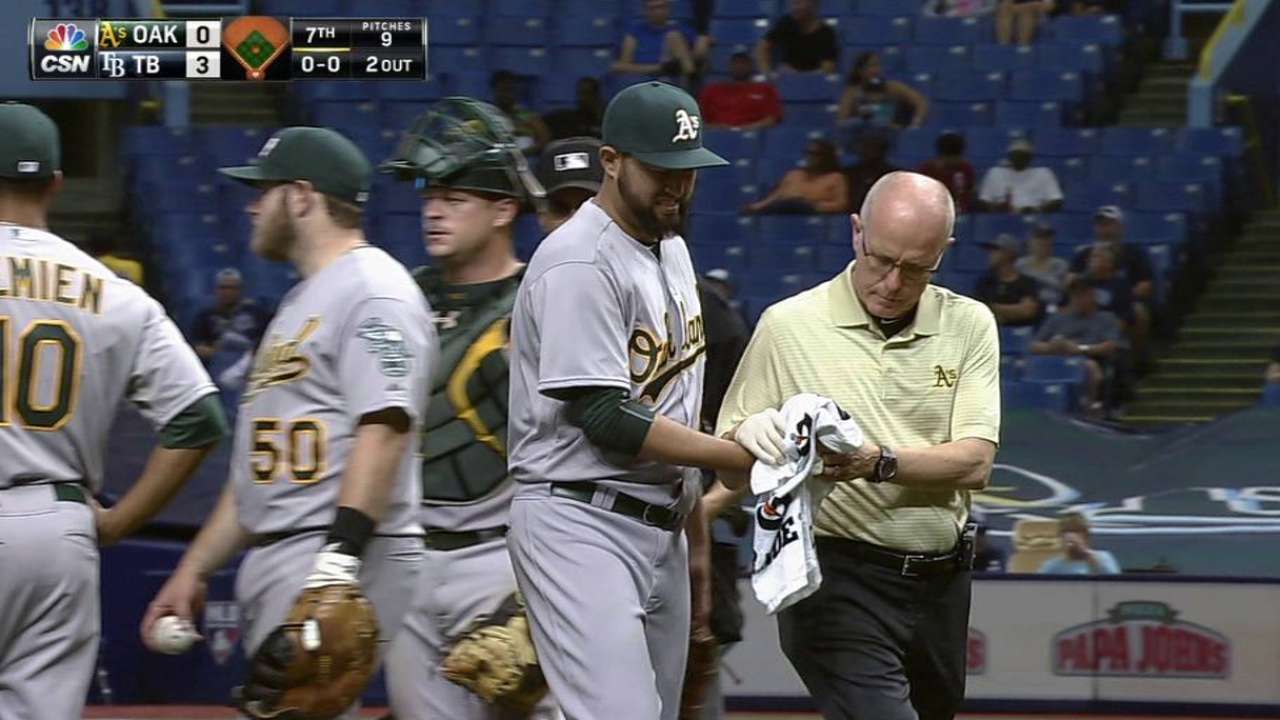 ST. PETERSBURG -- Athletics right-hander Edward Mujica, who was forced to leave the Rays' 3-1 victory Thursday night with two outs in the seventh inning after taking a hard one-hopper off his pitching hand, was placed on the 15-day disabled list Friday with a fractured right thumb.
The A's selected infielder Andy Parrino from Triple-A Nashville to take Mujica's spot on the active roster. They also recalled Tyler Ladendorf from Nashville and placed him on the 60-day DL.
Mujica was injured when he was hit by a comebacker off the bat of Rays catcher Bobby Wilson. Mujica has not allowed a run in five games and 5 1/3 innings since being acquired from Boston on May 9.
"Just trying to put my glove there, and it got me right in the thumb," Mujica said. "I made the play, then I felt numb in the thumb. I looked down and saw a lot of blood coming out and then found out it was broken after they did the X-ray."
Mujica, who compiled a 4.61 ERA in 11 games with the Red Sox before being designated for assignment on May 8, told reporters after Thursday's game that his injury is a minor fracture that will not require surgery. The 31-year-old right-hander received stitches to close a laceration on the thumb, and he left Tropicana Field with his hand wrapped in a bandage.
Parrino was batting .273 with four home runs and 12 RBIs in 38 games with Nashville. He was tied for the team lead in homers, but he also led the Sounds with 43 strikeouts. The 29-year-old switch-hitter was batting .313 in May after hitting .236 in April. Parrino appeared in 33 games at shortstop, three at second base and two at third base.
Ladendorf was on the A's Opening Day roster and went 2-for-10 in four games before being sent down to Nashville on April 12, when Josh Reddick was reinstated from the disabled list. Ladendorf went 8-for-22 (.364) in six games with the Sounds before suffering an ankle injury that required surgery.
Michael Kolligian is a contributor to MLB.com. This story was not subject to the approval of Major League Baseball or its clubs.