DeJesus keeps swinging 'huge bat' for Rays
Hitting .417 in past 15 games, DH stings A's with homer, RBI double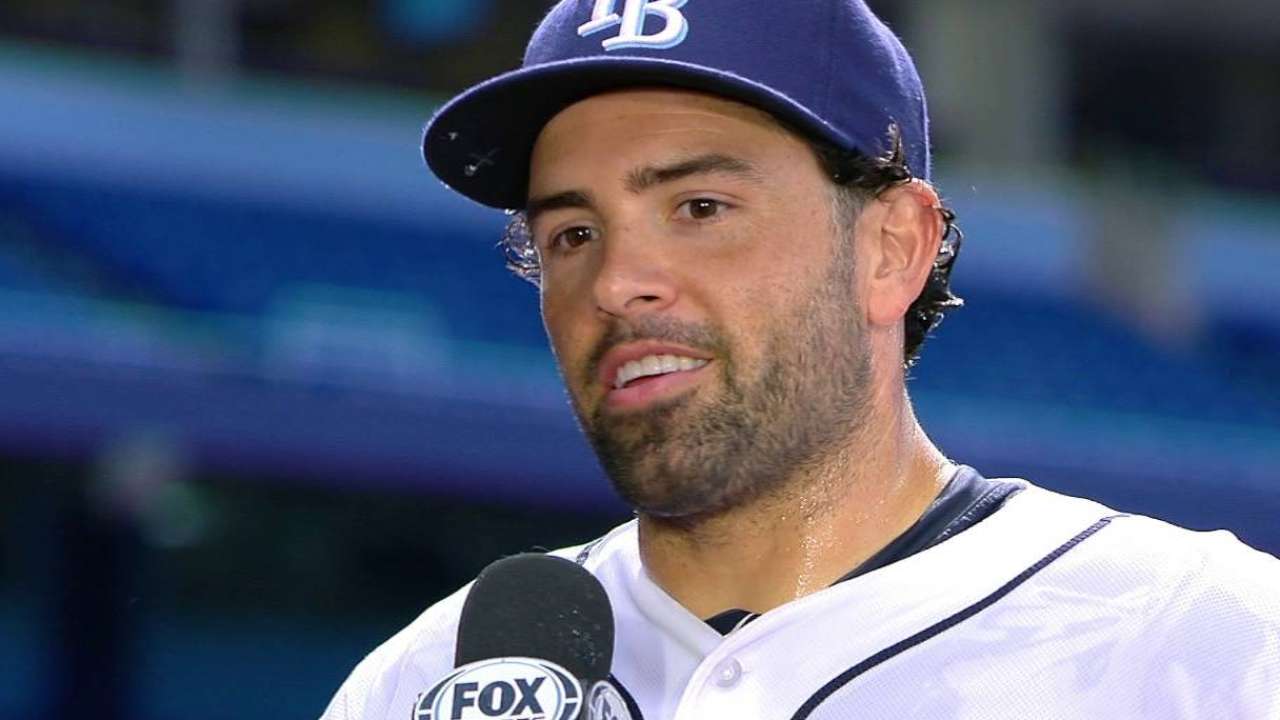 ST. PETERSBURG -- Being a reliable teammate -- and not just on the diamond -- is something in which David DeJesus takes great pride.
"Relationships are what you bring out of baseball," DeJesus said. "We're all going to play, we're all going give it 100 percent on the field, but when you are done playing your career, you're going to bring relationships with you. So, I think being a guy who can talk to anybody and know that I'm going to be reliable each and every day, that's the trait I want everybody to know about me."
On the diamond, however, DeJesus has been equally reliable of late, and that trend continued Thursday night in the Rays' 3-0 victory over the Athletics at Tropicana Field.
After a flyout in his first plate appearance, DeJesus broke a scoreless tie in the fourth inning with a two-out double to left-center field that brought third baseman Evan Longoria around to score from first. The double was DeJesus' 15th hit this season with a runner on base, a scenario in which he is batting .429 on the year.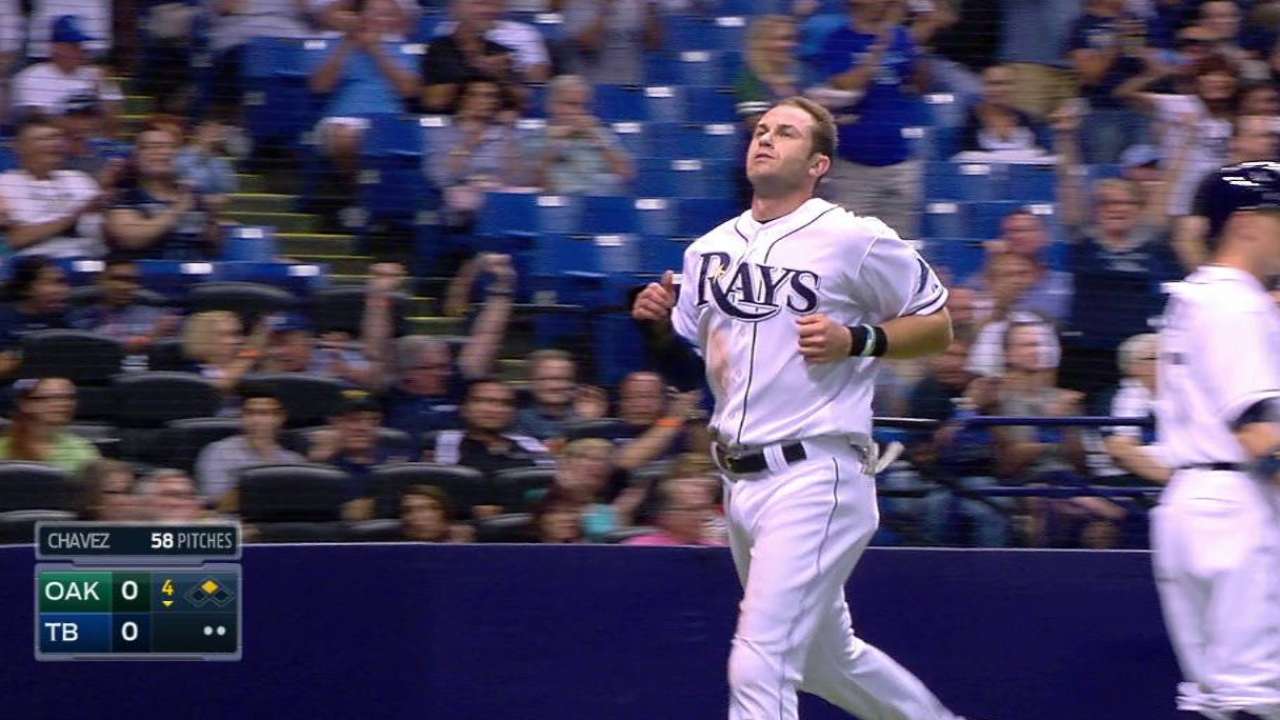 In his next at-bat, the Rays' designated hitter expanded Tampa Bay's 1-0 lead by driving the first pitch over the right-field fence for a solo home run.
"He's been a huge bat for us," Rays manager Kevin Cash said. "Lately in the batting order he's been right behind some of the thumpers, and when they get on base, he's driving them in, and then he's providing some thump himself. He always gives a solid at-bat, but so far this year, he has definitely had a knack for the big hit."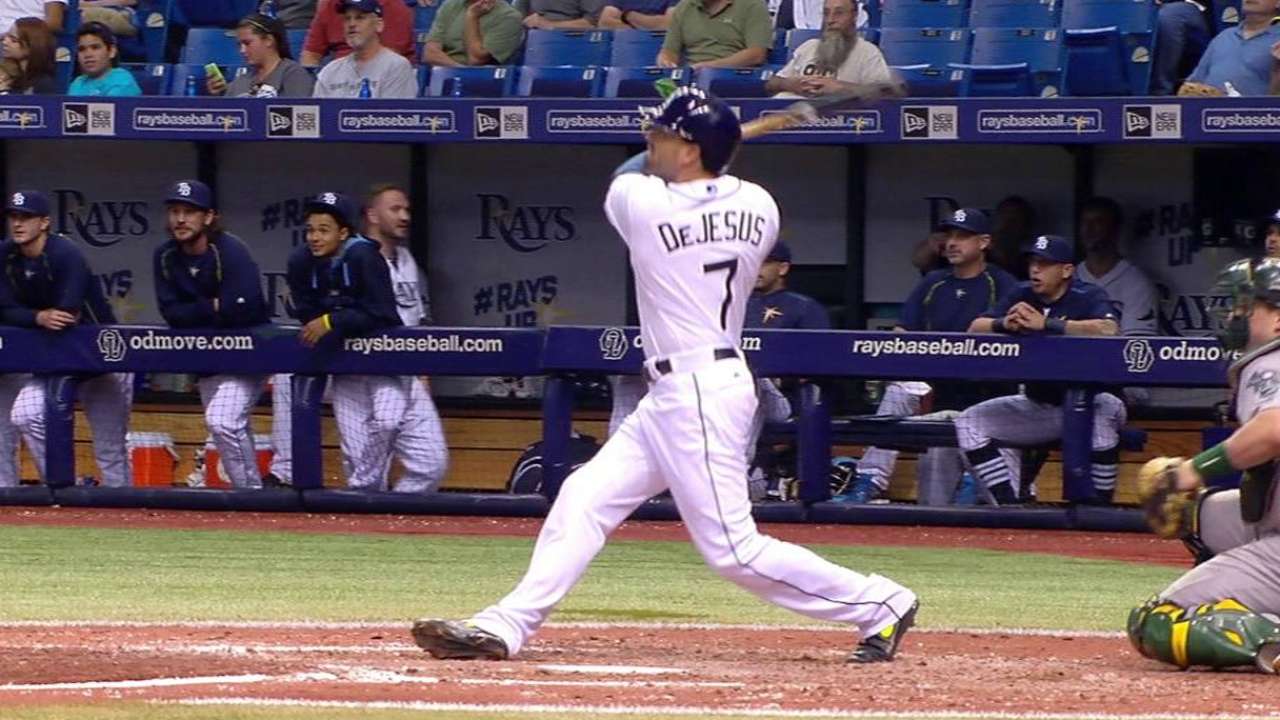 Thursday's contest marked the 13th time in the past 15 games that DeJesus has hit safely, a span in which he's hitting .417 (20-for-48) with three home runs and 10 RBIs and has seven multihit games. He is also riding a seven-game hit streak.
"I'm feeling good," DeJesus said. "I'm just getting pitches and not trying to do too much with it. I'm staying within myself. ... We're putting good at-bats together, and we just got to keep staying confident as a team."
Troy Provost-Heron is an associate reporter for MLB.com. This story was not subject to the approval of Major League Baseball or its clubs.