Colome attacks hitters in bounce-back outing
Right-hander leads way for Rays with 5 innings in shutout of A's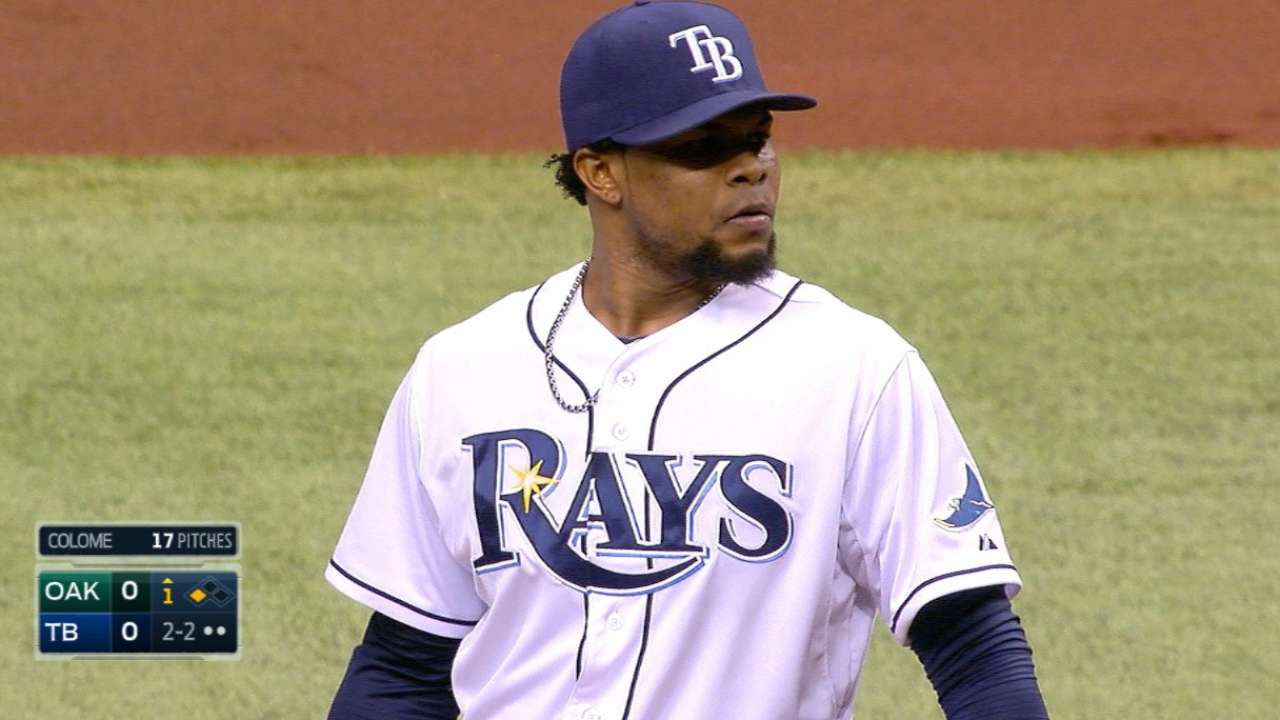 ST. PETERSBURG -- Alex Colome needed to rebound from a bad stretch, and he managed to do so Thursday night in the Rays' 3-0 win over the A's at Tropicana Field.
The Dominican right-hander entered his start on the heels of a two-game funk against the Yankees and Twins. The combined totals from those outings showed an 0-1 record with a 10.61 ERA in 9 1/3 innings.
Prior to those outings, Colome posted wins in his first two starts, allowing two runs on seven hits in 10 innings, pitching to a 1.80 ERA.
Thursday night he allowed only four hits and a walk while striking out three in five innings to move to 3-1 on the season and lower his ERA from 6.05 to 4.81.
"Can't say enough about Alex Colome, what he provided tonight," Rays manager Kevin Cash said. "Kind of a bounce-back start for him. Really did a nice job of controlling the hitters."
Cash said he felt Colome's pitches were slightly elevated against the Yankees, and he cited Colome falling behind in counts for his trouble against the Twins. Neither of those cases arose Thursday.
He threw first-pitch strikes to 15 of the 20 batters faced. He also overcame the distraction of having third-base umpire Joe West call an automatic ball after Colome went to his mouth while on the mound.
"Everything he threw was good," Rays catcher Bobby Wilson said. "He commanded all four of his pitches, which he has to do to be successful.
"That swing between 1-0 and 0-1 is such a big number for hitters' offensive numbers. If you can stay ahead in good pitching counts, you're going to have success. And that's pretty much what he did today."
Colome allowed that he was "too behind the hitter" in his last start.
"Like a two-ball, one-strike [count], and I have to come in the middle and they got the chance to swing the bat," Colome said. "But tonight I'm attacking the zone. Throwing strikes, making my pitches.
"Nothing today any different. The only thing I did was be a little more aggressive, and more attacking the zone."
Colome threw 86 pitches, 57 for strikes. Cash felt like the total was enough for the right-hander given his workload.
"I think that was the right decision to get him out of there and keep him around that 90-pitch mark," Cash said. "Outstanding, outstanding job by Alex Colome. Kind of the pitcher we hoped to see more times than not."
Bill Chastain is a reporter for MLB.com. This story was not subject to the approval of Major League Baseball or its clubs.